Iceland Before the Ice Melts Tour
With climate change in action, seeing the northlands before the ice melts with a scientist may not only be the most interesting trip a traveler can take, it may also be the most impactful.
Dr. Sarah Aciego, the glaciochemist who pioneered isotope dating of ice cores at the University of Michigan and co-founder of Wyoming-based Big Chill Adventures, is running the Northern Lights Tour of Southern Iceland in March 2017 – near the vernal equinox when the air is cold and clear and the Northern Lights are most visible. It gives visitors the chance to explore the southern part of Iceland, known for its glaciers, icebergs and black sand beaches through the eyes of someone who has a front row seat to climate change.
Highlights: Snowmobiling on Mýrdalsjökull glacier; dogsledding atop an ice cap; exploring Geysir Hot Spring Area and Skogafoss Waterfall; photographing Icelandic horses and troll houses; walking Black Diamond Beach, discovering Jökulsárlón Glacier Lagoon and the Vatnajökull Glacier; visiting a geothermal plant and touring Thingvellir National Park. Experiences will also include dogsledding, trekking glaciers, snowmobiling, spelunking, and soaking in geothermal hot springs
Dates: March 5-11, 2017
Rates: Starting at $4,050 per person
Contact:
(307) 640-9001
BigChillAdventure.com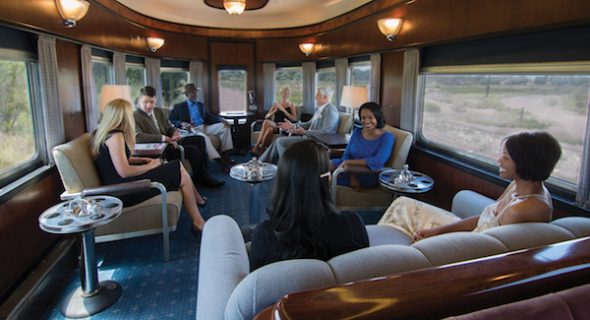 America though the Golden Age of Trains
Pullman Rail Journeys has a lineup of new rail departures to iconic American events and destinations this fall and holiday season. The company is offering a new focus on a tailored rail trip and destination experiences — one-of-a-kind journeys on the restored and renowned service of the Pullman Sleeping Car Company paired with hotels, meals, transfers and a variety of all-inclusive adventures.
Journeys depart from Chicago's Union Station aboard fully restored mid-century dome and sleeper cars that reflect the style, ambiance and tradition of the golden age of rail travel—complete with modern amenities including comfortable seating and free Wi-Fi.
Routes run from Albuquerque, N.M. to New York City on these Pullman departure dates:
Albuquerque Balloon Fiesta (Albuquerque, NM) Sept. 29-Oct. 3 – Includes roundtrip overnight rail travel aboard Pullman, two-night accommodations at Hyatt Regency Albuquerque or similar, Gondola VIP Passes and private city tour.
New York City Thanksgiving (New York, NY) Nov. 22-27 – Includes roundtrip overnight rail travel aboard Pullman, three night accommodations at The Roosevelt Hotel, Radio City Music Hall performance or Broadway Show, Macy's Parade and the 911 Memorial.
Christmas at the Greenbrier (White Sulphur Springs, WV) Dec. 17-22 – Includes roundtrip overnight rail travel aboard Pullman, three night accommodations at the Greenbrier Hotel, tours, culinary demonstrations and the glorious Christmas ambiance and decorations of the Greenbrier hotel and grounds.
New Year's Eve (New York, NY) Dec. 29, 2016-Jan. 3, 2017 – Includes roundtrip overnight rail travel aboard Pullman, three night accommodations at the Roosevelt Hotel, tickets to Radio City Christmas Spectacular or Broadway Show, Top of the Rock admission at Rockefeller Center and a New Year's Eve Dinner Party at The View atop the Marriot Marquis 48 floors above Times Square.
Contact:
(888) 978-5563
www.TravelPullman.com/ride-pullman/

Flash Sale: Trip through New Zealand's Wonderlands
Tourism New Zealand is offering travelers a chance to extend their summer with a Discover New Zealand package, including visits to Auckland and Rotorua, with an array of cultural and sightseeing experiences.
Guests who book by September 30, 2016 for travel between January 26 – March 31, 2017 can take advantage of a special value of $1,299 per person, with all airline taxes and fuel surcharges covered. (Prices for this trip vary depending on departures dates. Optional airport transfers package available)
Highlights of this package include:
Round trip economy-class flights from Los Angeles to Auckland,
New Zealand flying award-winning Air New Zealand;
Spend 3 nights in Auckland and 3 nights in Rotorua; with domestic round-trip airfare included;
Choice of one sightseeing excursion:
Auckland: Experience Sea Life at Kelly Tarlton's Underwater World and Antarctic Encounter; an Auckland Harbor cruise, or visit the Auckland Sky Tower for an exceptional view;
Rotorua: Experience farm life at the Agrodome, catch some excitement on a Skyline Gondola ride, or relax and take in the scenery at Te Puia or Rainbow Springs Nature Park.=
Contact:
http://www.travelzoo.com/tt-new-zealand-vacations/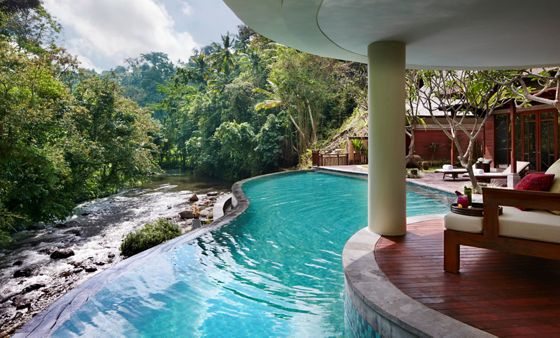 Magic of Bali through Mandapa, a Ritz-Carlton Reserve
Ubud has long been considered a magical place, and for centuries it has drawn artists, yogis, backpackers, and bohemians to its doorstep. Today, Ubud's charm can be found exploring remote ancient temples, enjoying views atop an active volcano, and by discovering the destination's mythological stories relayed in traditional Barong dance.
Guests of Mandapa, a Ritz-Carlton Reserve can consider The 'Mandapa Experience' package, which includes one activity from each pillar experience. Examples of signature activities include:
Cultural Activities
Subak Farming Exploration: guests can learn how a Balinese farmer uses the traditional irrigation system called Subak. This is a hands-on authentic farming activity where the resort's recreation attendant will explain and guide guests through the process of Subak.
Volkswagen Vintage Tour: This journey in a classic Volkswagen convertible, the same car favored by mayors of Bali in the 1960's and 70's, takes guests on a drive along the incredibly beautiful country side, passing through the rice fields of the Ceking village, visiting Tirta Empul Water Temple and the historical Gunungkawi ruins. A lunch picnic pit-stop is provided along the way, making for the ultimate vintage tour experience.
Culinary Activities
Pod Chocolate Tour: Guests learn how to make chocolates as they are taken on the journey of the cocoa pod as it receives the ultimate makeover into delicious Pod Chocolate.
Jamu Making: Indonesian Jamu is a unique system of traditional herbal medicine that can be taken fresh every day for both disease prevention and treatment of health problems. Guests are invited to learn about the main ingredients of Jamu, Turmeric (Kunyit) and Ginger (Haila / Jahe), methods of preparation and drink's health benefits.
Wellness Activities
Tirta Empul Purification: Purification rituals are deeply entrenched in Balinese spiritual custom and remain an important part of life for locals. Guests at Mandapa are able to visit Tirta Empul, the water temple of Bali, to take part in a traditional purification ritual. Having been provided with the appropriate garments, guests are led through a series of fountains believed to purify the mind, body, and soul, and will finish with a prayer ceremony at the temple.
Kintamani Trekking: For a deep connection to the land and nature of the "Island of the Gods," a trek through the lush greenery of Batur will present picturesque views as well as the chance to see and learn about the traditional farming system as well as Hindu temples. Guests can conclude their journey of discovery with a dip in the hot springs to refresh mind and body.
Fun Activities
Ayung Water Rafting: Surrounded on three sides by the spectacular Ayung River, guests can enjoy an exhilarating rafting adventure. Suitable for guests of all ages, with mild white water, this is sure to be an experience to remember.
Sunrise at The Mount Batur: – Watching the sunrise at one of Bali's sacred volcanoes, Mount Batur is a sight not to be missed for any visitor to the island. Located in Batur village, a spectacular vista rewards the two-three-hour hike to the top. Once there, guests can unwind as the natural vibration of the sacred earth in this region soothes their minds and soul over a rustic morning breakfast cooked under the steam of the still active volcano.
Rates: Start at $595 USD per night.
Contact:
(800) 542-8680
www.mandapareserve.com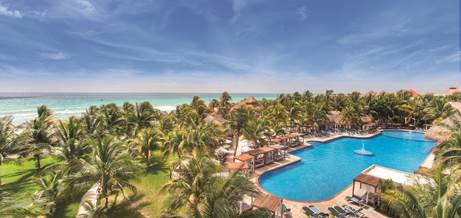 Hot Chili Fest at El Dorado Royale, Cancun
Taste buds will sizzle with the distinct flavors of Mexican chili peppers as Karisma Hotels & Resorts' first annual Chili Pepper Festival. El Dorado Royale, A Spa Resort, by Karisma in the Riviera Maya is hosting three days of activities designed to enliven the senses with the powerful taste profiles of Mexican chili peppers.
The festival delivers a Gourmet Inclusive® Experience featuring an interactive program, during which chili pepper enthusiasts can learn about the chili pepper growing process, get tips to help master cooking with chili peppers from world-renowned culinary superstars, and enjoy a firsthand taste of spicy culinary delights. Karisma's own Greenhouse will be showcasing chilaca, serrano, habanero, jalapeño, ancho, guajillo and arbol peppers.
Dates: October 19 to 22, 2016
Rates: Nightly rates at El Dorado Royale begin at $241 per person, per night based on double occupancy, including the Gourmet Inclusive® Experience (all gourmet meals served a la carte, premium alcoholic and non-alcoholic beverages, 24-hour room service, full service concierge, king size beach beds).
Guests are invited to attend The Chili Pepper Festival, October 19 – 22, by booking the Less Spicy, Mild Spicy and Extra Spicy package, each of which offers different levels of access for $65 – $125 per person.
Contact:
(866) 527-4762
Request a Gourmet Inclusive® Vacation Consultant www.karismahotels.com