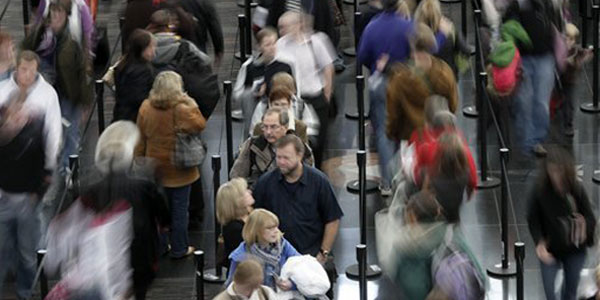 While the Global Entry Program operated over the past four years by U.S. Customs and Border Protection (CPB) allows U.S. air passengers to sail through immigration lines when they touch down from international distances at specified U.S. gateways, another program that recently launched allows air passengers to fly through those snaking TSA security lines en route to their boarding gates.
TSA Pre-Check started in 2011 to allow select frequent flyers of participating airlines and members of the U.S. Customs and Border Protection (CBP) Trusted Traveler programs who are flying on participating airlines, to receive expedited screening benefits during domestic travel. Eligible participants use dedicated screening lanes for screening benefits. These include leaving on shoes, and keeping light outerwear and belts in place, as well as leaving laptops undisturbed and 3-1-1 compliant liquids in carry-on bags.
The pilot program launched at Hartsfield-Jackson Atlanta International, Detroit Metropolitan Wayne County, Dallas/Fort Worth International and Miami International airports.
The lucky candidates for this program include certain frequent travelers from Alaska Airlines, American Airlines, Delta Air Lines, United Airlines, US Airways and certain members of CBP's Trusted Traveler programs, including Global Entry, SENTRI, and NEXUS who are U.S. citizens. Many eligible travelers are invited through airline frequent flyer programs. Others can apply through the U.S. Customs and Border Protection Program's Global Entry portal.
The latest Airports and Airlines to participate include:
Baltimore-Washington International – United Airlines
Cincinnati/Northern Kentucky International Airport
- Delta Airlines
Dallas/Fort Worth International Airport
- Alaska Airlines
- Delta Air Lines
Denver International Airport
- Alaska Airlines
- American Airlines
- Delta Air Lines
- United Airlines
- US Airways
Las Vegas McCarran International Airport – US Airways
Los Angeles International Airport – American
Honolulu International Airport
- Alaska Airlines
- American Airlines
- Delta Air Lines
- United Airlines
- US Airways
Minneapolis/St. Paul International Airport – Delta
Newark-Liberty International Airport
- American Airlines
- Delta Air Lines
- United Airlines
- US Airways
Orlando International Airport
- Alaska Airlines
- American Airlines
- Delta Air Lines
- United Airlines
- US Airways
Pittsburgh International Airport
- American Airlines
- Delta Air Lines
- United Airlines
- US Airways
San Francisco International Airport – United Airlines
San Juan International Airport
- Delta Air Lines
Washington Dulles International Airport
- American Airlines
- Delta Air Lines
- United Airlines
- US Airways
Fort Lauderdale/Hollywood International Airport – Delta Air Lines