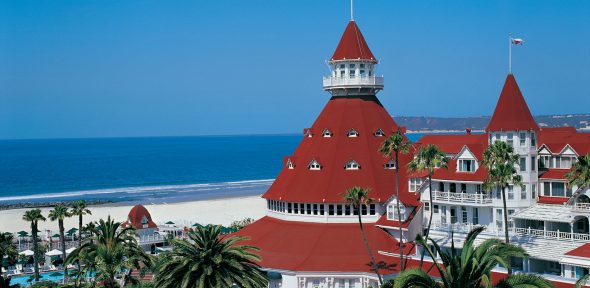 Summer would not be summer without a beach and Southern California has them – from San Diego to Malibu. The surf's up and the days are long when the sun sets upon those Pacific waves.
At this time of year, data shows that interest in summer destinations rises as people start dreaming of a "fun in the sun" summer getaway. But what makes for a perfect summer vacation? A recent survey of 1,025 Americans conducted by Wakefield Research on behalf of Travelocity shows that the top two most-wanted attractions in a summer vacation destination includes beaches.
Travelocity Summer Vacation Index
1 – Los Angeles
2 – San Diego
3 – Las Vegas (Tie)
3 – Phoenix (Tie)
5 – Oakland, Calif.
6 – Fresno, Calif.
7 – Portland, Ore.
8 – Jacksonville, Fla.
9 – Seattle (Tie)
9 – Denver (Tie)
9 – Tucson, Ariz. (Tie)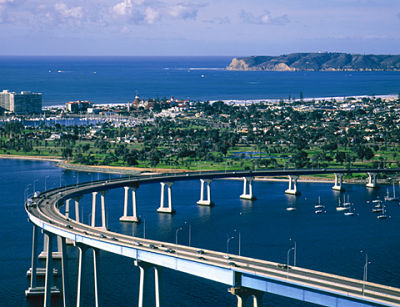 San Diego a Top Choice for Beaches
One oft over-looked destination sits right at the edge of San Diego and almost in its own world. That is the island strand of Coronado, right over a two-mile bridge from Downtown San Diego but eons away in time and pace.
To enjoy this compact piece of paradise you have to slow down. This is a walking town, whether you are going from ice cream shop to ice cream shop sampling the confections along Orange Avenue or shopping in the chic boutiques that can be found aplenty in village gallerias. And if you are not walking on concrete you are walking on sand. Coronado has been pronounced by many as having the best beach in the U.S. and the 1.5 miles of uninterrupted shore glistens in the sun from all the fine mica in the sand.
Coronado Calling
Amblers walk in calm warm waters that have been a not so well-kept secret by the wealthy residents here who have kept their beach estates pristine for more than a century. Explorations will no doubt include admiring all the historic Great Houses along Ocean Boulevard. Beach goers get everything they want here: swimmable waters, surfing on the north shore, clean expanses, life guard protection, whale watching in winter and a great, leashess beach for pooches at Dog Beach.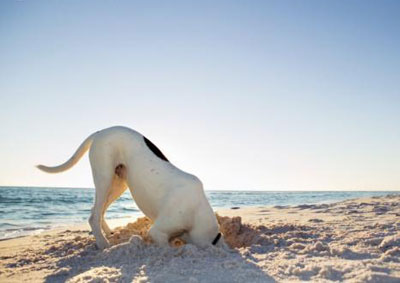 Carless day-trippers can take a 15-minute ferry over to Coronado from Downtown San Diego and start their visit at Coronado Ferry Landing with its galleries, boutique shops and great restaurants. The village atmosphere continues through the east end of Orange Avenue (about 2 miles away), where one will also find the historical Hotel Del Coronado.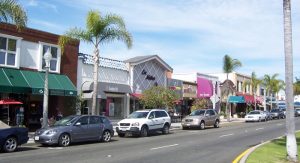 Destination: Hotel Del Coronado
Whether it's a beach you seek or just a beachside stay in a luxury hotel overlooking one of America's best beaches, the Hotel Del, as it is oft called by locals, does not disappoint. Its story goes back 125 years and it has hosted all presidents, princes, actors, captains of industry and authors from President Harrison on up the chain of years. Frank L Baum, Charlie Chaplain, Presidents Taft and Roosevelt, Charles Lindbergh, Prince Edward the VIII and Wallis Simpson and, perhaps most notably, Marilyn Monroe the Del is famously remembered for its scenes with Tony Curtis, Jack Lemmon and Marilyn Monroe running their twisted capers around the hotel in Some Like it Hot).
The hotel has preserved most of its majesty and added to it through the years. Today it is a 757-room turn-of-the-century monument at the edge of Coronado and it is still possible to walk into the lobby and leave the 21st century behind.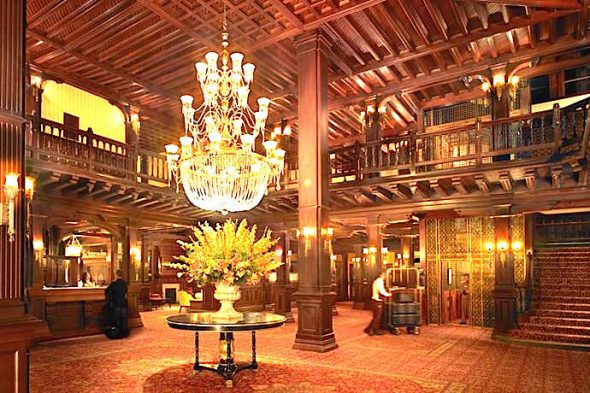 Take the brass elevator to one of the upper floors – do tell the operator which floor, though. Walk through wide hallways big enough to fit a small fire truck to a large room with 14-foot ceilings, an ante room and a wooden porch with white wicker furniture and perfect for idling away a summer's afternoon. Décor is up to snuff with all amenities and comforts following the recent completion of a two-year, $13 million top to bottom lift. It is hard to imagine that in its time the Del was one of the largest buildings in the country to be lit by electricity, not to mention have working telephones and private, en suite bathrooms.
The full-service hotel has several dining venues, whether white gloved (1500 Ocean), or casual (Sheerwater overlooking the beach, Eno Pizzeria and Wine Bar, and Babcock & Story Bar). Recommended: Sunday Brunch buffet at Sheerwater. The full buffet offers waffles and fabulous Mexican egg dishes but the continental option offers everything but the hot bar (several kinds of lox, bagels, cheeses, charcuterie and fruit and vegetable salads) for nearly half the price. Then there is a $99 per person brunch buffet that will end it all for all brunches to come served in the Crown Room – the place, as speculation has it, that Edward, Prince of Wales, met Wallace Simpson in 1902, leading to his eventual abdication of the crown.
Guests will only sacrifice some dollars but in return will dine on fine sea foods, paella, top cuts of beef, endless oysters and all served fresh from their stations.
Summer at The Del
Currently, the Hotel Del is deep into summer fun and running its Great American Beach Vacation promotion while the sun shines. These include:
Order Out with Del Beach Services
Guests can relax in a cabanettes with plush day beds, luxury loungers and oversized red umbrellas with white fringe. This is the only San Diego spot where guests can order up tropical cocktails and local craft brews, along with delicious beach fare, with their toes in the sand. Join us for beach games like volleyball, soccer and corn hole.
Enjoy a California Clambake
Nothing like settling into the sand on a warm summer evening for a classic California Clambake at Coronado Beach. Guests will enjoy a shellfish feast at sunset paired with a local beer or signature cocktail and live entertainment. 6:30pm on June 24, July 22 and August 12.
He Paints She Paints by the Sea
This is for the inner artist: a unique coastal experience: with an easel and a palette of paint colors positioned in front of the ocean.
Roast Yourself
Guests can reserve their own private beach bonfire, tuck toes in the sand and toast some marshmallows for an evening of sweet treats.
Hotel Del by Water
Biking, boogie boarding, sailing, surfing, stand-up paddleboarding and more. It's about sunny days, swimming pools, soft sand and surf-friendly waves — all right outside the room. More aquatic fun awaits at Seaforth Boat Rentals in Glorietta Marina, just across the street from Hotel del Coronado. Sailing lessons, speedboat rentals, jet skis, waterskis, kayaks, paddleboats or just fishing, it's all there to do. Guests can raise the moment with a glide through the calm waters of Glorietta Bay on a captained private yacht.
Poolside in a Cabana
Guests can relax poolside in a luxury cabana available at The Del's two on-property pools. Cabanas are available for full-day rental for up to 8 people, and include water, soft drinks and snacks, a comfy sofa lounge, coffee table, large TV, safe, and reserved poolside lounge chairs. Bottle service and full food menu is available.
Kids DelVentures
Every child receives a DelVenture Survival Pack at check-in with a number of goodies inside, including a Scavenger Hunt Map. The scavenger hunt takes them to six hidden golden crowns on the property, which will reveal a secret clue that guides them to the treasure! The DelVenture program is for kids ages 4-12 features 1-hour activities and 3.5-5 hour evening adventures.
Beach Spin on the Pacific
Join the early risers for a Beach Spin at The Del – a unique fitness experience overlooking the Pacific on the resort's Paseo Lawn. The 50-minute classes are led by some of San Diego's best instructors through Beats by Dre headphones pumping out motivating tunes.
Move Forward with PeDels Bike Rentals
Coronado is a cycling paradise with more than 15 miles of paths dedicated to bicyclists. Rent beach cruisers, kids' bikes, surrey bikes and more at Pedels on the boardwalk by The Del.
Room rates vary but generally run $349 to $799 per night.
Contact:
800-468-3533
619-435-6611
http://hoteldel.com