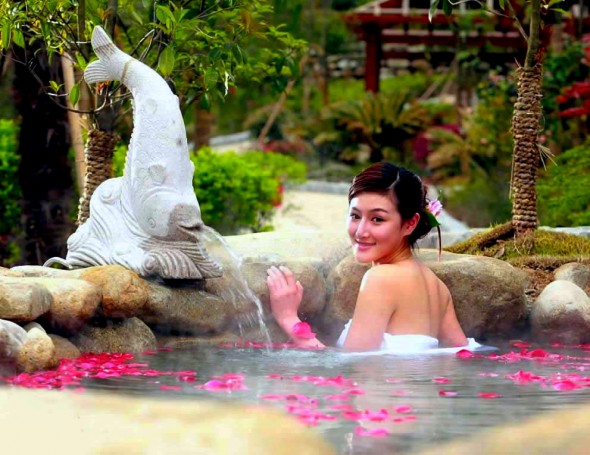 Traveling to and through Beijing can be as stressful as it is exciting, as overwhelming as it is dazzling. And while there is shopping, sightseeing and amazing meals to experience on a visit to Beijing, there is also a relaxing and peaceful side the most visitors never see. Call it pampering, call it spa time, call it down time, it is time to let in Beijing's often hidden beauty and rev up one's inner chi. Here, from Jetbay, are ten spas to consider in and around Beijing — many with geothermal baths and pools bubbling with the earth's own inner energies. Consider this the Beijing you don't know and enjoy it like a local. 
Dragon Spa Resort
The Beijing Dragon Spa is located in Changping Xiaotangshan, which is on the central axis of the Forbidden City. It features state-of-the-art guest  suites, gardens and water features, as well as gourmet dining facilities, and an authentic hot springs spa filled by a strong current of geothermal waters. One can experience the rich heritage of ancient Chinese healing therapies and traditional Eastern and Western techniques in their beauty services.
Fengshan Hot Spring Resort
Fengshan Hot Spring Resort is a four star resort located in the Changping District of Beijing. The picturesque location has a rich supply of mineral hot spring waters and there are unusual hot spring ponds and wavering creeks, intricate stone paths, delightful  waterfalls, and ancient trees to wander.  The dolomite hot water holds a rich variety of trace elements beneficial to human body.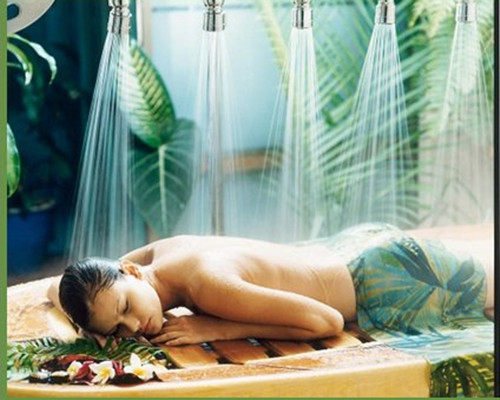 Purple Jade Country Club & Resort
Purple Jade Resort is perfect for those looking for an elegant and high-brow escape from the city just outside Beijing in Chaoyang. It has a spa, pool, restaurants  and  leisure  facilities  along  with  high  class  service  in  both English and Chinese. Their treatments are designed to help one experience harmony and peace. The resort makes a convenient starting point to explore nearby Beijing Zoo and Beijing National Stadium.
Aman- Summer Palace
Aman is just a few steps from the East Gate of the vast Summer Palace grounds covered with heritage dwellings. Find extensive treatments and top-quality facilities.  This resort is the ideal location to explore the Temple of Heaven, the Great Wall and the Forbidden City.
Tulip Garden Resort & Spa
Tulip Hot Spring Garden Resort in the Chaoyang District, covers an area of 400 acres and is adjacent to the airport — ideal for those who want to relax before or after a long flight. The resort has a comprehensive range of luxury treatments and facilities with a European style villa and a Japanese style garden with an open-air hot spring. All of the spring water rises from deep in the underground and contains a variety of sulfur-rich trace elements along with potassium, zinc, magnesium all of which are beneficial to the human body and gives guests a great health kick.
Skyline Resort
This resort is located in the Fangshan District, along a serene lake. Nature's natural wonder and opulence radiates inside the resort along with its high- quality services. The outside consists of water, castles, bridges and boats that are akin to fairy-tales scenes.
Huashuiwan Magnetization Spa Resort
Beijing's Huashuiwan magnetization Spa Resort is located in the Shunyi District of  Korea Town, it is surrounded by acres of fruit trees and pleasant scenery. The magnetized spring water is collected from 1,800 meters below and due to ancient geological changes it has the highest magnetized water quality, enriched with the rarest minerals that help to make you feel replenished and renewed.
Garden Plaza Hotel
The Garden Plaza Hotel and Spa has hot springs that are filled with the same strain as the Xiaotangshan Hot Springs. The hotel itself is surrounded by a large forest. The location acts as a natural "oxygen bar" to helps with rejuvenation.
Huaqing Hot Springs
Huaqing Hot Springs is a spa that presents a traditional Chinese garden, designed to give the ultimate 'Zen' experience; it is natural, comfortable and gives one the opportunity to watch traditional Chinese gardening practices. The  hot  spring waters arise from 2,000-meter depths and can reach up to 71 degrees centigrade. The water contains elements and minerals.
Smoke Lake Resort & Spa
Smoke Lake Resort & Spa, which was originally constructed for a noble family that needed a recreational space to entertain their guests, is located in a forest teeming birds and wildlife. Guests enter the resort through a winding farm lane that is canopied by the trees. Amongst the vegetation and waters one can find sheep, deers, ducks and geese. This is a perfect spot from nature lovers who wish to be pampered.
Related Stories: