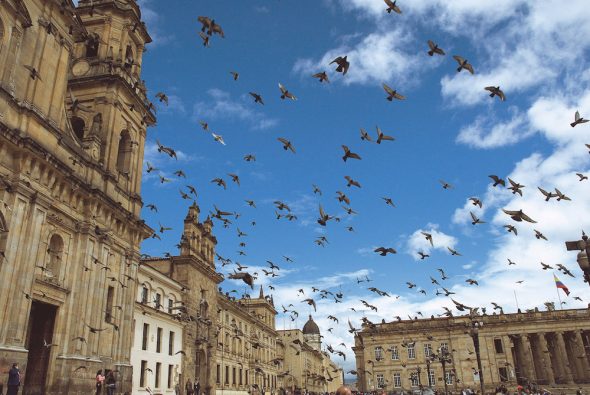 Landing in Bogota, as the clouds part from the peaks of the Andes and a bumpy tapestry of green farms and muddy lakes flow into the broad, buzzing of Bogota, you remember you are never too far from heaven. Bogota is its own special paradise – as old as the Spanish conquests, as new as the latest luxury hotels and as smart and fast to adapt as the apps in your phone.
Segue back two decades and you would have found a country overrun by crime, narcotics and political chaos. Turn the dial back only a month and you would find Colombian President Juan Manuel Santos sitting down with the president of the United States to discuss Colombia's success in reducing crime rates by 80 percent, in finally creating a peace with rebel fighters who are now trading guns for jobs, and in building an economy rising from jungles and coffee farms to become the shining star of Latin America.
You can feel it first at El Dorado International Airport. The port, located around 45 minutes from the center of Bogota, recently completed a $700 million upgrade and expansion. Flights go in and out of this hub of South American commerce, some 700 international flights weekly. They land on a plateau in the mountains where a city sprawls for more than 600 square miles at altitudes of nearly 9,000 feet.
At those heights, weather remains temperate in all seasons; golf games go faster as balls fly with speed through the thinning air. And mosquitoes, and any viruses they carry, are not even a thought at these elevations.
Rather, the visitor to Bogota will be immersing in the grinding beats of a city in motion. It's a place with a purpose and Bogota is wasting not a minute making up for time lost.
"Typically Colombia was investing $1.5 billion on infrastructure in past years. Today, it's $25 billion to be put into the infrastructure over the next 5 years – better roads from ports to cities. We are right in middle of the Andes and approaching 10,000 feet. It's hard to develop here but we are doing it. Look at the El Dorado Airport – it's nearly done except for cargo and it is the most well used and biggest airport Latin America," says Luis German Restrepo, executive director of ProColombia, an office that oversees the tourism sector.
"We've increased Tourism more than 17% year over year in the past decade. Compare this to the rest of Latin America, countries where strong tourism growth may mean 4.5%. We have a unique jewel here, not really explored before and not just tourism."
Indeed, investment in Bogota alone has been fast and furious. The U.S. is looking to pledge some $450 million this year, mostly to maintain the hard-earned political peace and keep successful economic boosting programs afloat.
During the last 5 years, 120 new hotels have started operation in the country, many of those in Bogota. International hotel chains such as Hilton Hotels, Marriot, Hyatt, Sonesta, Radisson, Starwood, Intercontinental, W hotel, Four Seasons, Sofitel, Accor, IHG, Best Western, City Hotel and Estelar, among many others, have opened or are planning to open their doors to the public.
Also during the same period the air connectivity has shown an average annual growth of 9.5% in new seats. Colombia has become a hub destination for Avianca, Lan Chile, COPA and American flights into Latin America. Flights from the U.S. account for 30% of the international arrivals.
It is Avianca that ferries the lion's share of that market from 10 U.S. gateways, American Airlines at its heals.
"Over the past five years, Avianca has been experiencing constant growth in business travel to Bogota from the US – seeing an annual average growth of 8%. Bogota is the main destination for US business travelers. We have seen the demand grow so much that last year the airline decided to add a new nonstop flight from Los Angeles to Bogota," says Rolando Damas, Managing Director for North America and Asia for Avianca Airlines. The most popular routes are Miami-Bogota and New York-Bogota. Avianca offers 26 direct daily flights from the US to Bogota, and nine of them are non-stops, he adds.
"We believe that positive perception of increased security, the growth of the business landscape in Colombia and increased foreign investment are main factors for growth in business travel to Bogota," Damas notes.
Earlier in 2014, Colombia launched the "Colombia Bring IT On" campaign, a major initiative aimed at promoting the growth of the country's technology sector in the international market and raising awareness around Colombia's competitive advantages in the industry. Colombia's IT sector is now the third largest in Latin America, with 33 percent growth over the past five years.
Industry growth has been accompanied by a palpable tourism boom. According to the country's Ministry of Commerce, Industry and Tourism (MICT), an all-time high of 3.7 million foreign travelers visited Colombia in 2013, sparking a spate of interest from the international hospitality industry. Latest figures from 2014 show tourism arrivals topping four million and cruise passenger landings edging toward 500,000.
"This has, perhaps, been the most interesting to us," says Restrepo of the cruise landings, "because for most of these visitors it will be their first time in this country and we are seeing with regularity that 15-20% percent of these people return."
And Bogota is ready, says Claudia Davila, Director of Tourism, for ProColombia. The Corferias International Business and Exposition Centre has the conference rooms and auditoriums but also offers a multifunctional hall measuring nearly 162,000 square feet. To this Bogota is adding the construction of a new International Centre, measuring 78,000 square feet to hold 4,000 people. The new expo venue is targeting 2017 for completion.
"Bogota is a great destination for meetings and events and we have been working hard to get to this place," says Davila. "Our DMC operators are well trained to run on American time. We have the hotel standards expected and rooms needed and we have great places to hold those amazing events … the Botero Museum, the Gold Museum, even the Salt Cathedral. And there are cooking classes to be arranged, and coffee tastings, visits to nearby farms, dinners in amazing restaurants. And there will be water on those buses … and cold towels. Bogota is doing this."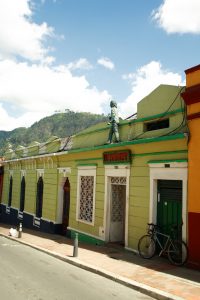 Into Bogota
For visitors landing in Bogota for the first time … or even the third, the city can be a daunting place. It spreads for half the size of Rhode Island (with a population six times as dense) on a high plateau protected by the Andes, Guadalupe and Monserrate mountains in a weave of traffic, medieval churches, cobbled streets, long ramshackle boulevards, chaotic spurts of construction and a succession of neighborhoods, each with its own personality and purpose.
Prime walking neighborhoods include La Candelaria, Zone T, Zone G, The Financial District, Usaquén and Park 93 all found near each other in a north-south strand of central Bogota.
La Candelaria is perhaps the most famous given its popularity with backpackers and its youthful focus as a bohemian hot spot. And its popularity is for good reason as it offers a bounty of colorful architecture, proximity to the city's great museums, theaters and concert halls and is a magnet for those who love the bistro life. Similarly, Zone T, also known as the Zona Rosa, is a happening area for nightlife, music, gourmet restaurants and bars, hip hotels and intriguing boutiques.
Not far is the Financial District in Downtown Bogota, a swirling and lively confluence of commercial industry, steel and glass skyscrapers, business hotels, restaurants and proximity to museums and attractions.
Usaquen and Unicentro are neighborhoods for shoppers, especially those looking for designer duds and mall ambience. Usaquen also offers some local color when weekend flea markets and live music performances fill the streets.
The Parque 93 neighborhood of Bogota presents the upscale side of the city with top class hotels (The Four Seasons Medina is here) and fine restaurant choices.
Bogota Buffet for all Budgets
Food is a full-time pass-time in Bogota, and new "it" restaurants crop up every day around the city. If Bogota is considered the "Athens of South America," then much of that designation points to the café and bistro life to be found amid wide boulevards and quiet backstreets of its neighborhoods. Big on these menus are dishes of rice, plantains, beans and vegetables, meats and spices and, as Colombia was cited in a recent "Club Sandwich" survey by Hotels.com as having the least expensive lunch and the world's cheapest cup of coffee, most of the restaurants in Bogota can be enjoyed for pesos on the dollar.
On the high end, that would mean a seven-course dinner at Matiz, created by Chilean chef Nicolás Quintano of the Le Cordon Bleu Peru. The evening's showcase might cost $66 per person, including ambience in a waterfall courtyard with vertical gardens. Casa Vieja is always in season serving up local and legendary Colombian dishes as it has in this preserved two-story Colonial mansion for more than half a century. Or it can be dining and dancing at Salto del Angel in the Parque 93 neighborhood. The five-floor restaurant offers an eclectic menu of traditional and international cuisine and gets its rumba on in the late hours.
Not to be missed:
* Chocolate Completo. The bittersweet hot chocolate of Colombia is often accompanied by buttered bread and soft cheese. Try this at La Puerta Falsa.
* Empanadas are classic in these parts. Recommended is a frill-less network of stands called Empanaditas de Pipián where you can order a curried-chicken-and-potato empanada or one made with sweet queso and mozzarella cheese.
* Give the local soup a sip. Order ajiaco made with potatoes, chicken, and avocado with seasonings from capers and herbs. Try it out at Restaurante Club Colombia.
Best Beds in Bogota
The latest luxury hotel to open is Four Seasons Bogota, which opened its second property in April in the heart of Zone T. It has 64 rooms and suites, custom-made beds with leather headboards, a spa using the results-focused line of Biologique Recherche from France, and Kuru, a Japanese-inspired robata grill as its signature restaurant.
Also recommended: The NH Collection Bogotá Teleport Royal hotel (see Business Traveler October 2015) is within walking distance to Usaquén with its great shopping and colonial-style architecture. Set up as a business property, the Royal caters to multinational companies and corporate travelers with 251 spacious and modern accommodations, and often runs meetings and events with 14 spaces of various configurations.
Plenty of hip hotels and boutique design properties dot the city's central neighborhoods as well. Consider such gems as the Abadia Colonial in La Candelaria, or the Hotel de la Opera and The Orchids Hotel also in that area.
What to do in Bogota depends on how active and curious you want to be. Must-see attractions include the Gold Museum, South America's true El Dorado. Then there is the Botero Museum, the legacy of artist Fernando Botero with some 123 of his works on view, all complemented by the nearby Museum of Modern Art and Museum of Colonial Art. About 45 minutes from town in the mountains is the Salt Cathedral of Zipaquirá, the mysterious and pure tunnels of a 2,500-year-old salt mine that lead to a subterranean cathedral carved from the caverns in 1932. In these spots, as well as other unusual and dazzling venues, special dinners and events can be arranged for those businesses holding meetings in Bogota.
Finally, visitors can get off the bus and onto the streets of Bogota with biking (Bogota Bike Tours) and walking tours (Bogota Graffiti Tour) that take in the local color – and elaborate graffiti art so ubiquitous on Bogota streets. A three-kilometer hike up Monserrate will bring the best views of Bogota and comes with optional dining experiences at the top to be savored with those views.
More information: procolombia.co, (305) 374 3144