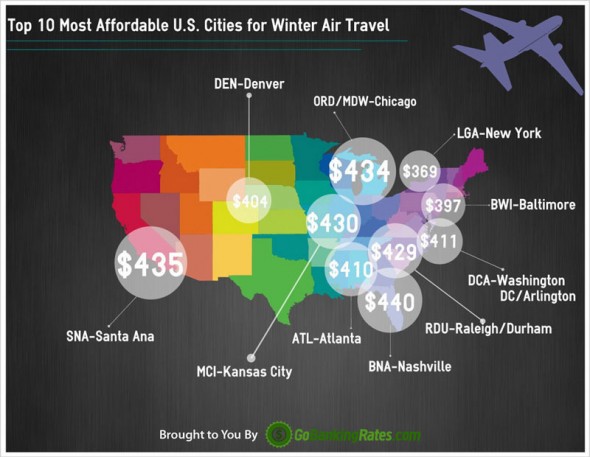 Where are the hot places to head this holiday season? A quick look at data from CheapOair.com shows what destinations are trending and what people are paying to get there.
The most popular U.S. winter vacation cities by air travel are:
 Denver
 Fort Lauderdale
 Los Angeles
 Las Vegas
 Dallas/Fort Worth
 Orlando
 Miami
 New York
 San Francisco
Phoenix
However, the airports with the lowest average cost per flight ticket are:
 LGA – New York City ($369)
 BWI – Baltimore ($397)
 DEN – Denver ($404)
 ATL – Atlanta ($410)
 DCA – Washington D.C./Arlington – DCA ($411)
 RDU – Raleigh/Durham – RDU ($429)
 MCI – Kansas City – MCI ($430)
 ORD/MDW – Chicago ($434)
 SNA – Santa Ana, Orange County ($435)
BNA – Nashville ($440)
Interesting Findings
The most popular airport in New York City is John F. Kennedy (JFK), whereas the airport offering the lowest average cost per flight in the city is LaGuardia Airport (LGA). The airports are just over 12 miles apart; however, the cost difference is $773, on average.
LAX in Los Angeles is one of the most popular airports in the U.S.; however, John Wayne Airport in Orange County is just 40 miles away and offers flights for $420 less, on average.
Three other popular cities that didn't make the top 10, but were under $500 were Atlanta, Tampa and San Diego.