Consider this: you can have your chocolate and walk it off, too.
Walking, hiking, trekking and culinary experiences in the Swiss Alps are seeing an explosion of interest among food travelers willing to splurge on a luxury vacation to get a sense of place through locally inspired cuisine. In Switzerland you can find tours that include everything from foraging for forest truffles with the aid of a Lagotto Romangnolo dog, to hands-on cuisine immersions into making artisan bread, cheese and chocolate in local kitchens.
Switzerland is an emerging epicenter for French-, Italian- and German-inspired regional cuisine.  Switzerland has more Michelin-starred restaurants per capita than any country in the world.
Here is an overview of the gastronomic experiences offered by one company that knows its food geography in Switzerland: Alpenwild Tours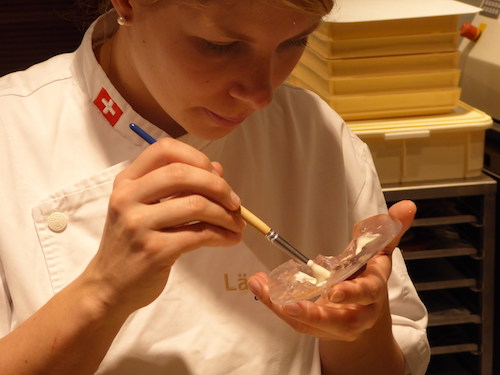 Tour de Chocolate
Alpenwild enables guests to learn from a bean-to-bar artisan chocolate maker the steps for roasting, grinding, and conching (a manufacturing process of rolling and smoothing chocolate for several days until it is smooth and refined) chocolate beans into a silky confection.  Connoisseurs embark on an unforgettable hunt for fragrant and rare forest truffles in the Jura mountains with an expert truffle hunter and his Lagotto Romangnolo dog.
The Tour de Chocolate journey whisks guests away to a medieval castle, takes them on a cogwheel to the mountain summit, escorts them on a scenic cruise along crystalline Lake Lucerne, and visit to the manor home of Charlie Chaplin overlooking Lake Geneva.
Discover Swiss Cuisine – French Inspired
Alpenwild's culinary adventure in the French-speaking region of Gruyère and Montreux Switzerland enables savvy food lovers to participate in the hands-on art of cheese making. There they learn the fascinating 900-year-old procedure to make Gruyère in an alpine chalet over an open wood fire.
Connoisseurs also learn how to bake hearty artisan bread applying ancient techniques in a rustic wood-fired oven.  And, they can even test their skill at making chocolate truffles while working side-by-side with a master chocolatier.
Few people realize the caliber of Swiss wines.  Alpenwild guides guests on a walk in the footsteps of the Romans to uncover the sundrenched slopes of the Swiss Alps while tasting some of the best local wines.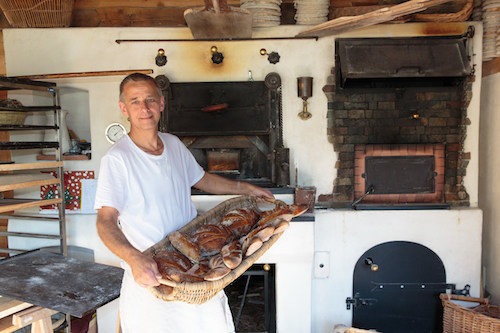 Discover Swiss Cuisine – Italian Inspired
The Italian-speaking section of Switzerland, the canton of Ticino, is emerging as an epicenter for fine regional cheeses, sausages, fish, pastries, breads, pastas, confections and of course, gelatos.  Foodies will savor the traditional foods, which can only be found in Ticino, as they wander the stunning lakeside region of Lugano.
This tour immerses guests in an interactive workshop to first learn how to make a silky batch of gelato and then savor the fruits of their labor.  A local cook teaches cooking enthusiasts invaluable tips for producing an aromatic and perfectly prepared dish of risotto.  And, a visit to this region would not be complete without learning how to make panettone, a delicious pastry savored all year long by locals.
Discover Swiss Cuisine – German Inspired
Set amidst the snow clad peaks of iconic Eiger, Mönch, and Jungfrau, Alpenwild's German-inspired food journey exposes adventurous foodies to hearty favorites such as sturdy mountain cheeses, smoky sausages, potato rösti, and schnitzel in the region of the Bernese Oberland. This journey stops at an 18th-century farmhouse–without electricity or running water–and guests prepare fine fare of the era and feast on their creations.  Guests will learn the traditions and techniques for making rösti, and experiment with other local ingredients such as cheese, onion, bacon, tomato, apple or fresh mountain herbs, to produce their own personal twist on this traditional dish.
A trip to the German-speaking regions of the Swiss Alps would not be complete without a session to learn the fine art of making Apfelstrudel, also known as apple strudel, where they wrap layers of paper-thin pastry dough around a mound of spiced apple filling.
Contact:
(801) 226-9026
www.alpenwild.com