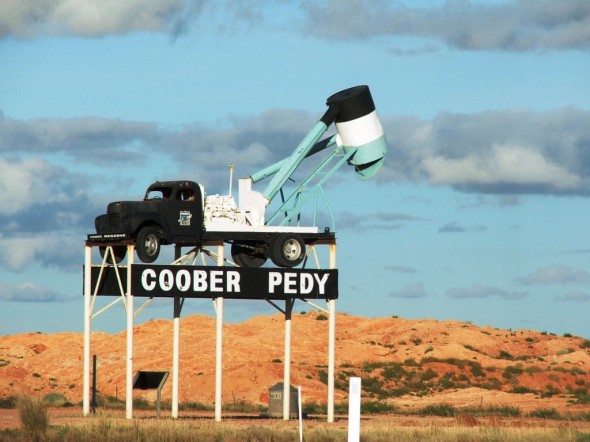 Travelers who need a reason to wander far, consider this: Coober Pedy is celebrating its 100th birthday. Coober Pedy is on the way to nowhere, located in the heart of South Australia's Outback, approximately half way between the South Oz city of Adelaide and the outback oasis of Alice Springs, and hundreds of miles away from anything else.
But remoteness has its purposes. To those who may not be familiar with these parts, note that Coober Pedy is also the Opal Capital of the World.
Willie Hutchison stumbled on the first opal near Coober Pedy around a century ago and set history in motion. The town was established and hopeful miners poured in to find their fortune. Today, Coober Pedy supplies the majority of the world's high-quality white opals, relying as much on tourism as it does mining. Willie's first opal is still on display at the Old Timers Mine museum in town.
And Coober Pedy is also a hellhole of the world between March and November when temperatures climb so high the whole town (of some 3,500 souls of four dozen or so nationalities) disappears into the earth for comfort.
What Aboriginals named the "White Fellow's Hole in the Ground" might not sound like a place to drag the kids or grab your honey for a romantic getaway, it is, perhaps, the face of the real Australia — a small town with all the crazy characters; a place where hotels are built into underground caves, where golf is played on grassless fairways and where fortunes can be made simply by digging beneath your feet.
Outside of town is the Moon Plain, a bare, flat landscape that has served as the post-apocalyptic landscape in cult film "Mad Max," a chief location in "Priscilla, Queen of the Desert" and an alien planet in the Hollywood sci-fi flick "Pitch Black."
Visitors can dig around for their own opals, and there are a number of dugout hotels in the area that allow for an underground stay. This year, the famous Ghan train will be stopping through Coober Pedy on a special centenary trip, including a full day tour of the town.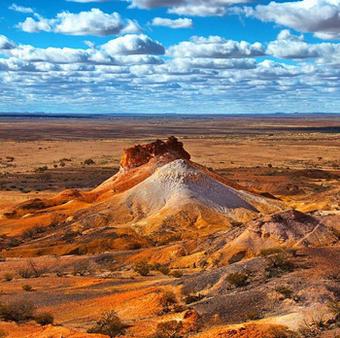 Any visit to Coober Pedy should include these highlights:
Check out the largest opal find in town – in tact and for sale at the Old Timers Mine and Museum. The Painted Lady, in three pieces and weighing between 176 and 220 pounds, is worth about $50,000. It was originally found in 1983, when it was last displayed but has since remained in a secret location until now, when the miner who discovered it decided to put his prize on the market.
Tour the Moon Plain — a vast expanse of rocky plains unlike anywhere else that has been used as the setting for such films as "Mad Max: Beyond the Thunderdome," "Priscilla Queen of the Desert," and "The Red Planet," among others.
Then there is the Dog Fence– the longest continual construction in the world. Stretching some 3,200 miles, it begins east of Surfer's Paradise in Queensland and ends up north of Ceduna on South Australia's far west coast. It was originally built to protect the sheep farms in the south from the Dingo (native Australian dogs) in the north.
A visit to the underground abode of Crocodile Harry may be the order. The great old story teller is all that one would hope to find in this harsh spot. He declares himself to be Arvid Von Blumentals, a Latvian Baron who was forced to leave his country after World War II and claims to have worked as a crocodile hunter in Northern Australia before coming to Coober Pedy to find his lost fortune in opals. His underground digs were featured in Mad Max films and the film crew left a singing sculpture out of metallic trash, which they called 'The Orchestra," for its rattles in the breeze.
Check out the Underground Catacomb Anglican Church at the eastern end of Coober Pedy, made out of materials local to the area. The altar resembles a winch and both the crucifix and the lectern are made out of mulga bush wood. Behind the altar are two air vents. Nearby, the Serbian Orthodox Church is cut from solid rock and detailed in ornamentation.
Visit one of Coober Pedy's few trees, welded together from scrap iron and on a hillside perch overlooking the town. The graveyard is a site of interest as well, with beer keg headstones for those miners who died too poor to afford stone. And, of course, there are the mine tours where visitors can see the layers of operations and even do some "fossicking" and "noodling" on their own for opal strikes.
Most of the town's hotel, motel and cottage rooms follow the wisdom of subterranean living where temperatures maintain at 73 to 77 degrees Fahrenheit.
The Desert Cave Hotel is Coober Pedy's top choice in accommodations and harbors the world's only truly underground bar and gaming room. Rooms are quiet, cool, dark and airy, tombs of cavernous comfort.
Other properties to consider have names like Mud Hut Hotel, the Underground Motel and Fred & Wilma's And Barney & Betty's B&B. Rooms average $75 to $150 per night.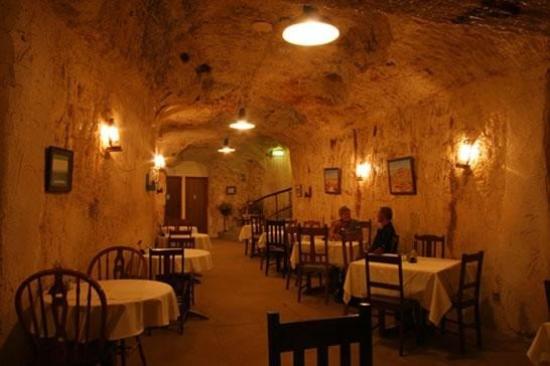 Centenary Days in Cooper Pedy, Australia
April 2:
Centenary Street Party & Multicultural Celebrations. Take to the streets for fun, food and live music as Coober Pedy celebrates its diverse heritage.
April 3:
100 Year Ball. Guests are invited to dress in their culture's traditional attire and take part in icebreaker games to explore their nationalities, heritage and culture.
April 4:
Coober Pedy Opal Festival. Join the locals in celebrating the end of a long hot summer and the commencement of a prosperous opal-mining season with a street parade, fireworks and live music.
Contact:
(888) 768-8428
www.opalcapitaloftheworld.com.au
www.southoz.com 
How to Get to Coober Pedy
Getting there is half the fun. Drivers can follow the Stuart Highway to arrive from Adelaide. The highway is a sealed road, which parallels the railway of the Ghan train, which runs from Adelaide to Alice Springs as well as the desert routes of camel drivers of an earlier time. Approximately 528 miles from Adelaide, the drive takes 9-10 hours.
The Ghan railway leaves the driving to others so passengers can relax in cool comfort and enjoy scenery usually only available to the most intrepid of travelers. Trains leave from Adelaide and disembark at Manguri, which is approximately 25 miles out of Coober Pedy and easily accommodated for transfers by the town's hotels and tour companies. The train journey takes approximately 12 hours on its weekly departures from Adelaide to Darwin.
For more information, go to gsr.com.au. For time-bound clients that want a taste of this region, Regional Express Airlines offers flights from Adelaide to Coober Pedy several days a week.
Similar Stories: