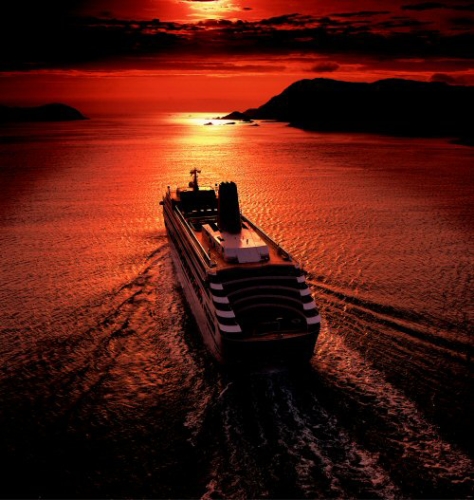 If there is a glass half full in the travel industry it can be found bubbling away in the cruise sector, according to a recent survey of travel agents by Cruise Lines International Association (CLIA). At this halfway mark through 2012, more than 50 percent of respondents say they are already selling more vacations at sea than they did last year and 64 percent of the respondents expect an overall greater cruise booking volume for this year over last year.
CLIA surveyed more than 300 member agents in early July, seeking measures of consumer confidence and attitudes toward cruising, as well as popular cruise destinations, passenger demographics, and booking patterns. Theo following is what they found.
•    While almost 24 percent of agents expect an increase of 10% or less in 2012 bookings, 25.4 percent anticipate increases of 11-15 percent and 14.8 percent look forward to even more significant growth in cruise sales of more than 25 percent.
•    At mid-year, 24.7 percent of agents report cruise sales (in number of cruises sold) similar to 2011, but 51.9 percent of agents report that they are doing better than last year.
•    One factor in agents' optimism points to consumer confidence: 57.8 percent of agents responding to the survey said that consumer confidence is getting stronger or is much more positive, with consumers expressing stronger intentions to travel.
•    Agents also cited the strongest sales potential to be in river cruises, contemporary cruises, shorter cruises, premium cruises, and luxury cruises (in that order).
•    Top cruise destinations, described as "hot" (new or increased demand and consumer interest) for 2013 include, in order: the Caribbean, Alaska, Mediterranean, Hawaii, Europe/Scandinavia, Australia/New Zealand, trans-Panama Canal, Asia, Bahamas, Mexico, transatlantic, and the Middle East.
•    According to travel agents, the elements of cruising that generate the most excitement among their clients include: new itineraries and destinations, new ships, longer stays in ports, family and children's programs, innovative shore excursions, domestic ports of embarkation, smaller/specialized ships, weddings/ honeymoons/ anniversaries at sea, new choices in dining and entertainment, and theme cruises.
•    Passenger markets that represent the strongest growth categories include (in order): first time cruisers, families, couples without children, seniors, multigenerational families, single travelers, younger adults (21-39), wedding/honeymoon and social or corporate groups.
•    Top current or future trends in cruising, according to agents, include: multigenerational groups and families; cruise ships perceived as the vacation destination; off-the-beaten track itineraries; short cruises; increased interest in cultural activities; international travel; growth in small ship cruising; increased interest in theme cruises; popularity of longer cruises; increased spending on vacations, and destination weddings and honeymoons.
•    The primary reasons for consumer motivation in choosing cruising in 2012 and beyond (in order): good value offered by the cruise lines; love of cruising; price; get away with friends; try out new ships; family reunions; shorter cruises, and honeymoons/weddings/anniversaries.
•    Average booking lead time, by category of cruise, according to agents: contemporary cruises – 4.13 months; premium cruises – 4.82 months; luxury cruises – 5.08 months; destination cruises – 4.65 months.