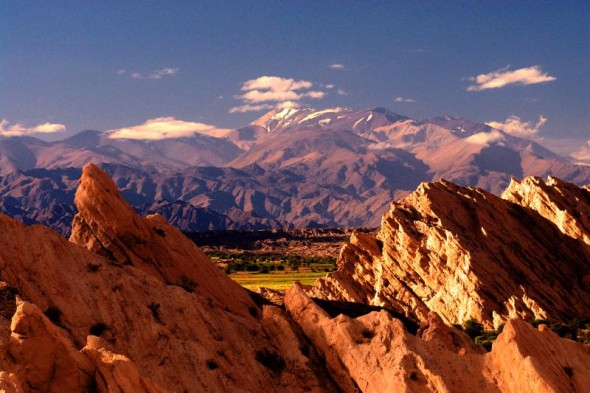 Photo, Hiking & Wine Tour of Northwest Argentina
Ciclismo Classico and Argentinian photographer, teacher, and documentary filmmaker, Ossian Lindholm, will lead an 8-night/9-day photography and high-altitude wine tour of Northwest Argentina in August. Guests spend nine days hiking through one of the most photogenic and pristine regions in the world. The group is small – around 12 people, and the explorations are slow 2-3 hour hikes through a variety of rural and village environments while practicing the high art of seeing.
Highlights of the tour include: exploring Quebrada de Humahuaca, a narrow mountain valley located in the province of Jujuy; Las Salinas Grandes, a huge expanse of salt that defies perspective and distance; Salta La Linda; the Route of the Artisans; the National Park Los Cardones; and some of the world's highest vineyards.
In the evenings, Lindholm will offer interactive Photoshop workshops and photography reviews, while guests sample the finest high-altitude wines in the world, including fruity white Torrontes and full-bodied red Malbecs.
Rates: $4,900. Book by May 31. Trip starts and ends in Salta, Argentina.
Contact:
Ciclismo Classico
(800) 866-7314
Photography Tour of Argentina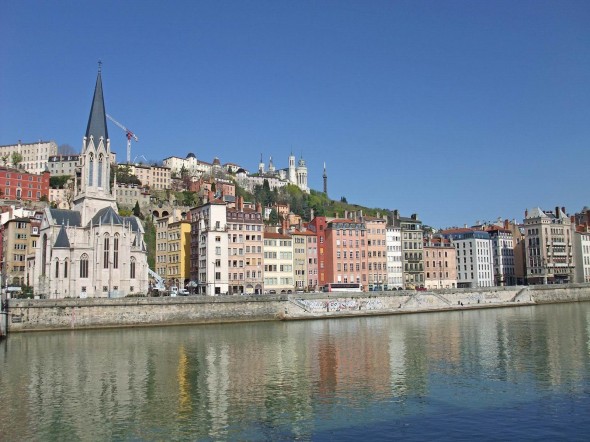 Dreamy Cruise through South of France
TourCrafters' French Savoir Vivre package features three nights in Paris and seven nights on the Amadeus Symphony for a cruise along the Saône and Rhone rivers. The 10-night package starts with a high-speed TGV train ride to Lyon to board the cruise ship. In Mâcon, an excursion through the vineyards of the Mâconnais and Beaujolais includes a visit to a wine museum and the ruins of the Benedictine abbey of Cluny, once the most important in Europe. From Chalon there's another excursion to Beaune, the Burgundy wine center, for a tasting and a visit to the famous Hôtel Dieu, the 15th-century hospital with the colorful tiled roof.
Back in Lyon, France's gastronomic center, a city tour takes in elegant squares, and the Old Quarter on the bank of the Saône. Then, cruising the Rhone south past vineyards, olive groves and lavender fields, the ship docks in Avignon for a visit to the Palace of the Popes. Other excursions include the typically-Provencal town of Uzès, and the perfectly-preserved Pont du Gard, a Roman aqueduct more than 2,000 years old, a trip to Camargue (where the French cowboys roam), and  the sun-splashed, ocher-colored  city of Arles, with its Roman amphitheater and other historic buildings.
Cruising north again, it's possible to visit the dramatic Ardèche Gorge before disembarking in Lyon for the train trip back to Paris and a stay in the charming, family-run, 4-star Hotel Le Littré on the Left Bank.
Rates: Starting at $3,039 — or $4,099 including air from New York. Prices, per person, double, include all excursions.
Contact:
Tourcrafters
(800) 482-5995
www.tourcrafters.com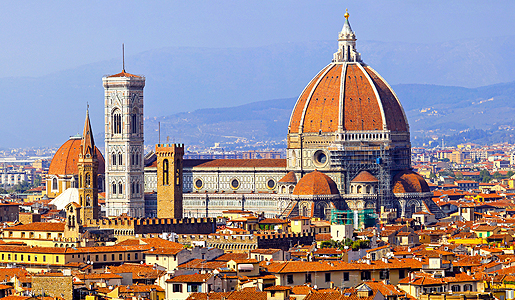 Summer Learning Journey for Kids: Intro to Italy
Perillo's Learning Journeys in partnership with Smithsonian Journeys is offering families an 11-day adventure through the treasures of Venice, Florence, San Gimignano and Rome. Designed for children ages eight and older, this is a wonderful opportunity for multi-generational families to bond while experiencing the rich history of Italy, Families will be able to explore ancient cities, medieval towns and take part in various exciting activities, from watching artisans mold glass masterpieces in Murano, to making Carneval masks in Venice, to attending a gladiator school in Rome. 
Rates: Pricing begins at $4,999 per adult ($4,499 per child) and includes accommodation, meals as specified, tour guides and unique activities.
Departures dates available: June 21st – July 1st; July 19th – 29th.
Contact:
Perillo's Learning Journeys
(855) 330-1542
Tour Details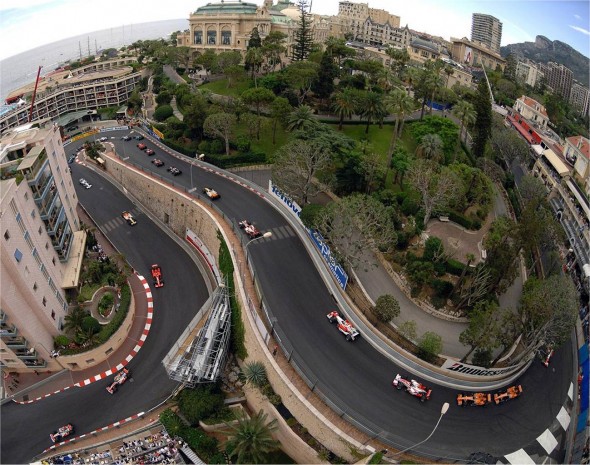 Formula One Racing Specials Gear Up Around the World

Formula 1 is one of the world's most prestigious sporting spectaculars – with fast cars, fancy parties and famous drivers from all over the world converging on chic hotspots from Montreal to Shanghai. Whether travelers want to rub elbows with the glitterati or be thrilled by the revving engines, Raffles, Fairmont and Swissôtel hotels globally are the perfect pit stops.
Monaco: F1 Grand Prix de Monaco, May 22-25, 2014
Perhaps the most prestigious event on the F1 circuit, the Formula 1 Grand Prix de Monaco is legendary. The famed Fairmont Hairpin turn is an action-packed spot on the circuit, and Fairmont Monte Carlo hovers right above it. The hotel's exclusive Grand Prix Formula One Experience includes accommodation for up to four nights, access to the roof top terrace overlooking the famous Hairpin Turn, daily buffet breakfast and special Grand Prix welcome amenities. The package is available from May 22-26, 2014 and rates start from €8,290 ($11,435) per night based on double occupancy.
** Extra: the Billionaire nightclub will be at Fairmont Monte Carlo for three very exclusive parties during the F1 festivities. Hotel guests are welcome to be a part of the most sophisticated and exuberant parties in the Principality and celebrate the biggest event in Monaco.
Montreal: F1 Grand Prix du Canada, June 6-8, 2014
The Circuit Gilles-Villeneuve racetrack makes this event one of the most exciting on the F1 calendar. Lodging is at the centrally located Fairmont The Queen Elizabeth. Once the race is over, the exciting nightlife, just steps away, tops off the day. The Grand Prix du Canada offer is available from June 5-8, 2014 and is based on a two-night minimum stay. Rates start at $499 CAD ($452 US) per night for a three-night stay arriving June 5 or 6, 2014 and from $599 CAD ($543 US) per night, based on double occupancy for a two-night stay arriving June 6 or 7, 2014. 
Singapore: F1 Singapore Grand Prix, September 19-21, 2014
In Singapore the racing stars come out at night during the only evening race on the F1 circuit. Formula 1 aficionados can live the adventure with a stay in one of the city's finest luxury hotels: Raffles Singapore or Fairmont Singapore. Raffles Singapore, an oasis of colonial style, calm and charm in the heart of modern Singapore, offers a 10% discount on stays from September 19-21, 2014. At Fairmont Singapore, which features panoramic race views from its prime location at Turn 9 of the Marina Bay Street Circuit, guests can take in the exciting night race and enjoy exquisite dining and spectacular parties. From September 18-21, 2014 the hotel offers 10% off on circuit-facing rooms with rates starting from $1,035 SGD ($825 US) per room, per night. A three-night minimum stay is required and bookings must be made before June 30.
Also in Singapore, Swissôtel The Stamford is within walking distance of the race track and offers special savings for guests who book early. Starting at $1,260 SGD ($1,004 US), the hotel's Early Bird Offer includes 10% off when booking a track facing room before June 30, 2014. A minimum three-night stay is required. For more information and reservations, please visit:
Nearby, Swissôtel Merchant Court, Singapore celebrates its 17th anniversary in 2014, and guests can enjoy an early bird offer of a 17% discount on the room rate. Just 10 minutes from the race circuit, the hotel is at the heart of all the exhilarating track action and guests can enjoy a host of dining and entertainment options.
Sochi: F1 Russian Grand Prix, October 10-12, 2014
New to the F1 race circuit and new to the Swissôtel portfolio is Sochi, Russia, which has emerged as one of the Russia's top sporting destinations. Swissôtel Sochi Kamelia offers a special Formula 1 package of 17,500 RUB ($490 US) per night for the race weekend, October 10-12, 2014, which includes accommodation with breakfast, Formula 1 inspired welcome cocktails and access to the hotel's Purovel Spa & Sport.
Abu Dhabi: F1 Etihad Airways Abu Dhabi Grand Prix, November 21-23, 2014
Formula 1 debuted in Abu Dhabi in 2009, and featured the first F1 twilight race, as floodlights were used to transition the Yas Marina track seamlessly from day to night. Fairmont Bab Al Bahr brings guests to the heart of the action with the F1 Abu Dhabi Grand Prix Experience, available for stays from November 19-24, 2014. The offer includes a fifth night complimentary when guests book four nights in a Fairmont Gold Room or Suite.
Can't make the race in 2014? Make it in Baku, Azerbaijan in 2016 and stay at the Fairmont Baku.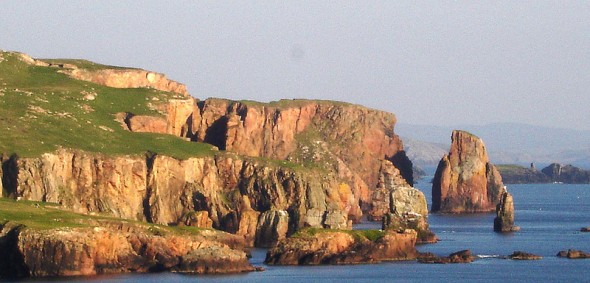 Europe's Isolated Frontier – The Outer Hebrides of Scotland
The remote islands of the Outer Hebrides that shield the northwest coast of Scotland, boast rugged, mournful landscapes of black moors, mountains and stony hills dotted with Neolithic standing stones and the remains of Viking settlements. Here there are still many traditional crofting communities that maintain an "old-fashioned" way of life, where religion plays a complex and important role.
The Great Canadian Travel Company, a specialist in travel to remote corners of the globe, is introducing a 9-day, 8-night escorted tour of the Outer Hebrides. Beginning and ending in Glasgow, the itinerary includes Loch Lomond and the Highlands, the Isle of Skye, the Isle of Uist, and the Isles of Lewis and Harris. Sites visited include Eilean Donan Castle (perhaps the most photographed castle in Scotland); Dunvegan Castle, stronghold of the Clan McLeod; the Talisker Distillery; Loch Druidibeg, a national nature reserve famous for its abundant birdlife; the tweed shops of Harris; an Iron Age broch; and the Neolithic site of the Callanish Standing Stones, constructed between 2900 and 2600 BC.
Rates: $2,699 Canadian (app. $2425 US) per person, the tour has two departures: September 18 and September 25. Included in the package are accommodations throughout, the services of an English-speaking guide, 8 breakfasts and dinners, all transportation within Scotland, and sightseeing and entrances as listed in the itinerary.
Contact:
The Great Canadian Travel Company
800-661-3830,
www.greatcanadiantravel.com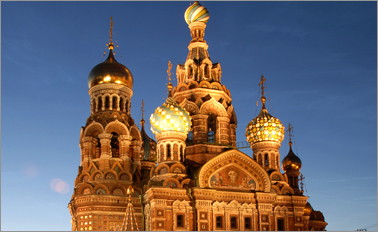 Summer Flash Sale at Princess Cruises: The Need for Speed
Great discounts are afloat for Princess Cruises sailings if those reservations are booked by the end of April. A clearance sale on the lines' most popular destinations, including Alaska, Europe and the Caribbean allow passengers to save up to 40 percent per person on launch fares, plus receive as much as $200 in onboard spending money per stateroom.
More than 150 cruises are featured in the sale, including top cruise destinations such as the Great Land of Alaska and the sunny Caribbean. Or travelers can explore several captivating destinations throughout Europe, on cruises to the Norwegian Fjords, Mediterranean, British Isles, and Scandinavia and Russia.
In addition to special fares, passengers booking cruises to Alaska and the Caribbean will receive onboard credit of $50 per interior stateroom, $100 per oceanview stateroom, and $150 per balcony stateroom and above. Passengers booking cruises to Europe will receive onboard credit of $100 per interior stateroom, $150 per oceanview stateroom, and $200 per balcony stateroom and above.
Samples of Summer Clearance Sale fares include:
Caribbean cruise: 7 days: $599 interior, $999 balcony.
Alaska cruise: 7 days: $499 interior, $1,049 balcony.
Norwegian Fjords cruise: 7 days: $999 interior, $1,699 balcony.
Scandinavia and Russia cruise: 11 days: $1,699 interior, $2,599 balcony.
Mediterranean cruise: 12 days: $1,699 interior, $2,599 balcony.
British Isles cruise: 12 days: $1,699 interior, $2,599 balcony.
Prices quoted are per person, double. The Princess Cruises Clearance Sale runs through 11:59 p.m. PDT on April 30, 2014 and is available to residents of the United States, Canada, Puerto Rico and Mexico.
Contact:
Princess Cruises
(866) 335-6379
princess.com/sale
Related Stories: