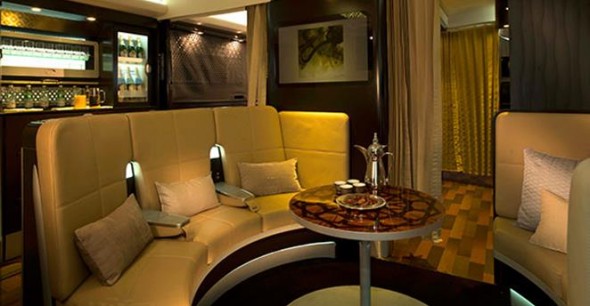 Etihad, ten years ago a startup airline in a far desert with some big wings to fill, is today easily the fastest growing airline system in the world. The Abu Dhabi-flagged carrier launched daily service to the UAE from Los Angeles this month and has eyes on Dallas/Ft. Worth later this year.
But that is not where the story ends. Turns out this "little airline that could" is out to upend the commercial airline business as we know it. The company is targeting December to have its first "Residences in the Sky" passengers aboard an A380 in a private three-room "penthouse" suite tucked into the corner of the aircraft. The pampered flight from London to Abu Dhabi will cost $42,000 roundtrip for the super comfortable flight experience. (No, you can't use points for this).
The airline is already known for its "Flying Nannies," who roam the aisles with storybooks and hot chocolate to distract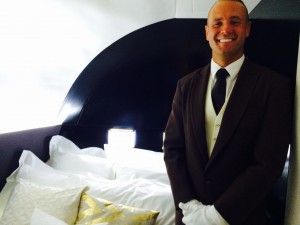 bored children enduring those 16-hour longhauls. But the Residences, fit with dedicated Savoy Academy-trained butler, shower, sitting/dining area and cozy, private double bed chamber, puts Etihad in a league of its own for now. Rumors that Emirates may be up to something equally eye catching are circulating on some airline-watch sites.
"We thought … what can we do that wows but works," said Etihad CEO James Hogan in a chat with travel press ahead of a gala celebration of the airline's seminal launch of service from Los Angeles recently. "So we threw ideas around and the idea of a penthouse came up. Well, that works!"
Hogan has a reputation as a "fixer" in the airline industry, an energetic, out-of-box thinker with an uncanny ability to pull profits out of the ashes. His radical approach to the Etihad strategy has been to grow outreach through airline partnerships and equity ownerships and, so far, has brought to Etihad a connected route system that just about covers the globe.
Etihad Growth Model
The airline holds equity investments in Air Berlin, Air Seychelles, Virgin Australia, Aer Lingus, Air Serbia, Jet Airways, a Swiss regional carrier called Darwin, and is in the throes of ironing out a $1.7 billion agreement to acquire up to 49 percent of Alitalia.
The Alitalia move will similarly expand and deepen Etihad's reach into Europe and direct much of that air traffic back through Abu Dhabi, a city that is taking lightspeed aim at becoming a top hub for tourism, travel, shopping, culture, innovation and business over the next decade.
"We are using our investments to stretch. Our Air Berlin routes out of Dusseldorf and Stuttgart have changed the footprint of that market in Germany," he said. "It is now our number one market. There are some 40 million people on the India subcontinent that fly internationally each year and Jet Airways flies 14 million of them. In contrast, Australia has only 24 million people who fly internationally.
"We're integrating all of the networks – we first ask if there is a network fit. Can they link with our partners? Take Air Serbia and Air Seychelles, these are huge markets for us. We restructured their lift space, took out some people and replaced with what people were needed, cleaned out the bureaucracy and right shaped these airlines into profitability. It is very important to us that these airlines start to make money."
Hogan points to Air Serbia, a troubled airline that was purchased a year ago and is now on track to break even. "It turned into an outstanding product. Air Berlin now has our business class cabins installed. With our product and network we have access to 400 cities and a huge global market for what has essentially been the cost of two A380s. It's a different approach and a different business model," Hogan said.
But Etihad is not an airline known to play by the rules. Besides breaking ground with their penthouse in the sky, they have been making waves in other areas of the travel industry. The airline recently withdrew from Skytrax, a company that reviews, rates and awards airline service. The move might be likened to a hotel withdrawing from Mobil star ratings or even TripAdvisor. It simply isn't done. The tempest continues to brew between the two businesses, although it is pretty much confined to a teacup. Mr. Hogan is not paying it much mind. "Let's just say that we don't agree with the criteria they use and leave it at that," Hogan added.
In another melee of sorts, the airline socked it to travel agents and tour operators this month with a decision to eliminate flat 7 percent commissions for bookings. U.S. travel agents have long been supporting foreign carriers over domestic airlines for these commission-based sales. Other carriers, especially European companies, according to recent reports in Gulf News, may follow Etihad's move.
Etihad structures its remunerations and incentives based on sales productivity, Hogan responded, not flat commissions.
To bolster those sales to and from the U.S., Etihad is constructing an upper class lounge at the Tom Bradley International Terminal (TBiT) at LAX and shoring up immigration efficiencies from Abu Dhabi by allowing passengers who fly Etihad to the U.S. to complete their passage through U.S. Customs at the airport in Abu Dhabi.
The carrier is on schedule to carry more than 12 million passengers this year with its fleet of 99 Airbus and Boeing aircraft (iwhich will include 10 Airbus A380s). The company expects to begin stretching its presence into such locations and destinations as Cambodia and Myanmar in the coming years.
While Etihad takes delivery of the first of its A380s in December, four more of those planes in 2015 will bring on routes to Sydney, Melbourne, New York and Paris. The final five A380s will be delivered by 2017. Some 71 new B787 Dreamliners are expected between now and 2023 that will put Etihad on top with the largest such fleet.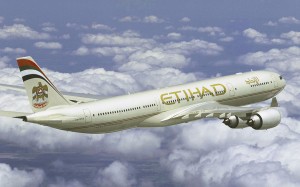 Related Stories: