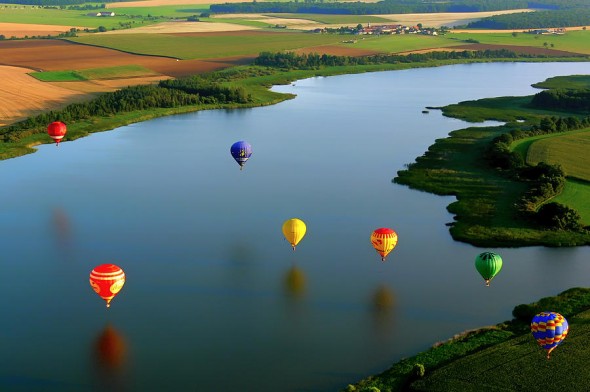 No matter what the season, there is a festival somewhere in France where it is lit up in celebration. From medieval re-enactments in 15th century villages to jazz festivals under the stars, France knows how to throw a party.
Festivals in France
PARIS
Paris Jazz Festival
Early June to late July 2016
www.parisjazzfestival.fr
Paris' premier jazz festival unfolds over the course of eight weeks in the Parc Floral botanical gardens of Paris. Having celebrated its 20th anniversary in 2014, it has been instrumental in helping jazz to keep reinventing itself rather than settling into a routine.
Paris Plages
Mid-July to mid-August 2016
www.paris.fr
A Seine-side holiday. That, in a nutshell, is what Paris Plages is all about. The Seine's banks become pedestrian byways and sandy beaches are spread across three spots – Louvre/Pont de Sully, Port de la Gare and Bassin de la Villette – complete with deck chairs, ice cream sellers and concerts for French and foreign guests. Holidaymakers at the Bassin de la Villette can also borrow books free of charge, play beach volleyball, take an aqua-gym class in a mini pool, kayak around the lake or, of course, just chill and enjoy.
Rock en Seine
Paris
August 26, 27 and 28, 2016
www.rockenseine.com
This three-day rock music festival is held in the park of the Château de Saint-Cloud, west of Paris, inside a garden designed by André Le Nôtre. 2014's lineup included: The Hives, Arctic Monkey, Lana Del Ray, Queens of the Stone Age, Portishead and more.
Paris Electronic Week
Mid-September 2016
www.pariselectronicweek.fr
This 10-day festival celebrates electronic music and culture through performances and workshops. Paris Electronic Week is organized by Technopol – Techno Parade, an association that, since 1996, has assisted in the development and promotion of electronic music and culture, as well as its adherents' networking and professionalism.
Nuit Blanche
Paris
October 1, 2016
www.quefaire.paris.fr
Nuit Blanche, a free, annual, dusk-to-dawn carnival of arts and culture, has become one of the most popular events on the Paris cultural calendar. It is an informal and relaxed way for the general public to become acquainted with contemporary artists in many settings – outdoors, in famous places in Paris, with children or friends, or just after eating in a restaurant. The success of this event, started in Paris in 2002, has led to its adoption in other cities like Rome, Brussels, Madrid and Montreal.
The Fountains Night Show
Château de Versailles (Ile-de-France)
Mid-June to Mid-September 2016
www.en.chateauversailles.fr
When night falls, the palace gardens transform into a stunning visual and musical treat. This year once again, lighting and stage-effects artists will illuminate the gardens and display their surprising installations to visitors: water features in the Mirror Fountain, lasers streaking across the dark in the Colonnade Grove and a fireworks display in front of the Grand Canal.
Louis XIV Night by William Christie
Château de Versailles (Ile-de-France)
www.chateauversailles-spectacles.fr
This historical and entertaining performance marks the 300th anniversary of the death of the Sun King. It is also a perfect occasion for William Christie and the Arts Florissants to do a day of music at Louis XIV's court. The master of ceremonies will be Louis XIV himself. He will guide the spectators through the palace (Opéra Royal, Chapelle Royale and Hall of Mirrors) and describe the splendors of the Court ceremonies.
RHONE-ALPS
Fête de la Musique
June 21, 2016
www.fetedelamusique.culture.fr
First held in France in 1982 on the summer solstice, this music festival is now an international success, with events from Philadelphia to Brisbane to Beijing. It remains a popular gathering of, often, spontaneous events that give equal place to amateur and professional musicians with no particular focus on any one kind of music. More than anything, it is a showcase for new musical trends and a renewal of traditional music, whether world music, choirs, rap or techno.
Gastronomy Festival (Fête de la Gastronomie)
Fourth weekend of September 2016
www.economie.gouv.fr/fete-gastronomie
The Fête de la Gastronomie is all about food and cooking, an occasion when the general public and food professionals get together to celebrate the unique, unifying, identity-creating elements of French heritage, now even registered on UNESCO's World Heritage List. The aim is to spotlight gastronomy in all its many and diverse forms and invite everyone, whether true foodies or just curious observers, to enjoy French gastronomy's many treasures, wherever they may be.
Looking ahead
Cité de la Gastronomie – Hotel Dieu
Lyon (Rhône-Alps)
Opening: end of 2017
www.grand-hotel-dieu.com/cite-de-la-gastronomie
The UNESCO World Heritage city of Lyon, home to the likes of three-star Michelin chef Paul Bocuse, will be opening a true temple of gastronomy. Late in the year, Lyon's Grand Hotel-Dieu, which was a hospital until early 2000, will swing wide its doors to the Cité de la Gastronomie, a space devoted to the flavors, styles, art and pleasures of cooking. Exhibitions, research and education will bring to life a devotion to culinary tradition and invention. In the same complex will be the city's first InterContinental hotel.
ALSACE
Christmas Market in Alsace
throughout Alsace
Through January 6, 2016 (Epiphany)
www.noel.tourisme-alsace.com
Christmas in Alsace is when towns and villages shine with a thousand lights. It's also a time of storytelling, caroling, renewing ancient regional traditions, enjoying recipes handed down through generations and rediscovering one's youth in a friendly and generous atmosphere. The festival period begins on the day of St. Catherine and finishes on the Epiphany.
AQUITAINE
Truffle Festival (Fête de la Truffe)
Sarlat
Third weekend in January
www.sarlat-tourisme.com
Every year, Sarlat gives itself over to the refinement of foie gras and truffles. The extremely popular festival is homage to local gastronomy during which everyone can taste these noble products and meet great names in French cuisine. Events include cooking classes, demonstrations and competitions; truffle hunting and identification; and, of course, tastings.
Basque Music Festival
Throughout Basque Aquitaine
September 2016
www.musiquecotebasque.fr
Over the course of six decades, Musique en Cote Basque has presented to the public the greatest soloists, ensembles and chamber orchestras in France. Always mindful of local realities and in search of ways to create unique moments in lively locales, Musique en Cote Basque brings to life the music of Schubert, Ravel, Falla, Franck and Rimsky-Korsakov in the exquisite, purple- and gold-tinted light of September's evenings.
Bordeaux Wine Festival (Bordeaux fete le vin)
June 23-26, 2016
www.bordeaux-wine-festival.com
A 2 km wine route between the river and the 18th century buildings. Pavilions featuring 80 appellations from Bordeaux and the Aquitaine region, as well as the great brands of Bordeaux
BURGUNDY
Donkey Festival (Fête de l'Âne)
Sens
January 16-24, 2016
Donkey Festival
Exhibitions, conferences, carriage rides, medieval food, activities and workshops in the Musées de Sens. All public performances.
Saint-Vincent Tournante
Irancy
January 30 & 31, 2016
www.st-vincent-tournante.fr
Traditional festival of the patron saint of winegrowers, held the last weekend of January. Festivities, wine tastings and banquets in a different village every year.
Festival Art Danse
Dijon (Burgundy)
January 2016 (Exact Date TBD)
www.art-danse.com
Contemporary dance festival allowing for the discovery and meeting of the choreographers, dancers and professionals who keep the discipline vital.
Chalon-sur-Saône Carnaval
Chalon-sur-Saône
February 26 to March 3, 2016
www.carnavaldechalon.com
Second only to Nice as the biggest carnival celebration! By the Saône River, laugh fully at the spectacle of giant cardboard heads.
Hospices de Nuits-Saint-Georges Wine Sale
Nuits-Saint-Georges
March 19-20, 2016
www.ot-nuits-st-georges.fr
The famous wine auction during which the previous year's harvest is sold. Many other activities also take place, like a half marathon through the vineyards, shows, a chocolate salon, tastings and more.
Les Montgolfiades
Chalon-sur-Saône
May 14-16, 2016 (Exact Date TBD)
www.montgolfiades71.com
This ballooning and wine festival brings together 50 balloons from all across Europe during the Pentecost weekend. Numerous activities include wine tastings, exhibitions, demonstrations, games, music, entertainment and, of course, hot air balloon flights.
Coupes Moto Légende
Prenois
May, 21 & 22, 2016}
www.coupes-moto-legende.fr
This is Europe's largest motorcycle rally, a truly festive gathering.
Les Zaccros d'ma Rue}
Nevers
July 2016 (Exact Date TBD)
www.zaccros.org
Circus troupes "invade" the streets of Nevers every summer. And with them they bring shows, concerts and performances, each one crazier than the next! More than 200 performances are on the program every year to the delight of all audience.
La Route Touristique du Champagne en Fête
Les Riceys (Champagne)
August, 2016
www.2014.routeduchampagne.com
In the south of Champagne, wine growers from the Seine Valley invite 25,000 to 40,000 people to a musical and gourmet stroll in the heart of their villages. The goal of this extraordinary weekend is to open wine cellars and bottles in a different part of the Côte de Bar each year. A champagne glass and trip log provide access to a free tasting in every participating domain.
Winter Golf
Val d'Isère (French Alps)
March 28 to April 3, 2016
www.valdisere.com
Golf on snow? You bet. This is the third Winter Golf Cup in the Manchet Valley, and it is a competition, events and courses open to everyone. Yes, when the Winter Golf comes to Val d'Isère, things really heat up in the village with street golf at nightfall. Then, at dawn, 40 teams of two players (Pro-Am) head out to the specially prepared nine-hole course in the Manchet Valley.
Christmas Markets in Metz
Metz (Lorraine)
Through December 28, 2015 (one Christmas Market until January 4th)
www.noel-a-metz.com
This is the most important Christmas market in the east of France, marking the beginning of the end of the year. Like a little village set in the center of the city, more than 80 pine-wood chalets of all different colors sprout into being and draw crowds of young and old into a welcome fairytale setting. The Christmas market takes over several locations in the city and includes Europe's largest Ferris wheel and a huge skating rink.
Medieval Festival of the Grand Falconer
Cordes-sur-Ciel (Midi-Pyrénées)
July 13 & 14, 2016
www.grandfauconnier.com
Taking place in the beautiful perched village of Cordes-sur-Ciel, visitors step back in time to the Middle Ages and are entertained by troubadors, jugglers, falconers and other relics of the village's medieval past.
Jazz in Marciac
Marciac(Midi-Pyrénées)
July 25 to August 13, 2016
www.jazzinmarciac.com
This legendary festival whose patron is Wynton Marsalis, has featured many international jazz stars over the years including Keith Jarret, Dee Dee Bridgewater, Diana Reeves and of course Wynton Marsalis.
Piano aux Jacobins
Toulouse (Midi-Pyrénées)
September 6 to 30, 2016
www.pianojacobins.com
The first festival in France entirely dedicated to piano performances, this event is a highlight of the city's festive autumn calendar.
NORD-PAS DE CALAIS
Lille Flea Market (Braderie de Lille)
Lille (Nord-Pas de Calais)
September 3-4, 2016
www.braderie-de-lille.fr
The Lille Flea Market is the largest and most famous flea market in Europe. Every year, more than two million visitors from all over the continent (and beyond) take to the streets of the city in search of bargains. Many events also take place throughout the weekend, not the least of which are focused on gastronomy.
NORMANDY
Scallop Festival
Port-en-Bessin-Huppain & Grandcamp-Maisy
November 14-15, 2015
Lower Normandy is a maritime region par excellence, where the scallop represents the main fishing product. Every year, in le Bessin, two fishing villages celebrate the start of scallop harvesting with festivals: "Le Goût du Large" in November in Port-en-Bessin-Huppain (north of Bayeux) and "La Coquille Saint-Jacques en Fête" in December in Grandcamp-Maisy (east of the Baie des Veys). Food tasting, cooking demonstrations, fish auctions, a book fair, concerts and guided tours are all on the program.
Normandy Impressionist Festival
April 16 to September 26, 2016
www.normandie-impressionniste.eu
Normandy, the cradle of Impressionism… Now an established event in the Normandy calendar, the 3rd edition of the festival will be dedicated to impressionist portraits. Major exhibitions are already planned in the major Fine Arts museums in Caen, Giverny, Honfleur, Le Havre and Rouen. Other festive and cultural events will take place all over Normandy from luncheons on the grass to sound and light shows and concerts.
Medieval Normandy
June to September 2016
www.bayeux-bessin-tourisme.com
Steeped in our common history, Normandy invites you to go back in time to retrace the footsteps of William the Conqueror, Richard the Lionheart and Joan of Arc. Explore the rich medieval history of Normandy's architectural heritage with its châteaux, abbeys and museums. From June to September 2016, many festive medieval events will take place in Normandy, home of William the Conqueror. In July, the streets of Bayeux will come alive with street theatre during the medieval festival and in August, Dives-sur-Mer will celebrate the 950th anniversary of William the Conqueror's sailing to England prior to his victory at Hastings.
Tour de France 2016 starting from the Mont-Saint-Michel
July 2nd, 2016
www.tourdefrance-manche.com
In 2016, the cycling spotlight will be on Normandy as the Tour starts at the foot of the iconic Mont-Saint-Michel with the first stage ending at Utah Beach, Sainte-Marie-du-Mont, and the second stage will see cyclists riding from Saint-Lô to Cherbourg-Octeville on the Cotentin peninsula. The third stage will leave from Granville on 4th July 2016.
Related Stories: