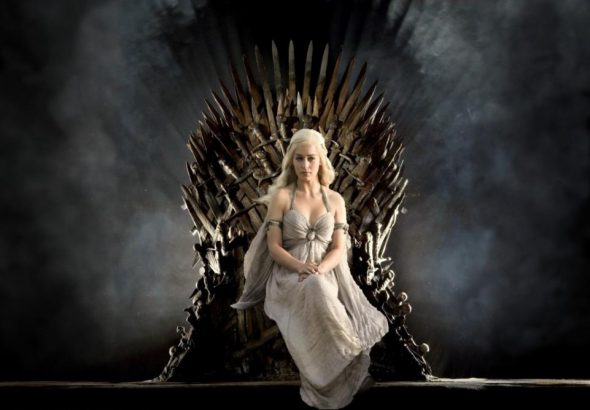 As Game of Thrones has just started its sixth season, throwing shockers at us good and bad: Cercei's redemption after her "Walk of Shame," Tyrion's realization that everywhere he goes there is "someone that wants to kill him;" Arya's new face that cannot see, and therefore, cannot kill her enemies; and let's not forget Daenarys' foreboding condemnation to nothingness in the Temple of Widows. And then there is the revealing unrobing of The Red Woman and the expected resurrection of Jon Snow – all playing out in settings more stunning than the cruelties and creepy kindnesses that keep audiences riveted.
Probably the top spot those who want to get as close as they can to these fantastical kingdoms is Croatia. Scenes are played out in Iceland, Ireland, Morocco and Spain but GoT aficionados may want to start their exploration in Croatia where so much evil is plotted amid sensual gardens and richly textiled castle towers.
There is the 1700-year-old Diocletian's Palace, revealing such filming locations as Daenarys' throne room and the streets of Meereen.
Then there is Klis Fortress, a stone castle perched on top of a mountain that also serves as the setting for many of the outdoor scenes of Meereen. The fortress also features the best view of Split.
These spots can be found in the old city of Dubrovnik, Trsteno, plus the ancient city of Split. Inside Dubrovnik's untouched walled old city, tiny lanes and stone houses the city creates the perfect place for King's Landing, as rabid royalty intersects with commoners, prostitutes, guards and now whatever stands for the Church of these lands.
Pile, may be one of the prettiest spots in the old town and doubles for Blackwater Bay in the series. We easily recall Shae and Sansa Stark watching the ships and plotting escape plans at the end of the jetty.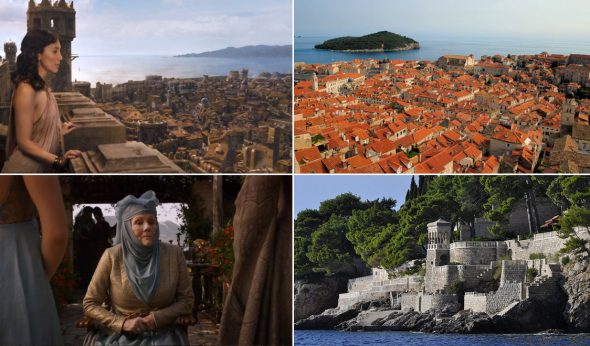 On Lokrum Island, just off Croatia's mainland, find the city of Qarth that was ruled by the "pureborn" and notably the place where Daenerys Targaryen got her frosty welcome from the Spice King.
Mineeta Tower is the highest point of Dubrovnik and provides magnificent views across the city. These are walls of the House of the Undying, where Khaleesi walks around the exterior wall trying to find the entrance.
The circa 15th century Trsteno Arboretum can be visited and recalled as the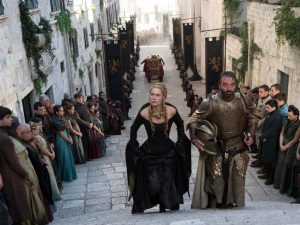 spectacular lush gardens of Kings Landing with spectacular viewing platforms overlooking the Adriatic Sea. It's just 20 minutes from Dubrovnik, and is where all the palace garden scenes from King's Landing take place.
Then there is Bokar Fortress, a fairytale-like building that is backdrop to all the snarcking and politicking within the Lannister clan amid stone rooms and castle lookouts.
Game of Thrones Tours
A number of tour operators are offering their version of where to find Game of Throne scenes and sets and these are proving to be quite popular.
Select Croatia (800-877-1755), part of Select Italy, is a one-stop-shop for a memorable trip to Croatia and offers a wide selection of travel services, including adventurous experiences in the Dalmatian region where Game of Thrones scenes and settings abound.
Dubrovnik's City Walls by Kayak – half-day tour perfect for experiencing Dubrovnik's City Walls while avoiding street crowds.
Paklinski Archipelago by Kayak from Hvar – this half-day tour covers the most scenic views of the Adriatic seacoast.
Small Group Hiking Tour of Hvar – this guided tour takes place in the picturesque countryside of Hvar Island, while hiking through villages, olive groves, and vineyards.
Modric Cave Adventure – an expedition through a very special cave, without man-made paths or electricity, which makes it an incredible experience.
Dedicated Game of Thrones Tours by Insight Vacations
Insight Vacations is also giving fans of HBO's "Game of Thrones" the rare opportunity to walk in the footsteps of their favorite characters. This epic fantasy series filmed in a variety of breathtaking locations around the world, but Croatia played a starring role for some of the series' most pivotal kingdoms and unforgettable scenes. Insight Vacations offers a variety of legendary tours that showcase this glorious destination, including landscapes and attractions easily recognizable from the popular series.
As it is a special interest tour it is limited to two departures and brings travelers on a voyage to the capital of the Seven Kingdoms. Guests begin in Split, the heart of the greatest Roman ruin in western Europe, which acts as the lovely (but troubled) city of Meereen and hosts a number scenes with the Mother of Dragons. Guests tour the enormous Diocletian's Palace, a UNESCO site that still makes up the architectural fabric of the town, which was the setting for Daenerys' throne room as well as the labyrinth where she led the slaves of Meereen to overturn their masters.
Krka National Park is one of Croatia's eight National Parks and was used for shooting many of the countryside scenes throughout the series; Insight guests enjoy a full day exploring the forest along looping wooden boardwalks that connect emerald green waters with the park's cascading falls. Finally, guests arrive at Dubrovnik – heralded "Paradise on Earth" and crowned the "Pearl of the Adriatic" – but known to fans as King's Landing. This exquisite fortress city was also used for filming parts of Qarth and Slaver's Bay, and fans will find its Venetian Gothic architecture and marble-paved Renaissance squares even more impressive in person.
Contact:
Insight Vacations
(888) 680-1241