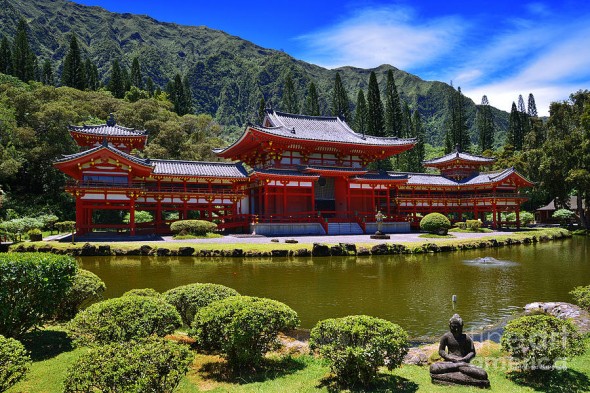 To find your inner Japan in the sprawling Hawaiian Islands you need only to look around you. The islands are replete with Japanese monuments, traditions and sensibilities. Here is a guide to where east meets west in Hawaii.

Obon – This link showcases the Summer of Obon 2015 – The summer Obon season perpetuates the Buddhist tradition of honoring family ancestors, who are said to return to the mortal world to visit relatives during this Festival of Lanterns. With food booths, taiko drummers and other colorful sights and sounds, bon dances have become a cultural touchstone for all in Hawaii.
KAUAI
Kukuiolono Park – The newly renovated Japanese garden is a great place for a stroll down a quaint path and over a footbridge where visitors can see fountains, statues, bonsai trees and other plantings. The garden path leads up to a unique and extensive collection of Hawaiian lava rock artifacts and a newly-built meditation pavilion.
Lawai International Center – In ancient times, Hawaiians built heiau in the Lawai Valley only to be followed by the Chinese, Japanese, Portuguese and Filipinos and their structures of worship. In this valley are the remains of the prayers of all ethnicities and religions.
OAHU
Honolulu Festival – Celebrating it's 22nd anniversary in 2016, this three-day festival shares a rich and vibrant blend of Asian and Pacific Island cultures with the rest of the world through educational programs, activities, craft fairs, demonstrations, and a grand parade through Waikiki.
Korean Festival – The Korean Festival is an annual event run by the Hawaii Korean Chamber of Commerce, with the support of dozens of community organizations and businesses, and hundreds of volunteers. The purpose of the Korean Festival is to share, promote, and raise awareness of Korean culture in the community.
The Joy of Sake – The Joy of Sake celebrates Hawaii's hundred-year love affair with sake—from the early days of Japanese immigration and the founding of the Honolulu Sake Brewery up to the present. Today Honolulu hosts the annual U.S. National Sake Appraisal and has more sake-serving restaurants per capita than any other city in the country.
Hawaii International Film Festival – As the vanguard forum of international cinematic achievement in the Asia-Pacific region, Hawaii International Film Festival (HIFF) endeavors to recognize new and emerging talent, promote career development and original collaborations through innovative education programs, and facilitate dynamic cultural exchange through the cinema arts. HIFF is the sister festival of Shanghai International Film Festival (SIFF) & Shanghai Media and Entertainment Group (SMEG).
Liliuokalani Gardens – Blink and you may think you're in Japan as you stroll through peaceful Liliuokalani Gardens, named after Hawaii's last reigning monarch, Queen Liliuokalani. Located on Hilo's Banyan Drive, this authentic, 30-acre Japanese garden was dedicated in 1917 as a tribute to Hawaii's first Japanese immigrants who worked in the Hawaii Island sugar cane fields.
Byodo-In Temple – Located at the Valley of the Temples in Windward Oahu, this temple was established to commemorate the 100 year anniversary of the first Japanese immigrants to Hawaii. The temple is a smaller-scale replica of the 950 year-old Byodo-In Temple in Japan.
MAUI
Sugar Museum – Displays historical information about some of the pioneers who established Maui's modern sugar industry. Also includes artifacts, photos and documents (including labor contracts written in Hawaiian, Japanese and Chinese) showing the arrival of immigrant plantation workers from around the world.
Lahaina Jodo Mission – Located in Lahaina, this Japanese-style temple is home to the largest Buddha outside of Japan.
HAWAII ISLAND
The Waimea Cherry Blossom Heritage Festival – This free annual event in Kamuela on Hawaii Island celebrates the first cherry blossoms of spring. Visitors can enjoy entertainment, food, demonstrations, arts and crafts, and cultural and historic activities.
Liliuokalani Gardens – Located on Hilo's Banyan Drive, this authentic, 30-acre Japanese garden was dedicated in 1917 as a tribute to Hawaii's first Japanese immigrants who worked in the Hawaii Island sugar cane fields.
Mauna Kea Beach Hotel – In an attempt to foster an awareness of the East, Venture capitalist Laurance S. Rocekfeller meticulously gathered his 1,600 piece collection of Asian and Oceanic art, intentionally incorporating pieces into the hotel's design."Our hope was that these encounters would succeed in conveying to our visitors an awareness of, and an appreciation for, the traditions of the East," he notes in a book dedicated to his effort, The Mauna Kea Collection. Guests remain fascinated by the unusual collection representing the cultures of India, Southeast Asia, China, Japan, Melanesia, and Polynesia, as demonstrated by the popular weekly art tour conducted by expert Patti Cook.
Related Stories: