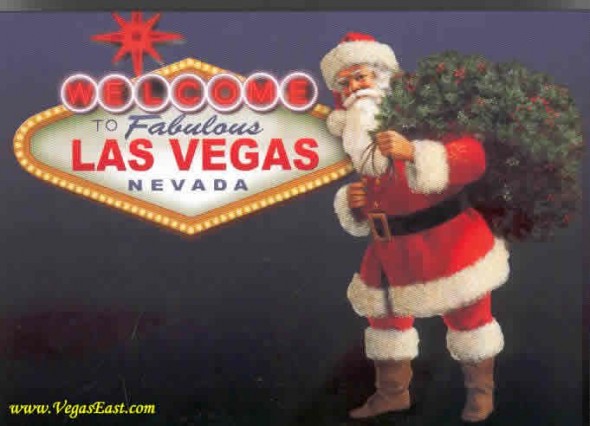 While cold winds blow the sand about the Mojave this winter, Las Vegas will be aglow in lights, adrift in snow flakes, blanketed in colorful sculptured flower gardens, aflutter in holiday entertainment, simmering in aromas from celebrity chef kitchens and saturated with sitting Santas, whether the sexy kind, the cowboy kind, the wet kind or usual facsimiles of good 'ole St. Nick.
Visitors can grab some kitsch with their hot chocolate and head down the Las Vegas Strip to the North Pole, Las Vegas style. What few visitors do not know about the popular desert destination is the time between Thanksgiving and New Year's is actually the best time to visit Las Vegas. Crowds are the leanest they will be and the deals are plentiful, waiting to be snatched up. Buffets get their two-4-one treatments; shows see holiday prices and promotions; the city is in costume – adorned from north to south with wild lighting, Christmas trees, free entertainment and eye-popping spectacles, and the hotels put out their best room deals. Mandalay Bay for $66? No problem. Aria for $114? Done.
Meanwhile, Las Vegas transforms into a winter wonderland to celebrate the season by creating magical moments in decor and displays, ice-skating rinks and snow flurries.
Las Vegas and Holiday Lights
Downtown Las Vegas kicks-off the holiday season when Mayor Goodman and Santa Claus light Las Vegas' official Christmas tree on Dec. 9 at 5 p.m. The tree will be brilliantly decorated and shine brightly below the 12.5 million lights of the Viva Vision Canopy. The annual Grand Menorah Lighting Ceremony will take place Dec. 16 at 4 p.m. The Grand Menorah will be lit by Mayor Carolyn G. Goodman and on display through the holiday season at the Fremont Street Experience.
The Venetian gets into the holiday spirit with a 65-foot tall Italian-inspired holiday tree that's located at Doge's Palace. This beautiful tree is adorned with 50,000 programmable LED lights and 5,000 ornaments. Inside, the Waterfall Atrium & Gardens at The Palazzo offers an elaborate show-stopping winter display, a creation of The Palazzo's award-winning horticulture team.  The winter gardens feature white poinsettias accented with champagne, gold and green. Ice branches and 20-foot frosted birch, pine and glittering trees also complement the picturesque scene.
Bellagio unveils its winter display Dec. 4 at Bellagio's Conservatory & Botanical Gardens. More than 28,000 fresh poinsettias set the garden on fire. A 42-foot-tall holiday tree stands as the focal point of the display, decorated with 7,000 warm white LED lights and 2,500 ornaments. Two 12-foot-tall snow globes will sit at the base of the tree. Across the Conservatory, animated penguins will build igloos around a stage where live performances fill the air with sounds of the season nightly. The Fountains of Bellagio bellow in holiday songs, such as Carol of the Bells, O Holy Night, Hallelujah Chorus, Santa Baby and Sleigh Ride.
Wynn Las Vegas transforms into a festive landscape of more than 30 beautifully embellished holiday trees, 10,000 multicolored poinsettias, 33 dazzling wreaths, 2,500 feet of garland, six ornate menorahs and seasonal lighting throughout the resort.
The Ethel M Holiday Cactus Garden is open for the season through Jan. 1. The garden is lit nightly from 5 to 10 p.m. and admission to this desert spectacle is free. Guests are also invited to peek in on the Ethel M Chocolate factory, in full swing for the holiday season.
The Las Vegas Motor Speedway hosts the 14th annual Glittering Lights through Jan. 4. The flickering drive-thru light show features hundreds of displays along the 2.5-mile racetrack. The show starts nightly at 5:30 p.m.
Fashion Show Mall and Dream Works Animation take guests on a never-before-seen, magical experience with Adventure to Santa. Join Shrek and his friends as they take guests on an interactive journey to find Santa at the North Pole. This 15-minute experience is located at The Great Hall on the lower level of Nordstrom, now through Dec. 24.
Sam's Town Hotel and Gambling Hall flips the switch on its Mystic Falls Park Light and Water Show with a winter wonderland experience that includes a 15-minute laser light show starting nightly at 5 p.m. Cowboy Santa also makes an appearance Thursday-Sunday through Dec. 21.
Underwater Santa will also take a plunge in the Silverton Hotel & Casino's 117,000-gallon aquarium. He'll pose for pictures from 11 a.m. to 1 p.m. every weekend in December, leading up to Christmas.
Las Vegas Winter Wonderland
Holiday revelers are invited to lace up their ice skates as The Cosmopolitan of Las Vegas has once again transformed the iconic Boulevard Pool into The Ice Rink. This year it will feature a new experience on the Las Vegas Strip, snow showers. Under the blanket of falling snow, guests will experience showers throughout the evening while skating, roasting s'mores and enjoying a holiday cocktail.
Caesars Chalet will offer a traditional ice skating rink with an infusion of entertainment and special activities at Caesars Palace. Guests will ice skate over the iconic fountain in front of the property, overlooking the Las Vegas Strip. Ninety-minute skating sessions and extended passes are available along with seasonal food and beverages.
The Venetian hosts its culinary event of the year, Ultimo – A Weekend of Excellence, from Dec. 5-7.  Featuring lavish feasts of the finest food and extraordinary experiences from an A-team of luxury brands, Ultimo will celebrate the romance of Italy and the magic of its cuisine as it unfolds around The Venetian and The Palazzo. Celebrity chefs include Daniel Boulud, Emeril Lagasse and Buddy "Cake Boss" Valastro.
Santa trades his elves for zebra sharks and green sea turtles at Shark Reef Aquarium at Mandalay Bay Resort & Casino with "Santa in the Shipwreck," every Saturday and Sunday during the first three weekends of December. Santa will also be at the Luxor Hotel & Casino on Dec. 16, from 1-3 p.m. to greet guests and pose for pictures on the opulent Grand Staircase at Titanic: The Artifact Exhibition.
Town Square brings holiday cheer in the form of snowflakes. The flurries will fall nightly at Town Square Park until Dec. 23. An additional show will take place at 8 p.m. Friday-Sunday. Town Square Park is also home to the Holiday Nights and Lights Community Concerts on Thursday nights at 6 p.m. until Dec. 18. Kids can also get their picture taken with Santa through Christmas Eve.
Las Vegas Foodie Festivities
STK, the steakhouse inside The Cosmopolitan of Las Vegas, treats guests to an unforgettable holiday menu: from sundaes that smoke to chocolate peppermint tarts.
Chefs are cooking up a foodie feast at Wynn Las Vegas through Christmas Day provide unique pairing tree menus at Botero, Country Club, Mizumi and Lakeside. Guests enjoy the nog and grog holiday pop-up experience at Encore's High Limit Bar, with one-of-a-kind variations of the classic eggnog and the timeless grog beverage.
Edible Santa makes his way from the North Pole to Jean Philippe Patisserie at Bellagio where he sits in his favorite chair and welcomes visitors with chocolate addictions. This Santa is made entirely from such sweets as chocolate, fondant and sugar icing.
More information about Christmas in Las Vegas can be found at www.LasVegas.com.
Related Stories: