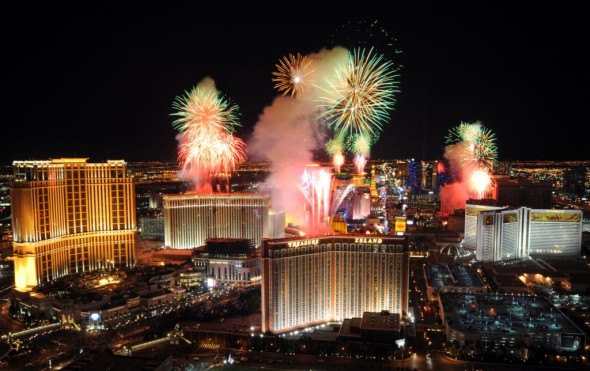 As if Las Vegas is not on fire enough it puts on one of the largest New Year's Eve parties and pyrotechnic firework shows on the planet. The rundown of fun brings an exhaustive list of happenings at Strip hotels hotels and in the downtown Fremont Street corridor. The Strip , itself closes to traffic in the early evening and the mile-long neon byway becomes a pedestrian free-for-all through the early dawn hours.
The following is a list of what is happening where for New Year's in Las Vegas as the curtain falls on 2012.
The Las Vegas sky will light up as the clock strikes midnight, and celebrators ring in the New Year by watching a stunning fireworks display across the Strip . The dazzling show will be fired from the rooftops of seven resorts along the iconic boulevard: MGM Grand Hotel & Casino, ARIA Resort & Casino, Planet Hollywood Resort & Casino, Caesars Palace, Treasure Island (TI), Venetian Resort-Hotel-Casino and the Stratosphere. The much-anticipated America's Party presents a pyro sky show produced by Grucci of New York.
Music and sports legends will run headline events. The Killers kick off New Year's Eve weekend at The Cosmopolitan of Las Vegas. They take the stage on Dec. 28 and 29 at 9 p.m. inside The Chelsea The Red Hot Chili Peppers will perform on Dec. 31 at 11 p.m. inside of The Chelsea Ballroom to ring in 2013. Visitors will also be able to see the GRAMMY® award-winning band perform live on the 65-foot digital marquee facing the

The Strip

.
The Black Keys rock in the New Year with two epic shows at The Joint at Hard Rock Hotel & Casino with performances at 9:30 p.m. on Dec. 30 and 31 with special guest Divine Fits.
Pitbull takes over the Pearl Concert Theater inside The Palms Casino Resort on Dec. 28 and 29 at 8 p.m.
UFC returns to the Grand Garden Arena at the MGM Grand Hotel & Casino on Dec. 29 for a well-anticipated rematch between Dos Santos and Cain Velasquez. Additionally, the legendary rock band The Eagles return to the Grand Garden Arena for one night only on Dec. 30 at 8 p.m.
Celine Dion performs a special New Year's Eve concert at The Colosseum at Caesars Palace at 7:30 p.m.
Partygoers can rock in the New Year with Fremont Street Experience's Downtown Countdown starting at 6 pm with a street party featuring Buckcherry and Queensryche plus special guests Quiet Riot, Pop Evil and Otherwise. The Downtown countdown also includes a 2012 year-in-review on the Viva Vision screen, and a midnight countdown led by Las Vegas Mayor Carolyn G. Goodman.
SHe will become the newest nightlife and dining destination on the Strip. Located inside the ultra-luxe Crystals in CityCenter, the upscale, Art Deco inspired boutique nightspot is the only nightlife venue set to host its grand opening celebration on New Year's Eve.
Hard Rock Hotel & Casino Las Vegas will host the grand re-opening of Body English on Dec. 28, just in time for an indulgent New Year's 2013 celebration. Body English will showcase indie, electronic, rock and pop music.
TAO Las Vegas at Venetian Resort-Hotel-Casino will ring in the New Year with hip-hop sensation, J. Cole. LAVO Las Vegas inside Palazzo Las Vegas will play host to a party with GRAMMY® award-winning artist Brandy.
Marquee Nightclub & Dayclub at The Cosmopolitan of Las Vegas starts the New Year's Eve weekend with ATB on Dec. 28, Kaskade on Dec. 29, AVICII on Dec. 30, and Benny Benassi hosting the biggest bash on New Year's Eve.
There are also four nights of celebration at XS, the ultra-sexy nightclub at Encore at Wynn Las Vegas. Tiesto kicks it off on Dec. 28, followed by Steve Angello with Third Party on Dec. 29. Deadmau5 takes over the celebration on Dec. 30 with AVICII playing into 2013 on New Year's Eve.
N9NE Group Las Vegas will throw several bashes that partygoers won't want to miss inside The Palms Casino Resort. Questlove and DJ Jazzy Jeff will get the crowd going at Moon Nightclub on Dec. 29. Kelly Rowland hosts a dynamic evening at Rain Nightclub also on Dec. 29 with the club's big bash on Dec. 31 with Travis Barker & Yelawolf acting as the New Year's Eve grand marshals.
The Light Group welcomes guests to ring in the New Year Las Vegas-style, celebrating with a full line-up of star-studded entertainment.  Foster the People will perform favorites at The Bank Nightclub at Bellagio Resort & Casino. Kim Kardashian hosts the evening in style at 1 OAK Nightclub at The Mirage Hotel & Casino.
Collective Zoo will transform the Sky Combat Hanger at the Henderson Executive Airport to host the black tie "The Great Gatsby" themed bash in roaring 20s style.
As for dining Wynn Las Vegas will host an exclusive New Year's Eve soiree in the Lafite Ballroom starting at 9 p.m. In addition, the evolution of Las Vegas nightlife takes a culinary turn with the Dec. 28 opening of Andrea's, a unique new dining concept at Encore at Wynn Las Vegas.  The restaurant debuts an alluring style of "vibe dining," combining a restaurant and nightlife experience into one environment.
miX Lounge at THEhotel inside Mandalay Bay will offer guests a front row seat to the fireworks spectacular.  Located on the 64th floor of THEhotel, the sexy and sophisticated restaurant and ultra-lounge will provide a prix fixe three-course menu complete with champagne, along with indoor and outdoor dining options of the incomparable fireworks display.
Caesars Palace will be offering a variety of dining experiences for New Year's Eve, including the perfect place to countdown to midnight. Starting at 10 p.m., guests should arrive at Serendipity 3 to claim their seat at this Strip-side hotspot.
Two-time Michelin Star recipient Gordon Ramsay will host a special five-course prix fixe menu at his Las Vegas flagship restaurant in Paris Las Vegas , which includes his signature dish, beef wellington rossini.
Inside the Luxor Hotel and Casino the party gets started at Tacos & Tequila with the ladies of FANTASY stopping by on New Year's Eve to hand out complimentary Patrón tequila shots at 9 p.m. At nearby TENDER Steak & Seafood, the restaurant is offering steak, lobster and champagne specials.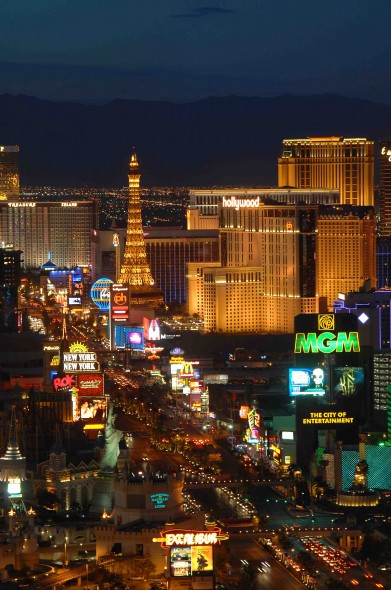 A word to the wise: Las Vegas fills up fast on New Year's and that includes its hotel rooms, which can be booked at prices that range from double to five times the usual rate. Early planning ensures a well-planned and fun evening with no sticker shocks or stuck-in-traffic plan Bs. Also, because The Strip shuts down to traffic for the night, visitors must try to be where they plan to be for the evening and try not to count on taking cars or cabs during that time. A street position somewhere on the Strip promises decent fireworks visibility. A high-rise window from the South side of The Strip looking north over Las Vegas Blvd. ensures a show like none other.