As the travel industry prepares to descend on Los Angeles Sept. 6-10 for the annual travel expo — The Trade Show — the American Society of Travel Agents' weighty annual showcase of what's hot and trending in travel, Downtown Los Angeles will be in the spotlight as the destination du jour. Most of the action will center on LA Live, convenient the the Los Angeles Convention Center and a destination in its own right.
L.A. Live, Downtown Los Angeles's daring endeavor to put high profile dining, clubbing, sports, entertainment and hospitality into a tight and electrified convention center campus, is showing signs of success at the new Marriott/Ritz-Carton hotel complex.
The 878-room Marriott tower of steel and glass paints a significant profile on the LA skyline, especially with the added 123-room Ritz-Carlton Hotel and its 224 Ritz-Carlton residences rising through the 54-story tower. The new building marks the first tower in the company's portfolio that combines these two powerful brands in one tall structure.
When the new properties opened in 2010 they produced the crowning moment to the L.A. Live project, a four million square foot, $2.5 billion mega-development that began its venture six years before. The project was conceived as a way to make downtown LA into a convention magnet, complementing the 867,000-square-foot Los Angeles Convention Center and 20,000-seat Staples Center Sports Arena (home of the LA Lakers and LA Kings) with a swirl of major entertainment real estate and attractions that would make the meetings in LA as competitive as any other venue in the nation. The vision continues to play on the success of LA Live with plans for a new football stadium that would attach to the LA Convention Center to play double duty as an exhibition hall between games.
Visitors can go to a game at Staples Center or a concert at the new 7,000-seat Nokia Theater (home to the Grammy Awards Sunday and the nation's only Grammy Museum) and top off the evening with clubbing at the Conga Room or dinner at Trader Vic's, Wolfgang Puck's restaurants, or LA Market by Kerry Simon. In addition to what the new Marriott and Ritz-Carlton bring there are about a dozen dining, drinking and lounging venues around the campus as well as a 14-screen cinaplex, an ESPN Zone, a Lucky Strike Bowling room and the more intimate Club Nokia amid the six city blocks that make up LA Live.
Each property has its own entrance and check-in procedures and presents service and amenities consistent with the brands. A 12,000-square-foot, Ritz-Carlton branded spa and fitness club is available to all tower guests; a lofty Ritz-Carlton Club Lounge (with four culinary presentations daily) can be booked for an added $100 per room, and several comely bars and relaxation lounges provide excellent respite from the day's business. The Marriott features a sprawling 4th floor rooftop pool complex with dining and cabanas for use by all guests staying in the tower. The Ritz-Carlton features its own rooftop pool on the 26th floor with private cabanas and private yoga sessions upon request.
Published rates generally start at $299 for JW Marriott but there are currently packages for two starting at $219 a night with a host of value inclusions. Ritz-Carlton's published rates start at $399 but packages available through the end of the year offer breakfast for two each morning, a $50 hotel credit per night and two tickets to the Grammy Museum for $339 per night.
Contact:
J.W. Marriott at LA Live
(213) 765-8600
Ritz-Carlton at LA Live
(213) 743-8800
LA Live
213.763.LIVE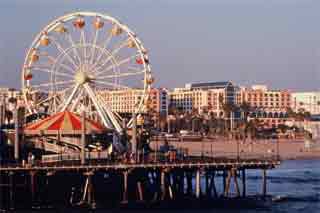 TOURS de FORCE
Meanwhile LA Tourism in conjunction with ASTA is rolling out the red carpet for travel agents to showcase the city and all it can be.
Here are some of the activities and tours to join:
Valid: Thursday September 6, 2012 through Monday September 10, 2012. 
Simply show your conference badge for free admission.
Starline Hop on Hop Off Downtown Tour 
This tour puts you in control with the ability to move at your own pace and visit the Downtown landmarks that interest you the most. You'll board an open-air double-decker bus and then hop off when the urge strikes.  Hop back on after you've had a chance to visit your chosen destination.  Highlights include Olvera Street, Little Tokyo, Broadway, the Fashion District, LA LIVE, Walt Disney Concert Hall, Our Lady of Angels Catholic Cathedral; Chinatown; and City Hall.
Madame Tussauds –Hollywood 
Located right next to the famous Grauman's Chinese Theatre, Handprints and Footprints of the stars on the
Walk of Fame this is more than just a wax museum! Discover what happens behind the scenes, which celebrity wax figures you can meet, mingle with your favorite and capture priceless photographs for a perfect Hollywood momento.
Grammy Museum
 Located in the Heart of L.A. LIVE, The GRAMMY Museum is an exciting and interactive celebration of the power of music occupying a vibrant new space in downtown Los Angeles. Four floors of cutting edge exhibits, interactive experiences and films provide a one-of-a-kind visitor experience — engaging, educational, celebratory and inspirational.
Universal Studios Hollywood – Complimentary Entrance
Get ready for the ultimate Hollywood movie experience at Universal Studios Hollywood! First, go behind the scenes on the world famous Studio Tour to explore where Hollywood movies are made. Then, face action head-on in heart-pounding rides, shows and attractions that put you inside some of the world's biggest movies. Be part of the battle as you embark on a mission to defend the Allspark from the evil clutches of the DECEPTICONS® in TransformersTM: The Ride-3D.
Universal Studios Hollywood is offering offer one complimentary one-day general admission ticket (for use during the expo dates) to each travel agent attending. RSVP to ASTA by logging into your account by Aug. 24. Tickets will be emailed to agents and must be printed and presented at the turnstile for park entrance. 
More Cool Complimentary Tours, L.A. Style
THURSDAY, SEPTEMBER 6, 2012
Ultimate L.A. City Tour
Experience every angle of Los Angeles from the Hollywood Sign to movie stars' homes. Of course, no Los Angeles city tour would be complete without a stop at some of our famous beaches and the infamous Original Farmers Market for shopping and lunch.  With the Los Angeles City Tour you can get a taste of all the glitz and glamour and also be able to get a sense of the cultural pulse of the city. www.bestlosangelestours.com
The Fantastic Los Angeles Race
Welcome to the Fantastic Race® Los Angeles 1 & 2 presented by LARF, inc.  Part scavenger hunt, part self-guided tour, part race and ALL FUN, the Fantastic Los Angeles Races® were the world's first competitive sight-seeing tours. If you ever wanted to have a reality show experience, are looking for a sight-seeing tour unlike any other, or just want to explore Los Angeles in a completely new way, the Fantastic Los Angeles Race® is for you. www.larfrace.com
Melting Pot Food Tours
Experience the history, architecture, and folklore on this guided walking culinary tour of some of Old Pasadena's best restaurants.  Experience a day of sophistication, culture, history and fabulous food.  Come hungry before embarking on this culinary journey through Pasadena's historic district sampling an eclectic blend of foods from an array of celebrated restaurants.  After a progressive feast, you'll explore the colorful alleyways and arcades of Old Town Pasadena as you peruse one-of-a-kind shops and boutiques. www.meltingpottours.com
Pedal… or Not
It's just another day at the beach when you embark on this sun-drenched tour of Venice and Santa Monica.  Cruise the coastline and bike along the beach passing by the many locals who come to surf, bask in the sun, skateboard and play volleyball right on the sand.  Pedal… or Not is L.A.'s only electric bicycle guided tour.  Get ready to cruise past the landmark Santa Monica Pier, and wander by the homes of some of Hollywood's biggest stars.  Get a glimpse of the bodybuilders who workout daily at Muscle Beach, and explore the quaint canals unique to Venice Beach. www.pedalornot.net
Deluxe Los Angeles Downtown Tour 
This is the most complete sightseeing tour of Downtown Los Angeles. Sit back and relax as an expert guide takes you to one-of-a-kind destinations, encompassing the world capital of the entertainment industry, historical and architectural gems and trend-setting arts scenes unlike any other. Highlights include Olvera Street, Little Tokyo, Broadway, the Fashion District, L.A. LIVE, Walt Disney Concert Hall, Cathedral of Our Lady of the Angels, Chinatown, and City Hall. www.starlinetours.com
SUNDAY, SEPTEMBER 9, 2012
TMZ Celebrity Tour
Hop on board and get ready for the ultimate Hollywood experience – the TMZ Hollywood tour!  The open-air TMZ bus, equipped with a state-of-the-art bus audio/video system, will pick you up from the convention center and take you on an exclusive tour of Beverly Hills, Hollywood and the world-famous Sunset Strip.  Hear inside information and never revealed details about Hollywood celebs and the stories that TMZ made famous.  Your guide, direct from TMZ on TV, is camera-ready and on the lookout, ready to film celebrities and send the footage immediately back to the TMZ newsroom.  The same team behind TMZ.COM and TMZ on TV produces this one of a kind experience. www.tmztour.com
Hollywood Hills on Horseback
Before Hollywood became the movie capital, it was an outpost for cowboys. Get a sense and appreciation for the city's western heritage with a tour back in time by heading to Hollywood's Sunset Ranch, an authentic working horse ranch also located in Griffith Park.  Enjoy a guided tour on horseback through the Hollywood Hills with photo opportunities of the Griffith Observatory, the Hollywood sign, and the Los Angeles basin as a backdrop. www.sunsetranchhollywood.com
Out & About in Los Angeles
The first and only gay bus tour in Los Angeles, Out & About Tours will show you Hollywood like nobody has ever dared. From West Hollywood to Downtown and all points in between, our lively crew will not only show you a good time, but blow the dust off over a century of closeted stars, underground bars and gay rights battle scars. This tour was crafted with everyone in mind – gay or straight, young or old, and guarantees to enlighten, educate and amuse everyone who dares set foot on our wild ride. So hop on board, grab a cocktail and hang on to your wigs!  www.outandabout-tours.com
USS IOWA Battleship Tour
Built in 1940, the USS IOWA served our country for over 50 years. Designated the "World's Greatest Naval Ship" due to her big guns, heavy armor, fast speed, longevity and modernization, she kept pace with technology for more than 50 years. The USS IOWA, located in the Port of Los Angeles in San Pedro, has now transformed into an interactive and educational museum.  Come on board to explore the Battleship of Presidents.  www.pacificbattleship.com
Contact: ASTA Information at LA Tourism