You've seen the commercials and they are stunning: glowing indigo creatures, fast flying reptiles, boulders draped in rope and vine seemingly hanging in the skies above you and all around you flowers and fungi seem to luminescently light the way to heaven.
The World of Avatar at Disney's Animal Kingdom opens May 27 at the Walt Disney World Resort.  And when it does, the all-new land will immerse guests in a mystical world of massive floating mountains, sparkling rainforests and breathtaking new experiences.
The largest addition in the history of Disney's Animal Kingdom, Pandora carries on the park's tradition of celebrating the intrinsic value of nature, transformation through adventure and a personal call to action.
Based on James Cameron's box-office hit, AVATAR, the new land welcomes guests to the lush world of Pandora long after the human conflict with the native Na'vi inhabitants has ended. The dramatic daytime beauty of the land transforms to glow by night when bioluminescent flora and intricate nighttime experiences drive a dreamlike quality to Pandora.
Pandora – The World of Avatar is a creative collaboration of Walt Disney Imagineering, Cameron and Cameron's Lightstorm Entertainment.
"We are taking our guests on a journey to this world in an experience that's as realistic and immersive as possible," says Joe Rohde, Walt Disney Imagineering portfolio creative executive. "In the movie, the world of Pandora is a setting for the action and characters whose story we follow. Here, guests are the primary characters immersed in an extremely vivid, authentic experience."
Guests to Disney's Animal Kingdom cross the park's Discovery River into Pandora – The World of Avatar and continue along a winding rainforest path for their first glimpse of the land's iconic floating mountains.
"When guests come across the bridge, they are transferred light-years away, to the Alpha-Centauri solar system and Pandora," says Jon Landau, AVATAR producer, Lightstorm Entertainment. "It's an otherworldly, fully-themed experience."
As guests explore the verdant terrain sprawling beneath mountains that appear to float in the sky, they see waterfalls cascading down the mountainside into meandering streams and pools, and discover two thrilling new expeditions:  Avatar Flight of Passage and Na'vi River Journey.
Avatar Flight of Passage launches each guest on an exhilarating, wind-in-your-face experience on a winged mountain banshee over the Pandora. And guests will actually feel the banshee breathe beneath them as they soar through the forest and past floating mountains. What was a rite of passage for Na'vi in Cameron's film becomes a multisensory experience for guests seeking the ultimate adventure – a faceoff with the most feared predator of Pandora, the Great Leonopteryx.
On the family-friendly Na'vi River Journey, guests travel down a sacred river deep into a bioluminescent rainforest. The eight-seat reed boats float past exotic glowing plants and Pandoran creatures into the midst of a musical Na'vi ceremony. The mystical journey culminates in an encounter with a breathtakingly realistic Na'vi Shaman of Songs who is deeply connected with Pandora's life force and sends positive energy through her music into the forest.
"The Pandora landscape will be alive with creatures," Rohde says. "We're bringing to life everything from the largest creature you might encounter to the most microscopic.  Animals will appear from the underbrush, and big Pandoran animals will appear at the edge of the forest. Guests will hear the complicated calls they issue back and forth."
Throughout this presentation the thriving Pandoran landscape conveys intrinsic park messages of the value of nature, transformation through adventure and conservation and stewardship.
"The attractions have very deliberate emotional moments crafted into them, the way a good story does, the way a good film does." Rohde says.  "It's not as simple as just coming to a place that looks realistic. It's a place that's been deliberately imbued with the emotions of awe, of wonder, of respect, of harmony."
Just in time to greet the rush to Pandora, a new Disney World area resort has opened this month, the first phase of what will be an expansive, 106-acre destination hotel just minutes from Walt Disney World. Set on Lake Austin, amid a portion of Central Florida's conservation grounds, The Grove Resort & Spa Orlando launched last week with 184 of its 878 residential-style suites that help simplify family and group travel.
Accommodations will span up to nearly 1,600 square feet and are matched with a standout amenity package that will roll out in stages. As The Grove opened with three swimming pools, a spa, fitness center, two bars and lounges, a large-scale grab-and-go, a lakefront pier with watersports, and a children's game room, it will eventually include a variety of other dining options and an on-site water park with a dual rider surf simulator, winding lazy river, and multiple water slides.
The Grove's location is three miles from Walt Disney World Resort's Western Way entrance. It's the first hotel of its kind to open on the booming west side of Disney.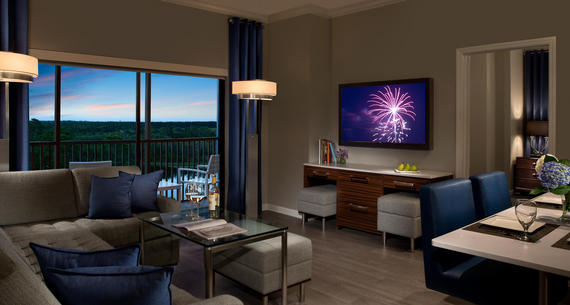 The property's one, two, and three bedroom suites – each dressed in hues and materials that draw inspiration from the natural surroundings – keep home in mind with oversized floorplans featuring a living and dining area, full kitchen, up to three bathrooms, a screened balcony, and a full-size washer and dryer.
Rates start at around $200 per night for two adults and two children with park hopper packages available.
Contact: (844) 203-0209; (407) 545-7500.
www.GroveResortOrlando.com
Related Stories: