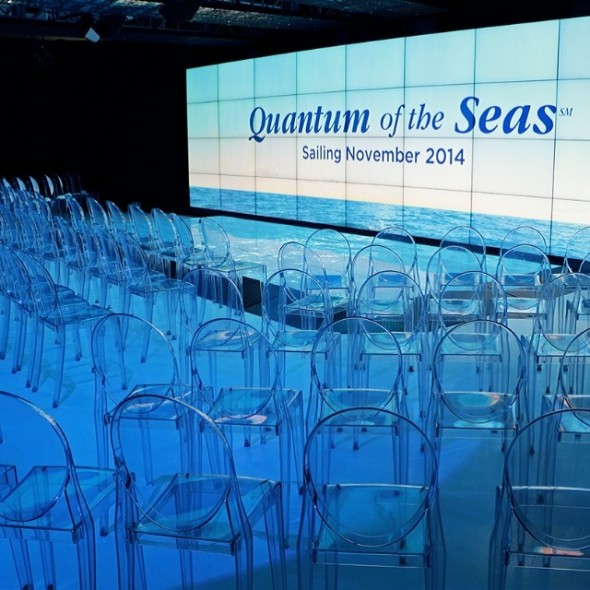 What's the dish on dining these days aboard cruise ships? If it is on a Royal Caribbean brand cruise ship it might be described as "Dynamic."
The cruise company recently upped its dining style to what it calls "Dynamic Dining" or the next level in Specialty Dining to debit aboard Quantum Class ships.
"Dynamic Dining" is a completely new culinary experience on Quantum of the Seas and Anthem of the Seas with 18 restaurant concepts as vast and varied as dining is in the world's most cosmopolitan cities. Guests can choose from five complimentary, full service restaurants and be in full control of their own epicurean journey via a new reservations system that empowers them to decide when, where, with whom to dine and how to dress each evening.
Traditional cruise dining is revinvented as five complimentary, full-service restaurants, each with its own distinctive cuisine and immersive ambience including a nod, as the first-at-sea outposts, to Jamie Oliver with Jamie's Italian.  Dining venues include:
American Icon Grill, a take on the classic American road trip, pulling together best-loved regional favorites into one comfort-style menu,
Chic, where the height of contemporary cuisine is realized and the freshest ingredients, such as proteins that pack a punch and sauces made from scratch, are evolved for a modern palate,
Silk, a vibrant and exotic destination where the spices of the Far East bring new flavor to adventurous palates through a Pan-Asian menu,
The Grande, a luxuriant nod to a bygone era of classic European ocean liners when dining was a time honored ritual, featuring timeless dishes, and where every night is formal night,
Coastal Kitchen, a concept created exclusively for suite guests, fusing Mediterranean influences with the unmatched riches of California's bountiful farmlands.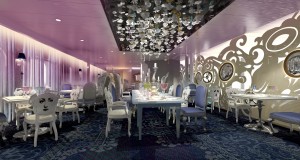 Next-Level Specialty Dining
Next-level signature dining options on Quantum of the Seas and Anthem of the Seas include:
Wonderland, an elaborate feast for the senses in a setting where Royal Caribbean chefs twist their culinary kaleidoscopes to invent a dreamscape of never-before-seen fare,
Jamie's Italian, featuring rustic Italian favorites, handmade using seasonal ingredients and Jamie's tried-and-tested crowd pleasers,
Michael's Genuine Pub, the first American gastropub at sea and the next evolution of Royal Caribbean's relationship with James Beard Award-winning chef Michael Schwartz, offering simply-prepared food and drinks made with quality ingredients from the best artisanal producers,
Devinly Decadence at Solarium Bistro, Royal Caribbean's fittest dining destination, serving the foods you love all under five-hundred calories, designed by Devin Alexander, media personality, New York Times bestselling author and chef of highly-rated television show, "The Biggest Loser."
Additionally, versions of Royal Caribbean favorites, such as Chops Grille steakhouse, Izumi Japanese Cuisine and Chef's Table, will all return on the Quantum class.
And of course there are the classic, come-as-you-are eateries aboard:
Windjammer Marketplace, a Royal Caribbean dining mainstay gets a new twist on Quantum class as a global culinary pavilion that invites guests to explore the world, dish by dish through enticing food islands, interactive stations, made-to-order specialties, an on-site bakery and a 24-hour station called The Grill,
The Cafe @ Two70˚, a new gourmet marketplace serving savory hot-pressed sandwiches, salads made to order, handmade soups and more,
SeaPlex Dog House, the first food truck at sea offering gourmet hot dogs for all to enjoy in SeaPlex, the largest indoor active space at sea.
These venues join returning casual-feel favorites including Sorrento's, Cafe Promenade and Johnny Rockets (cover charge applies).
Quantum class will debut this fall with Quantum of the Seas, followed by sister-ship Anthem of the Seas in spring 2015.  Quantum ships will carry 4,180 guests at double occupancy and feature 2,090 staterooms. Theyl sail out of the New York Harbor on 7- to 12-night itineraries during the winter 2014/15 season. Anthem of the Seas will sail out of Southampton, UK starting in April 2015 and offer cruises to the Mediterranean before being based in Fort Lauderdale, Fla., for the winter months.