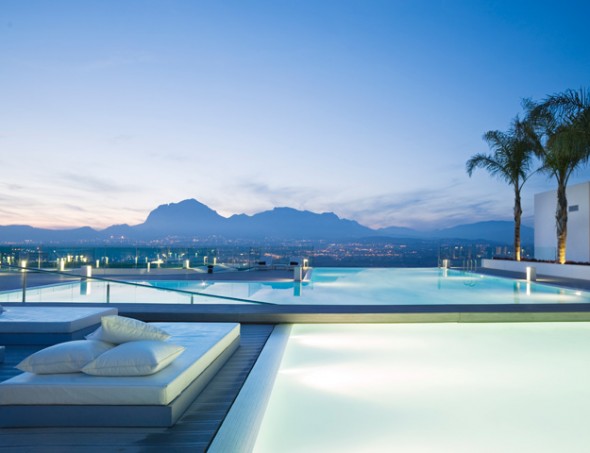 Who doesn't need Spa Day? Rather make that a Spa Week or even two and throw in some timely weight loss, the discovery of the perfect diet, fitness, toning and some well-needed lifestyle changes that last.
Then start researching the best fares to Spain because weight loss and wellness come in some pretty enticing packages wrapped neatly inside a sojourn to SHA.
SHA Wellness Clinic sits in the foothills of Valencia along a picturesque beach village in Spain. A visit here may be location-perfect for an off-the-grid getaway, but time spent here is about rejuvenation and pampering, if not revving up into making passionate, life changing turns.
Travel to Spain is a bargain these days. But a holiday spent in embracing new healthful habits and the new body that comes with it? priceless.
These promises are to the test at SHA Spa with an array of programs to detoxify, purify and codify the results, whether it is a yoga and wisdom path that is chosen, a weight-loss and fitness course, a focus on eliminating stress, ceasing cigarettes and other addictive substances, sleeping better, opening to fertility, or just amping up the energy for living life.
Three overview programs offer a sampling for guests to gain insight and then zero in when they are ready.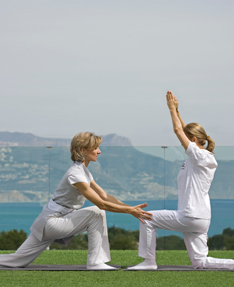 SHA Essence, for instance, is a week-long well-being program that includes a medical check-up, analysis and consultations, nutrition counseling and diet prescription, personal training, therapeutic detoxification and rejuvenation body treatments, spiritual talks, meditation sessions, cooking classes, even acupuncture.
More serious-minded guests, however, might come with a goal and choose a program such as SHA's intensive detox and weight loss program (min. one week, but 14 days are recommended).
As excess weight can trigger heart disease and diabetes the program ensures a no-nonsense approach to this task and a result that could be life saving. Pampering, power elixirs, proper exercise, eastern and western medical approaches and a variety of expert consultation mix with plenty of downtime so guests can emerge from their retreat rested, empowered and ready to manage their new lifestyles.
Beauty Rest
Of course beauty is bestowed upon guests as well. Programs for firming, sculpting and biologic rejuvenation of not only the face, but neck, arms and not forgetting tummies can be ordered up like crème brûlée on a delicious menu of aesthetic desserts. There are even 2- and 4-day programs for brides who want to slim down, perk up and sparkle for the big day.
Special Programs at SHA
The clinic divides into specialties that include: anti-aging medicine, body aesthetics, sleeping medicine, anti-tobacco, psychology, dental aesthetics, general medicine and biologic medicine. Looking for cutting-age treatment solutions for body and soul? Find them here.
No matter what the treatment, the course, the desire or the reason, SHA delivers the results through a staff of trained medical gurus and a philosophy that addresses the total person.
Want to learn how to manage a macrobiotic diet with a roster of easy recipes? Done. Want to learn "How to live in peace and harmony through meditation"? Take a course with Bhante Kondanna, the master who wrote the book. Desire to understand the healing secrets behind the practice of Qi Gong? SHA hosts weeks with the masters in these arts.
On the Plain in Spain
SHA sits on a mountainside hamlet overlooking the Mediterranean Sea and a bounteous reserve for birds. The resort expands out with five architecturally innovative buildings connected by bridges and containing 93 suites and 41 treatment rooms (including a couples' treatment suite). Large swimming pools and waterfalls, and many relaxation areas, such as the Zen, Mediterranean and Tropical gardens, lace the complex and offer quiet escape.
Active guests can golf at nearby championship courses, or head out into the Med to fish or sail. Other guests will find plenty to do between treatments with the packed schedule of lectures, consultations, private readings, culinary courses and classes that SHA offers daily.
Two international airports are close enough for easy access to SHA: El Altet Airport (Alicante) is 60km away and Valencia Airport at 130km.
Both airports manage daily international flights to and from the world's main capital cities. SHA can arrange transport by private jet or helicopter if required and SHA operates VIP private car service from both airports.
SHA's healing programs are open and flexible and, although all-inclusive, are priced separately from the resort's nightly rates, which currently book at $300. Wellness programs run around $2,100 per week.
CONTACT:
SHA Wellness Clinic
Alicante, Spain
(011) 34-966-811-199
[email protected]
www.shawellnessclinic.com