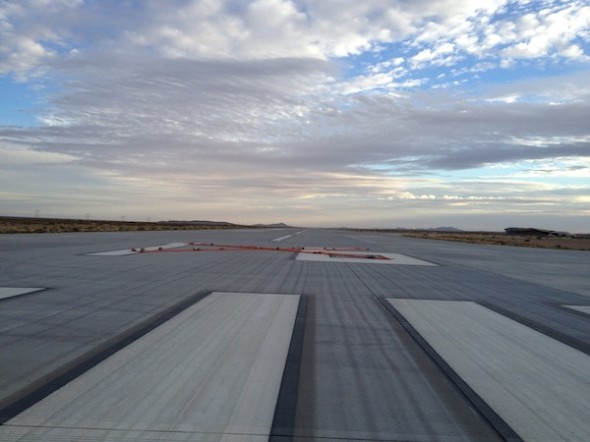 Space travel is close at hand in a little-known expanse outside Truth or Consequences, New Mexico. That's where Spaceport America is digging in to host flights that shoot up past the earth's atmosphere to that "just beyond" frontier where no tourist has gone before.
But all that is destined to change in 2014 when Virgin Galactic is set to launch its first six-passenger space travel flight into a suborbital wonderland of light and dark where the curve of the earth illuminates the blackness of space.
While the promise for space tourism is not new – indeed there are nearly a half dozen aerospace companies flirting with some element of space travel for the "common man"– what will be ground zero for launching this new mode is: Spaceport America.
At a cost of $209 million so far, the people of New Mexico are putting out the welcome mat to space travel companies by creating an 18,000-acre space park in the desert. Spaceport America will be bringing in Disney imagineers to help create the visitors center of all visitors centers – a 22,000 square foot facility that will be both educational and entertaining and serve as the jump off spot for tours of the grounds.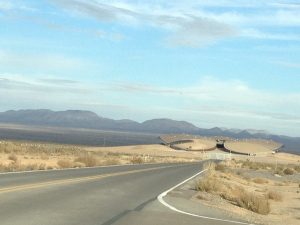 Currently, there is not much there but dirt, asphalt and a couple of empty buildings. The spot is around 50 miles (and a good 90-minute drive) from Las Cruces, New Mexico at a remote spot perhaps 10 miles from White Sands Missile Range on the back side. The sky there is protected from any flights but space launches – no Southwest Airlines contrails bisecting the aerial views. And the road there – two lane from Truth or Consequences for about 20 miles with nothing around – keeps the location somewhat shielded and secret. Truth or Consequences remains a small town of around 3,000 residents with a smattering of mineral springs near an early 20th century dam. A few motels welcome the drive-by visitors but, to date, except for occasional murmurs from Richard Branson about building a Virgin-branded luxury property, there is little that will be able to accommodate the expected 200,000 visitors annually who will be making the trip to the visitor center. And there is little more to accommodate the 546 elite class CEOs and celebs that have already paid their $200,000 per seat – and the 85,000 wait-listers itching to do the same. (Names like Katy Perry, Ashton Kutcher, Brangelina, Princess Beatrice of York and Michael Dell have been bandied about on the shortlist so far).
"We're looking at an expected 200,000 to 500,000 a year passing through Las Cruces to get to the Spaceport just to visit the Visitor Center," says Philip San Filippo, Executive Director of Las Cruces Convention & Visitors Bureau. "There is not a lot to do out there in the desert so we are preparing to show them what Las Cruces can offer."(see Las Cruces article in this publication).
The Spaceport will not be a place where executives and superstars can park their private planes, head into the cockpit and take off toward Mars. The closest private airport is Las Cruces and the closest commercial airport is El Paso, TX, about an hour's drive east of Las Cruces. Las Cruces is a sleepy town with mostly Holiday Inn Express-style hotels and a smattering of taco cafes. Still, it's a quirky place with plenty to see and do to make three days go by fairly quickly.
Three days? For those who are taking the flight, three days is the amount of time needed for training. For those who are not taking off but attached to someone who is, three days – or maybe two days – is what there will be to pass with distractions other than watching a space craft with a loved one in it take off to some point 70,000 feet above the earth for a few hours on the third day.
"There is really not a lot to watch so, as entertaining as we make it for those accompanying a flight passenger, all they are really going to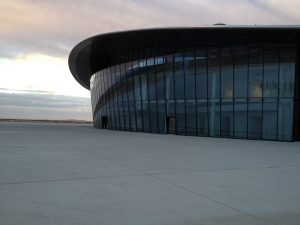 see is the mother ship taking off horizontally like an airplane taking the smaller ship upwards at a steep trajectory. Eventually, that spacecraft disengages, floats around above the atmosphere for awhile and then comes back to earth. There will be lounges and lots of screens showing what is going on inside and around the aircraft – trust me this will be the most hooked in operation out there. And we will create a "Nasa" like operations effect to impress when, in fact, given the technology today these flights practically run off an iPhone," says Aaron Prescott a space engineer and business operations manager for Spaceport America.
At the moment, there is little around except what will be the operations center, an empty building with a huge curved window in the shape of an eye overlooking a two-mile long tarmac that is 200 feet across and three feet thick. The building blends in with the landscape with the look of a sloping sandy berm – nearly indistinguishable from the land. As we drive out onto this area, our vehicles are inspected manually and painstakingly for any debris that might dislodge, find its way to the runway and cause havoc with a rocket aircraft.
Prescott points to a spot about five miles away where an aerospace company called Armadillo has been experimenting with a similar concept in space tourism but using a straight up and down Buck Rogers-style rocket model.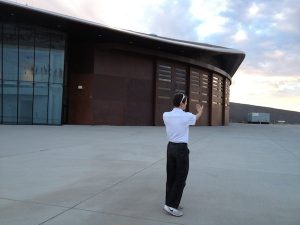 In fact, there is room there for 17 aerospace companies to rent space along this expansive infrastructure and create their own test pads and rocket ports in what is quickly becoming a race to build space ports in the US. Several states are working to attract business from a burgeoning list of space companies who see a future in point to point commercial space travel. Prescott notes there are nine such spots built or planned in the US so far.
Timelines and Tours
With as little as there is to see at Spaceport America, there is plenty of demand for tours of the area mixed in with futuristic tales and stops at scenic fun spots around Truth or Consequences. These three-hour tours are available through Follow the Sun Tours, the only company allowed to work with Spaceport America. They launch half-day explorations Friday, Saturday and Sunday from Truth or Consequences for $29-$59 per person, depending on age.
The earth will start moving on the proposed Visitors Center in early 2013 for an end of the year completion. The Disney-designed facility will also sell tickets for tours of the launch grounds but will provide incentives for people to reserve and purchase in advance. Much is still in question regarding logistics: whether roadtrippers will be allowed to drive themselves to the Visitors Center or whether the experience will start in Truth or Consequences with shuttles to the site. Not all has been set in stone.
"It's easy to get lost out here," says Prescott.
And there is talk of building a more direct two-lane road from Las Cruces. Similarly, tourism officials in Las Cruces hope the Spaceport will result in an upgrading of available hospitality choices there and start a wave of outside interest in the town.
"When you are talking 200,000 to 500,000 people a year, coming through this town that is a lot of tourism and we want to make sure those visitors spend some time in this city," says San Filippo.
And Las Cruces may be just tiny enough, natural enough and quirky enough to pull it off. (See Quirky Las Cruces article, this issue)