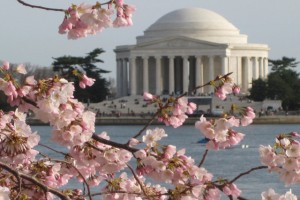 Getaroom.com recently released its take on travel tips for individuals looking to enjoy springtime travel without breaking the bank.
Spring skiing helps you avoid the crowds while still enjoying fresh snow. Top spots such as the Spa & Lodge at Breckenridge can be booked for as little as $149 a night.
Try to avoid the typical spring break week for both college kids and secondary school students. If there are kids involved, then consider a northern destination to have more peace and quiet and available hotel options.
Europe is on sale from now until the end of March. It's a good time to avoid the substantial summer crowds at destinations including London, Barcelona, Paris, and Munich.
Spring, of course, means spring break for college students. Top destinations include: Cancun, New York City, London, Panama Beach, Las Vegas, LA, and Miami. Avoid the beach communities during spring break if seeking peace and quiet.
The famous National Cherry Blossom Festival in Washington D.C. happens between March 20  and April 14,  and the city is full of outstanding museums.
Spring weather can be unpredictable, so check the weather ahead of your trip and bring lots of layers to be ready for the cold or heat wave.
New York City is beautiful in spring, a time when it is possible to enjoy Central Park without a winter coat. Some hotels, such as the Americana, offer rates as low as $135 a night during this time.
Visit New Orleans after the craziness of Mardi Gras for great food and festivals, including the Jazz Festival and the free Lafayette Square concerts.
Miami is a great destination for beachgoers, with warm but not yet hot weather. Hotels, such as the Chesterfield Hotel in South Beach,  offers room rates for less than $100 a night during May.
"Springtime is supposed to be a time of rebirth and discovery, and travelers should embrace their trips with a similar spirit of adventure and fun," said Robert B. Diener, President and Co-Founder of Getaroom.com. "Many top destinations are available at a substantial discount during the spring months, and the warmer and longer days make many outdoor attractions very appealing."