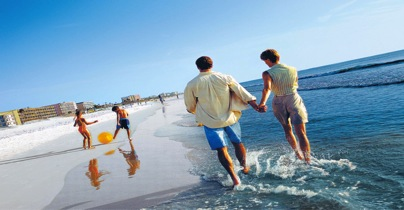 Summer vacation is back in fashion according to the latest figures from American Express. Summer vacation plans are up 17% from last year as more than two-thirds (69% vs. 59% in 2012) of consumers plan to get away in the next three months. While it's not quite a canary singing the end of the recession, summer vacations are on the rise and so are the summer vacation budgets.
According to figures released in early June by the American Express Spending & Saving Tracker, affluent consumers are leading the uptick. Some 81% (vs. 73% in 2012) are hitting U.S. roads and skies, and 38% (up from 29%) are heading to international destinations. Thirty-one percent of travelers plan to spend more than $1,000 per person on their summer vacation adventures (up from 27% in 2012) with the total expected summer travel spend averaging $1,145 per person.
Nearly two-thirds of summer travelers are planning at least one weeklong trip this season (66% — up slightly from 64% last year), and 26% are planning a trip of two weeks or longer (vs. 24% in 2012). While away, more travelers are planning to enjoy themselves more this year, spending more to dine out (53% vs. 44% in 2012) and splurging on activities and experiences (44% vs. 37% in 2012).
"With Americans willing to spend more this year on summer travel, there's a bit more inclination to make each and every vacation moment count," said Claire Bennett, executive vice president at American Express Travel. "Whether it's a historical tour of Europe's capitals or a family beach vacation, consumers are spending the time or money it takes, and relying on expert resources like travel agents, to create authentic experiences with those that matter most."
Great Travel Experiences for Summer Vacation
When planning a vacation, many travelers are looking to incorporate their personal interests and passions into their travel experiences, including:
Immersing themselves into the local culture (36%)
Planning local shopping trips (30%)
Learning about the local food and cuisine (26%)
Partaking in learning/educational activities (24%)
Visiting historical sites and monuments (23%)
Summer Vacation — Greater Need For A Travel Agent?
Thirty-four percent of consumers admit that they are overwhelmed by all the travel information and resources available online. To help sort through the clutter, more savvy summer travelers will turn to travel agents for help.
10% of summer travelers (14% of affluent consumers, up 40% from 2012) will use a travel agent to plan and book their trips this summer.
25% admit they feel comfortable booking simple trips on their own, but seek advice from travel agents for more complex itineraries, unfamiliar destinations, and insider tips to make the most out of their vacations.
27% do a bit of bargain-hunting research prior to connecting with a travel agent to ensure they receive the best deals.
Consumers will spend a great deal of time traveling domestically, with 44% of summer travelers planning to visit the Southern region of the U.S., 23% heading to the North and 27% fleeing West. Top destinations include:
Florida (21%)
California (15%)
Bahamas (11%)
New York (10%)
Family Travel in Focus this Summer

Many summer travelers will be making the most of their summer moments by hitting the road as a family (49%), while 36% will travel with a significant other and 11% with friends. While family travel is most popular, solo travel also continues to thrive. In fact, 15% of consumers are flying solo this summer, with 11% of these travelers from the affluent population.
** The American Express Spending & Saving Tracker research was completed online among a random sample of 1,505 adults, including the general U.S. population, as well as an Affluent demographic (defined by a minimum annual household income of $100,000). Interviewing was conducted between April 18 and 22, 2013.