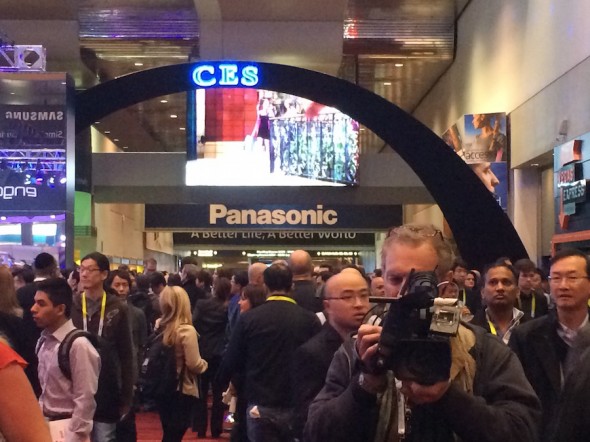 The Consumer Electronics Show in Las Vegas may be the best reflection of what the world has come to: overcrowding, lots of noise, a surfeit of wealth and a hunger for anything that can speed the heart speeding and create a momentary gasp of awe. If you are looking for cyber thrills, visual chills, audio that will make the earth quake or games that will shoot dopamine through ready veins, you will find them at CES, bigger, badder, better than they were the year before.
As a reporter who has been covering CES since the 1980s, when cable was just coming into its own, when VCRs needed technicians to operate, when DAT recordings were all the rage, I have seen a lot of comings and goings in the consumer world – mostly things that come to CES but never seem to go anywhere else.
The Internet changed all that and so did Amazon. Now most of the items you see at this foretelling show are already available online and selling whether they find distributors or not. Virtual Reality is becoming a virtual reality with all manner of odd looking goggles available and accessible and apps that can be downloaded on a phone for fantasies to begin. Drones, too, are becoming as common as smart watches. Television is taking on new life in what is referred to as 3D 4K (3,840 x 2,160 pixels), for a picture that is as dazzling as the new Star Wars movie – and they come with plastic glasses. Gadget chargers are moving beyond conduction principles and heading for wireless juice ups. And those driverless cars? They're coming.
Traveling with Some Tech in Your Step
While CES is about technology and all the cutting edge of what defines our day, our comforts, and our capabilities as a civilization, traveling and traveling well is very much a part of that quotient. For those who want to know where they're going and where they been, and want travel with a peaceful mind, here are our top travel tech takes from CES.
Your Own Person-sized Drone:
Now you can take videos, from a driver's seat in your own drone. Ehang, a Chinese company, has come up with a quadra-propeller prototype that allows you to fly above the traffic – up to 11, 480 feet above it at 62 miles per hour and as far as the 23-minute electrical charge will take you. It all folds neatly into a five-foot space to fit in your garage or that perfect parking space. And, once it is manufactured it will only set you back about $250,000. You will not find these on Amazon.
The Digitsole Smartshoe by Zhor Tech:
Control your destiny, or at least where your feet are taking you, through this French maker's idea of the perfect sneaker – based on a design concept that might have been cool in a Back to the Future film. The Digitsole warms your feet on cold days, tracks your comings and goings, keeps your calorie tally going, tightens and loosens wherever you need it and adjusts insoles to manage shock absorption automatically. Can's see where you are going? Turn on the sneaker lights. No need to plug your shoes in at night. They charge wirelessly. Naturally there is an app for this. The shoes will be available for all sizes when they come out this spring with an estimated price point of around $400.
You Need The Egg
One should always carry an Egg. This thing is THE missing piece for managing storage on your smart phone and keeping all your photos in order. It comes from the folks at Eggcyte and it simply connects to your phone on the fly, stores all your photos (bypassing meddlesome cloud technology) so you can keep the phone's memory free for more photos. And, when you want to access those photos from afar, just open the app, connect remotely with your Egg and, Voila! Photos and videos appear – and let's not forget all those songs you love that you can now hear. It weighs less than a can of Coke, and fits into a side pocket of a purse. Starts at $199.
Untethered Audio from Zagg
Zagg, a mighty company out of Utah that takes the lead in items that work at the intersection of productivity and leisure for travelers, is highlighting its Flex Arc headset this year – wearable retractable earbuds that connect to your music through Bluetooth. However, this headset also has external speakers that rock. The sound quality is good enough for a room and for hands-free calls that come in. The set offers eight hours of music and talk time between charges. $99.
Another new products worth noting this year: The Now Cam social video, camera, and speaker lets you seamlessly switch between three recording modes: video, video burst, and still shots and store it all on 4gb of memory (there is room for 30 minutes of 720p HD video, 1,600 still images, and shots taken through a worry-free wide-angle lens). The pocket-sized social video camera and Bluetooth speaker frees users, who may miss great moments when they fumble with accessing and setting up their camera shot. A built-in Bluetooth speaker and microphone allow for on-the-fly audio and hands-free calls. Best of all, the Now Cam app creates an easy transfer mode for quick upload and sharing on social networks. Available next month for $129.99.
Finally, anyone who has had to take notes on the go or read through an iPad or Smartphone knows the critical importance of a compact and foldable wireless keyboard and stand. Zagg specializes in such computer accessories and the latest one, the Pocket, is just 15 percent smaller than a traditional keyboard but folds up into a thin card that can fit into a vest pocket. A magnetic hinge and wedge holds the tablet in place and the 6.73-ounce rectangle can go two years without a charge. It retails for $69.99, often less on Amazon.
Griffin Power Bank Saves Time
Anyone who has an Apple Watch knows that it is only as good as its charge and that charge gets eaten up faster than potato chips at a party when it is in full use. Because it has a special induction charge that most people leave at home, when the watch is out of charge, you are just plain out of time. Griffin makes a proprietary Travel Power Bank with the sanction of Apple and that little round induction plaque is now on a lightweight keychain. Plug in the keychain nightly and you are good to go all day. $69.99.
Smart Watch with Bling
There were no shortages in smart watches, fitness watches, health monitors and GPS trackers at CES this year, but none could claim such beauty as this: Swarovski Activity Tracking Jewelry. Not only does this item track your movements, your calories, your sleep patterns, and your couch time, but it can be worn to a cocktail party and gets its power from the sun. Tell the time, stay fit, be green, impress a date and never run out of energy – and it is sold in retail stores where bling is king. Starts at $69.
Translation Jewelry
You do not need to tell those stories – you know, the ones about how you tried to order noodles with vegetables in rural China and out came a bowl of rice with a sheep's head on top. Or the time you tried to ask directions in Italy and ended up at a loading dock. The iLi wearable translator received the crowds at CES and even though it's not ready for prime time, the item as big as a disposable lighter that is worn like a pendant around the neck, promises to answer some big problems. The sales video shows a westerner trying to communicate with young girls in Tokyo and, as English went into the device, exact and proper translations – idioms and all – came out in Japanese. No cellular connection is needed as it is with Google Translate, and this item has a voice that seems to communicate and make sense. Debut should be April and price is not known, although a booth assistant who only spoke Japanese said it will be "less than $500." Perhaps we both needed the translator at that moment.
Bedphones for Bonzo
How many of us end up in a hotel room plagued by outside noise or in a time zone that has us roaming a strange room at odd hours while waiting for the sun to rise? Bedphones is a comfortable earbud that lays on your ear rather than in it, and plays the music you want, the storybook you want, the white noise you want with an attached app that senses when you are sleeping and turns itself, and the phone, off. They come with a comfy satin eye mask. $59.95.
Pet Addictions Solved
Got a pet? If so, and you hate to leave the bugger at home alone, the Petcube could be the answer. Whether traveling to the ends of the earth or at work a few miles away, you can watch your dog or cat through the eyes of the cube — and when Rover is up and looking for trouble, you can talk to him or her through the cube and even play a game of laser tag. The cube alerts you through an app when your pet is no longer sleeping so you can watch and play and interact and let pet parent guilt become a thing of the past. Petcube allows owners to stay connected while they are away and sooth or discipline pets in a two-way audio stream. The cube permits selected others to look in as well and the wide-angle lens ensures most corners of the room are covered. $199 for one, $359 for two.