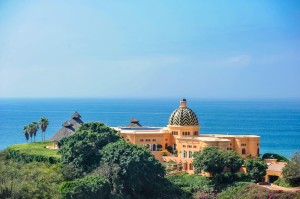 It's a party. It's an event. It's a wedding that people will be talking about long after the grand children are gone. It has to be brazen, big, boastful and, most of all, it needs a beach. Where do you begin when you are trying to plan the party of a lifetime? You start with location: That would be Mexico. That would be the Pacific Coast. That would be Cuixmala.
Planning a party, any party or grand event in Mexico, can be intimidating. But the sting of planning a party in Mexico is removed at Cuixmala. The golden estate on the Costa Alegre (known locally as the Virgin Coast) of the Pacific – is simply a matter of a phone call, an email or two, and lots of creativity.
Cuixmala, a member of the Kurtz-Ahlers collection of exclusive resorts, was made for grand parties. It is the private manor of Sir James Michael "Jimmy" Goldsmith, an Anglo-French billionaire financier and tycoon, who built his dream house in Mexico to live out the final decades of his charmed life. That grand domicile in Mexico now sits, a palace on the hill, overlooking the 25,000 acres of land, lagoons and beaches that make up Cuixmala.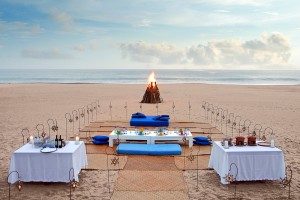 This is where the stars go to play (Cuixmala has seen Tom Cruise, Madonna, Mick Jagger and George Lucas within its celebrated guest rosters) as well as those who simply want a romantic luxury escape. They reserve a room or all the property's 21rooms spread out amid a regal realm of bungalows and suites for an immersion into life the way it is meant to be lived – by celebrities, financiers and tycoons.
Planning a party or event at Cuixmala offers plenty of accommodation options for all sections of the guest list – from families seeking distraction and activity to couples seeking privacy. And it all fronts a wide white-sand beach along the blue of the Pacific.
There is the main house with its collection of suites and lovely living areas, libraries, media retreats and dining rooms.
The villas offer three- and four-bedroom light and airy expanses rising over the lagoons, river and ocean. And nine one-, two-, and three-bedroom casitas in a comely cluster surround a tropical garden and large pool terrace and connect to a convenient Club House and restaurant.
It all becomes part of the party – part of your personal hosting power at Cuixmala. Your guests can dine in the grand dining room, in their suite, at the easy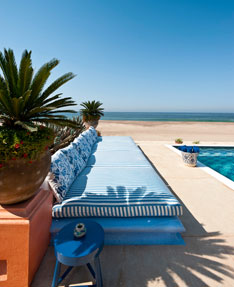 and casual Casa Gomez. And they can ride horses, a signature experience at Cuixmala with its well-tended stables and miles of horse trails. Mountain biking, tennis, hiking, water sports are there for the asking, as is a crewed sailing venture aboard Cuixmala's 47-foot schooner.
But when the festivities begin, all eyes are on the beach and winding courtyards of these palatial grounds. Fireworks over the water, roiling bonfires, mysterious luminarias and giant palapas all come into play. Costumes, characters, mythical Mayan mystics are summoned to this party of a lifetime in Mexico, where even the stars over the Pacific become props of the magic at Cuixmala.
Not surprisingly, guests will wander the grounds and come upon zebras, antelopes, crocodiles, elusive jaguars, foxes and the curious ring-tailed coatis (a raccoon relative) that inhabit that meandering acreage as if inspired by W.R. Hearst himself.
In fact, Cuixmala is habitat to over 270 types of birds (including the exotic Roseate spoonbill and a palette of colorful parrots). And the vast natural environment is also home to nests of baby turtles that are protected as they make their journey to the ocean.
Getting a party of guests to the party in Cuixmala is easy, even if you are not flying like Sir Goldsmith in your own private, silk-lined Boeing 757. Cuixmala sits on the southern coast of Jalisco, an hour from Manzanillo International Airport (ZLO), which is serviced from Houston by United, from Los Angeles by Alaska, and from Phoenix by US Airways. Daily service from Mexico City runs through AeroMexico and AeroMar. Puerto Vallarta is three hours by car. Chartered props can fly from Puerto Vallarta to Cuixmala's private landing strip.
Rates range from $400 a night (with breakfast) for a one-bedroom casita in the low season (May to Nov) to $16,500 for the Casa La Loma complex during the Christmas holidays. For meal plans, add $95 to $140 per person per night. Buy out rates are negotiable.
Contact Cuixmala: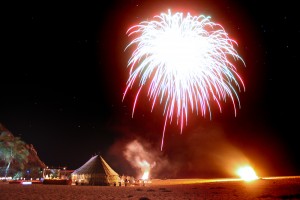 (866) 516 2611
Email: [email protected]
Website: www.cuixmala.com