By Susan Shapiro, ctc
Recently I had the opportunity to cruise the Rhine River onboard Uniworld's riverboat, the Antoinette. Like so many of you, I've been on lots of cruises, ocean and river.   I knew my travel agent friends would expect me to tell them what I thought about the experience. So for all seven days I ate, drank, went sightseeing, mingled with the guests and participated in the activities. My evaluation can be summed up with just a few words: Uniworld's attention to detail made this cruise exceptional.
What does "attention to detail" mean? What does such attention mean to a passenger's enjoyment of the trip? How does Uniworld stand out for this category? Let's take a look…
Disembarkation on the Uniworld Antoinette
Yes. I know you're thinking why start at the end instead of the beginning? Because passengers remember what happens near the end of trip more than the beginning. Unlike a large cruise ship, leaving the Antoinette in Amsterdam was smooth as glass and I believe it was because Uniworld practiced attention to detail. My favorite part of departure was not having to pack my suitcase and leave it outside the cabin the night before. They collect your luggage, at your convenience, not theirs. Breakfast wasn't a scaled down rushed version at 4 am but the regular delicious fare, at your convenience. You didn't have to lug you bags off the ship. The entire crew was enlisted to help and they were cheerful about it.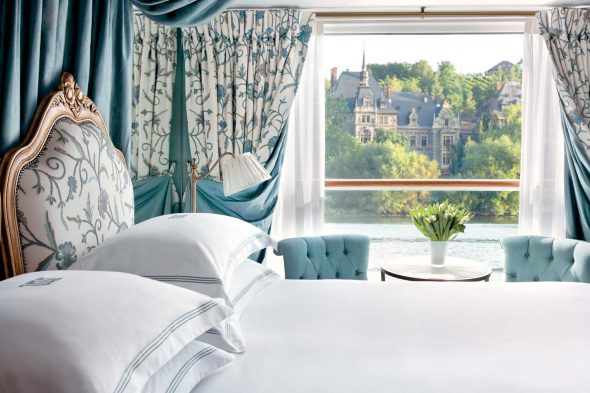 Your Home on the Rhine
Lots of ships do the Rhine River Cruise so how does Uniworld differ and demonstrate its celebrated attention to detail on the Antoinette? If one word would apply to staterooms and suites (I can't call them cabins because that does not do them justice), that word would be: comfort. Everything is geared to making your stay in the room as, if not more, comfortable, than your home.
The Queen sized bed (or convertible twin) is covered with beautiful spreads made of the finest fabrics and uses the most luxurious sheets. Towels in the bathroom, which boast the finest of toiletries, are fluffy and plush and changed multiple times a day. Of course the large TV has CNN and other channels that make Americans abroad feel comfortable. And the floor-to-ceiling window on the river creates unforgettable frames of Castles and villages along the Rhine as the Antoinette quietly and calmly passes scene after scene along the river.
The Antoinette as a Five-Star Boutique Hotel
Boutique hotels are defined as small properties with exceptional service (attention to detail) and high-end amenities. The Antoinette exceeds these standards with choices. With a small swimming pool and a well-equipped gym guests have a variety of ways to spend their time onboard. With two bars, a lounge for entertainment and two restaurants, one might wonder how all this can fit so well on a ship with fewer than 150 passengers. Amazing.
Refined Dining Onboard
Daily culinary selections and buffet presentations lure even the most picky of eaters. And all passengers have the option ordering off the menu. In fact, options are the key to not just satisfying, but making mealtimes on the Antoinette an unforgettable experience. Uniworld's Attention to Details means that the chefs go shopping in the nearby markets nearly every day for local products. Farms along the riverbanks supply the boat with the freshest of ingredients insuring the tastiest selections. Wines served on board are sourced at local vineyards (including organic choices) meaning guests get the benefits of local and Continental options. For a gourmet five-course pre-set dining degustation, make reservations in the sun deck dining room (no extra charge) for superb food and wine pairings and 6-star service.
Meeting new people is always a highlight of any trip, especially a cruise. But how do you handle the awkward situation as to who's turn it is to buy drinks for the table or bar before or after dinner. It's a problem on most ships, but not on Uniworld. A Uniworld cruise covers that problem: 99% of the beverages, soft and hard, are included. Nobody has to say, "It's my turn to pay" because it never is.
Seeing the Sights Along the Rhine
How does the Antoinette distinguish itself when the Rhine itinerary for most riverboats turns out to be quite similar? Again, it redounds to Uniworld's attention to detail. A good guide can make or break a tour. When you employ only the best, chances are the guest's experience will be better. Not only do they split the sightseeing groups into small manageable groups but each person has their own listening device so you can be 20 feet away and still hear the guide perfectly. Every day, one or two sightseeing excursions are included (no extra cost). Want to do more? There are several trips on the daily menu giving passengers more options for carefully crafted destination adventures.
Counting on Uniworld's Staff
Starting with the reservation agents, travel advisors will fine Uniworld staff to be knowledgeable and willing to go out of their way to be helpful. The ground personnel at the airport and people who manage the hotel transfers ensure the passengers they meet or drop off are looked after and made to feel welcomed and assured. Onboard, the Hotel Manager, Cruise Director and Food and Beverage Manager are always in view and making sure every passenger is getting what he or she needs. These people don't hide in their office. They're around the ship every day interacting with the passengers handling any potential problem before it occurs. Housekeepers keep the staterooms spotless greeting guests with a smile and a "how can I help you?" attitude.
Thus, as emphasized to my travel agent colleagues, I maintain your clients will come away from a Uniworld Cruise appreciating all facets of the trip but remembering most the attention to detail they experienced – something they will credit you with in recommending the Uniworld experience.