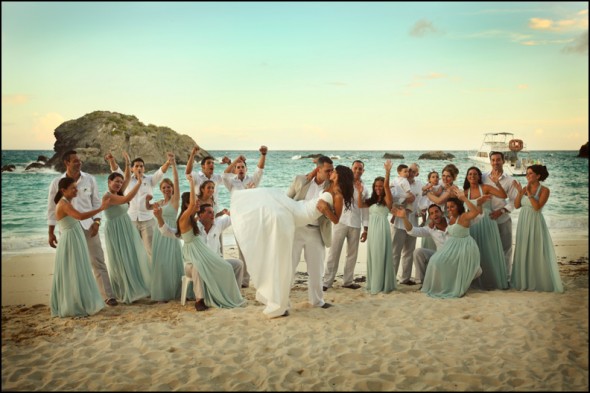 What do American brides want? A better question might be to ask what they don't want and that answer is to be rattled with the stress of planning a wedding.
Expedia's 2014 "American Altar Report," a first for the OTA, found that Americans see traditional wedding planning as hugely stressful, ranking it ahead of such stress-drivers as paying taxes, going for job interviews and taking driving tests. Eighty-four percent of Americans believe that destination weddings are more fun, and among those who have had a destination wedding, 76 percent believe they are far less stressful than traditional ceremonies.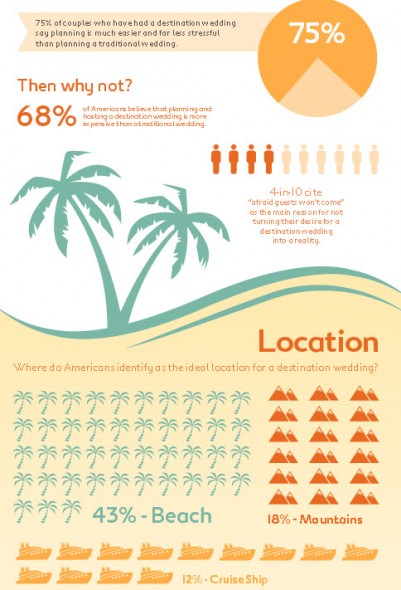 I's Have it for Destination Weddings
Forty-two percent of married Americans, if given the chance for an "I Do-Over," would choose a destination wedding the second time around. That figure jumps to 63 percent among Americans under 35 years of age. A full 67 percent of married Americans say they are likely to renew their vows at some point during their marriage.
An equal proportion of Americans (67 percent) report that if they were to ever renew their marriage vows, they would choose a destination ceremony.
Couples who have had a destination wedding report that "easier to plan" (37 percent) and "less stressful" (48 percent) rank among the potential benefits of planning a destination wedding. In comparative terms, traditional weddings fared poorly in the 2014 American Altar Report, with "long church ceremonies" (32 percent), "experiencing the same rituals over and over" (26 percent) and traditional weddings' failure to feel "unique or special" (25 percent) among the top list of gripes.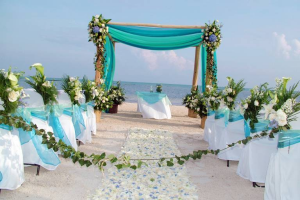 The New Rules of Destination Weddings
The Altar Report found a wide range of opinion regarding the rules of decorum for a destination wedding. These include:
Should destination wedding guests be expected to give a gift?
The study found that Americans spend approximately $103 on wedding gifts, for both traditional and destination ceremonies. Forty-four percent believe a "smaller gift" is appropriate at a destination wedding.
Is "no gifts expected" a binding request?
It appears not; 66 percent of Americans report that they would bring a gift even if the invite advised against them.
Should Americans pay for the travel costs of their destination wedding guests?
This question yielded a nearly split response: 47 percent of Americans believe that hotel costs should be covered by the wedding hosts. Forty-three percent say meals should be completely covered. Thirty-one percent expressed the belief that flights should also be paid for.
Destination Weddings: How far is too far?
Sixty-two percent of Americans say a flight up to six hours is an acceptable distance to travel for a destination wedding. And 51 percent of Americans believe the couple should give guests at least seven months' notice.
Distance Between Desires and Realities
According to the study, 69 percent of Americans who are single, in a relationship or engaged report that they would consider a destination wedding. However, the desire to actually plan and book a destination wedding drops off somewhat, with 39 percent saying that they likely would not follow through on the option. Reasons include:
Cost: 68 percent of Americans believe that planning and hosting a destination wedding would be more expensive than a traditional wedding.
Turnout: 42 percent cite being "afraid guests won't come" as the primary reason dissuading them from a destination wedding.
Betrothal on a Beach
Expedia's American Altar Report found that beaches are perceived as the ideal location for a destination wedding, with 43 percent citing it as their preference. Among beach destinations, Hawaii (30 percent) topped the list, with the Caribbean (22 percent) placing second. Mountain lodges and vineyard/countryside venues tied for second, at 18 percent.
Related Stories: