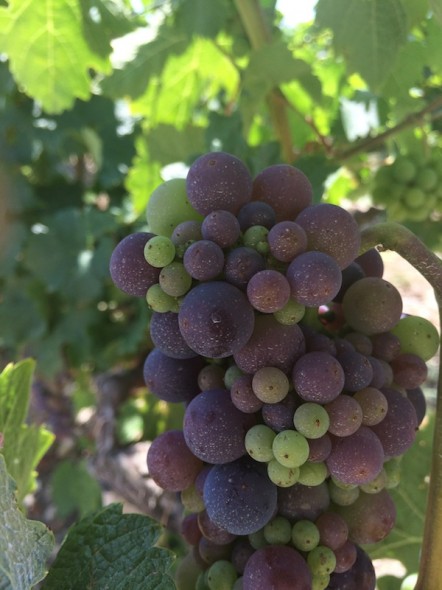 Viking River Cruises is no stranger to most Americans – especially if they are glued to the PBS series "Downton Abbey." Indeed, a Viking River Cruise through the heart of Europe can be a slow boat to relaxation and revelation, especially for those who do not want to lift a finger more than they must or make a single vacation decision beyond "white" or "red"?
Few enlightening overseas vacations can offer such a promise: that you will unpack only once, that you will see as much or as little of a country's culture as you desire, that you will eat the best food, drink the best wines and you will be living each day in the very heart of a new iconic or historic destination.
But a Viking cruise can. By its very nature, luxury river cruising means moving slowly along critical and historic riverways and watching history pass, castle by castle, chateau by chateau between centers of urban discovery. The compact nature of these vessels: usually three tiers with a dining space, entertainment lounge, lobby, library, coffee bar and sun deck – hold on average around 180 passengers. This means every stateroom is just steps away and getting anywhere around the ship – and getting away from fellow passengers for privacy – is also just a few steps away. Despite the ease of navigating aboard ship, the age skews young. The touring can be quite active, the dining and sipping quite energetic and the appeal of these vacations is moving toward foodies, culture buffs and workers who want to relax.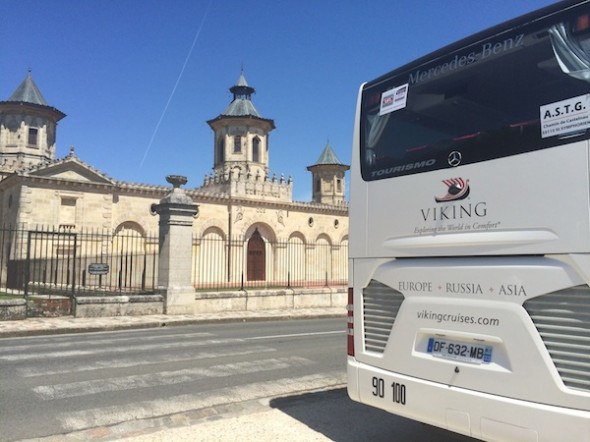 Food Fantasies on the Viking Forseti
A recent Viking river cruise through the wine region of Bordeaux illustrated just how easy it is to board a vessel and partake in some of the finest no-hassle dining and sipping to be had in Europe.
Ti was a seven-day cruise via Los Angeles-based Viking River Cruises and its 190-passenger luxury longship called the Forseti.  Bordeaux, a compact city of some 250,00 people just three hours by TGV train from Paris, is easily accessed through Bordeaux-Merignac Airport – a mere 30 minute's drive from city center.
The Viking Forseti was docked on the Garonne River on the Quai des Chartrons where much Bordeaux life and leisure takes place. It's a stone's throw from there to the fabulous shopping, dining and ambling to be done along Rue St. Catherine and the Cathedral St. André. In easy sight from our spot was the Pont de Pierre Bridge, built in 1819 by Napoleon (claiming 17 arches in correspondence with the number of letters in his name) and, at twilight, ablaze in a certain glory reminiscent of Paris's Bridge of Alexander.
Because of low water levels our ship had to spend an extra day in Bordeaux, causing no complaints from the passengers. But such occurrences and problems facing the river cruise industry are not rare. Due to low water levels on some of Europe's iconic rivers like the Danube and Elbe, a number of cruise lines have had to alter and even cancel their river cruises in the recent summer weeks.
Viking canceled two Elbe River, Prague to Berlin cruises this summer, and has altered the itineraries on a number of others. Uniworld and Avalon Waterways, too, have not been spared of these critical decisions. Climate change is a fact of life for river cruise companies and the plagues of man vs. nature may increase the prevalence of both droughts and flooding along these currents in years to come.
For this trip, an added day in Bordeaux was the perfect problem – a day to catch up to our new environs, see the city and prepare for the treats ahead. The next night the Forseti pushed onto Libourne and the monastery wine and macaron stead of Saint Emilion (where 17th century Ursuline nuns created the original French macaron as yet another use for the egg whites monks were collecting to clarify wines. Great canele pastries are also found there given the surfeit of yolks) and onto the UNESCO World Heritage town of Blaye, then Bourg and the Médoc gateway of Pauillac.
Each place proved to be a small treasure of Roman fortress ruins (and some dark Nazi occupation reminders). They had their 16th century castles; their standing emblems of the grand Belle Époche along thin cobbled streets; their ornate town squares where local markets continue to bring life and culture to sleepy river outposts, and everywhere, just beyond the nouveau urban spread, the geometry of grape fields and the vision of stately chateaux.
The cruise ambled slowly through regions of Sauternes, Petit Verdot, and the great Cabernet Sauvignon and Merlot grapes of Margaux. On the way were ruins that were once the wandering grounds for Eleanor of Aquitaine or grand estates with names like Rothschild and Camus. Some passengers dug freely in fertile grounds for elusive black truffles and unearthed walnut-sized nuggets that would fetch some portion of the $1200 per pound these items get in U.S. markets. They dined on fresh bread smeared with truffle butter, with bowls of risotto doused with the gleaming black flakes – and then farm-churned ice cream covered with tuber brumale. The cruise  offered foie gras by the plateful, Arachon oysters by the bucket, escargot and muscles by the bowl, and U.S.-banned cheeses by the wheel in a veritable orgy of textures and tastes. Special side trips gave the chance to make personal bottles of cognac at a 17th-century chateau … in Cognac. Other passengers joined the French ship chef in creating foie gras brulées and home made macarons with modern day kitchen aides.
And all the while, everyone drank wine – from local Bordeaux vineyards to Grand Cru Margaux estates in endless pourings and pairings that showed no patience for the word "non!"
Best of Bordeaux
Bordeaux figures prominently at the beginning and end of the trip, a perfect bookend destination to give time for shopping for chocolates, French fashions, Pierre Deux textiles, and specialized French cuisine enhancements.
Two precious museums are also a must and may be on an included city tour. The Museum of Aquitaine offers perspective to the city's history as a Roman outpost of Gaul, its 15th century importance in a 100-year war between France and England, it's eventual importance as a maritime and shipping hub, and its later significance as a city of wine, culture and industry on France's Atlantic coast.
Bordeaux's Musée des Beaux Arts is also a great take-in for a mere four Euros to enter. The museum is one of France's largest art galleries outside of Paris and, although still small and easily wandered in less than 90 minutes, holds a few oeuvres from such famous artists as Delecroix, Corot, Matisse, Brueghel the Younger, Cassatt, Picasso, Rubens and Titian.
Locations for both these venues are close to shopping and dining and the Grand Theatre of Bordeaux, the 18th century architectural masterpiece that often runs exhibitions for the costumes and sets used in historical productions. This temple of the Arts, with its neo-classical façade, remains one of the oldest wooden frame opera houses in Europe having been spared the ravages of fire and not requiring rebuilding.
River Cruising for Two
Viking River Cruises is offering 2-4-1 promotions on 2015 Europe itineraries as well as specials on 2016 schedules. The seven-night Chateaux, Rivers & Wine tour taken by this author is available on a two-for-one rate starting at $3,706 for two on various departures through the end of the year. Packages for two with business class air run $6,701 in November, add $100 in December. Add-ons  might include in-depth tours offered through the trip (although there are six guided tours included in the fare), as well as cocktails beyond the wine with lunch and dinner (a pre-paid unlimited spirits package is available), laundry and gratuities. Wi-Fi is available in-room and throughout the vessel without charge. Although smoking is allowed, it is only allowed on the top tier sundeck.
Liberal docking times mean passengers can depart the ship – usually docked an easy block or two from centreville – and enjoy the dining and nightlife of the destinations they are in. But endless pourings of fabulous French wines usually mean quiet nights in comfortable rooms to rev up for the next day's promise of fantastical sampling and discovery.
Related Stories: