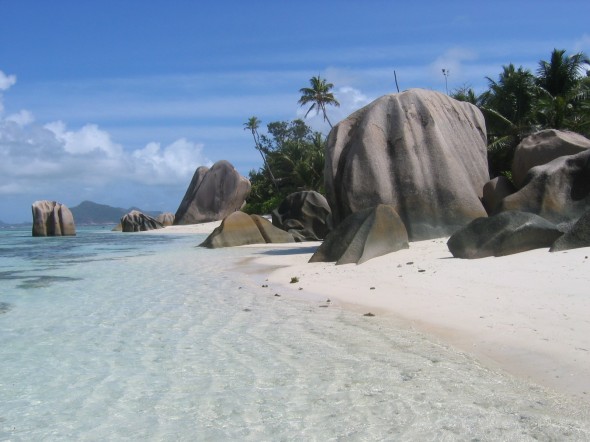 What is it about an island that grabs the imagination and brings travelers from great distances to their shores?
No man may be an island … so perhaps it is the possibility of being an island onto one's self for just a single sweet slice of time that makes the idea of traveling to one so popular.
To H.D. Thoreau it was an entire universe in a plot of land:
An island always pleases my imagination, even the smallest, as a small continent and integral portion of the globe. I have a fancy for building my hut on one. Even a bare, grassy isle, which I can see entirely over at a glance, has some undefined and mysterious charm for me.
So it is not surprising that a recent survey taken by TripAdvisor shows that most travelers have a favorite island somewhere in the world.
Top 10 Islands in the U.S.:
▪                San Juan Island, Washington
▪                Kauai, Hawaii
▪                Marco Island, Florida
▪                Anna Maria Island, Florida
▪                Maui, Hawaii
▪                Sanibel Island, Florida
▪                Chincoteague Island, Virginia
▪                Island of Hawaii, Hawaii
▪                Amelia Island, Florida
▪                Key West, Florida
Top 10 Islands in the World:
▪                Ambergris Caye, Belize
▪                St. John, U.S. Virgin Islands
▪                Bora Bora, French Polynesia
▪                San Juan Island, Washington
▪                Santorini, Greece
▪                Isla Mujeres, Mexico
▪                Moorea, French Polynesia
▪                Koh Tao, Thailand
▪                Easter Island, Chile
▪                Nosy Be, Madagascar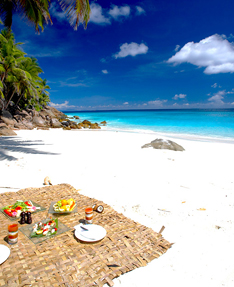 One island that will not be on a TripAdvisor list is Fregate Private Island in the Seychelles. The one-mile isle some 1000 miles off the coast of Africa is the setting for a 16-villa resort and spa that embodies everything that money can buy – including a worldly conscience.
It is the private undertaking of a German business magnate who put all the wants of global captains of industry into a sublime getaway reachable by ocean from Mahe (about 90 minutes) or by private aircraft. The resort, part of the exclusive Kurtz-Ahlers collection, is the only thing on the island besides the giant Aldabra tortoise colonies (the island holds the world's second largest population of this species) and such rare natural life as the black parrot, the Magpie Robin and the Seychelles Warbler.
But the island packed with action if slowing down to authentic earth-like speeds is a goal. There are trails to be walked (a resort naturalist is at the ready to give guests the wider perspective of island nature upon request), lizards to be tracked, large fox-like fruit bats to behold, newly-hatched turtles to help into the water, and carnivorous pitcher plants to feed. Vanilla and cinnamon permeate the air and wild orchids grow everywhere. Snorkel through tunnels of neon sea life. Or learn to dive.
And travel to this far island has its comforts: Each villa (there are one-bedroom and two-bedroom villas, spa villas and the Presidential Villa – all with dedicated butler service) sits secluded and unto itself in its own forest of Banyan trees, bamboo, and wild fig trees. Each hideaway has its own private infinity pool, Jacuzzi and daybed appointments overlooking the Ocean's azure horizon. Interiors take advantage of Africa's rich hardwoods with vaulted ceilings above Italian marble flooring. There is Internet among the many homelike amenities: coffee, fridge, TV, DVD/CD and air conditioning. More than half a world away and truly in the middle of nowhere, you can still touch the benefits of contemporary living – if you want to. The villas are the design concept of Dallas-based Wilson & Associates (think VIP manses inside top Las Vegas hotels) that looked to Bali and India for inspiration.
Romance goes to the heart of this former French colony of islands. For those making honeymoon plans – or just making plans, Frégate Island Private offers a menu of packages and discounts to sweeten the dream. These include complimentary helicopter flights to the island from Mahé; a sixth night free; complimentary spa treatment and yoga session; a wedding package that includes spa sessions, private sunset cruise, candlelight dinner and keepsakes … several more enticements are in the offing to remind travelers that there is a place they can stay that is beyond time. A place where they can get their precious time back.
Contact:
Frégate Island Private,
 Seychelles

(011 27 21) 556-99-84
reservations@Frégate.com
www.fregate.com