Temples on Wheels: Biking around Sri Lanka
The temples, jungles, tea plantations and palm-fringed beaches of Sri Lanka can be explored on a classic Royal Enfield motorbike next July and August as part of a new guided ride announced by Extreme Bike Tours.
The 1,450km ride is for both licensed riders and non-experienced passengers seeking the thrill of motorbiking in mystical Sri Lanka aboard 350cc Royal Enfields.
The personalised tour includes stays each night in deluxe, hand-picked hotels, with the itinerary taking in Sri Lanka's beautiful Buddhist temples, tea plantations, misty rainforests, tropical beaches, abundant wildlife and ruins of ancient civilisations.
Dates: 13-day, round-trip tours start in Galle in south-eastern Sri Lanka on July 9 and August 6, 2016.
Rates: The tour costs $4,950 for riders and $4,120 for passengers including accommodation along the route, all meals on the tour, fuel and motorbike hire. (Note: no single supplements for solo travellers. Flights to Sri Lanka are extra).
Contact:
(91) 95033 99692
Email: [email protected]
www.extremebiketours.com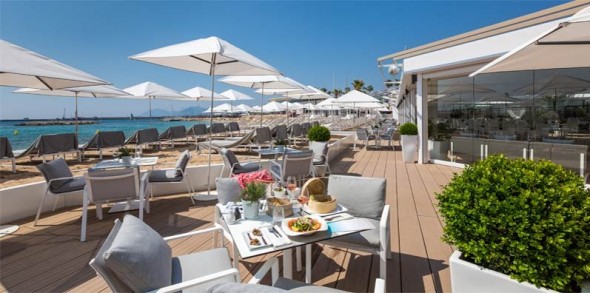 Holiday in Cannes? Now you Can
To beat the winter blues, the circa 1926 Hôtel Barrière Le Majestic Cannes is offering gorgeous deluxe sea view rooms from $174 per night (regularly $446 – a 60% savings). The view from its guestrooms features palm trees in the foreground, an unbeatable view of the Mediterranean Sea and the Lérins islands as a backdrop. The hotel has 265 rooms, 91 suites with two penthouses, including a Christian Dior Penthouse created through a partnership with the hotel and Parisian fashion house.
With this winter offer, guests can enjoy a 5-star hotel room looking out into the stunning Côte d'Azur for a fraction of the normal cost of such an experience. Cannes enjoys an average annual gift of 300 days of sunshine for travelers who want to escape the cold and take in some warmth. Additionally, the hotel is the only hotel on Croisette in Cannes that has 80% of its rooms facing the Mediterranean.
The hotel offers a private beach, a recently opened My Blend by Clarins Spa, a recently launched private screening room in line with the destination's renowned film festival, three restaurants and two bars, as well as Rotunde Louise Pommery, an exclusive Champagne lounge named after the historic brand.
Dates: January through March 2015.
Rates: $174 per night for a deluxe sea view room
Contact:
(+ 33  (0) 9) 70 82 09 00
www.majestic-barriere.com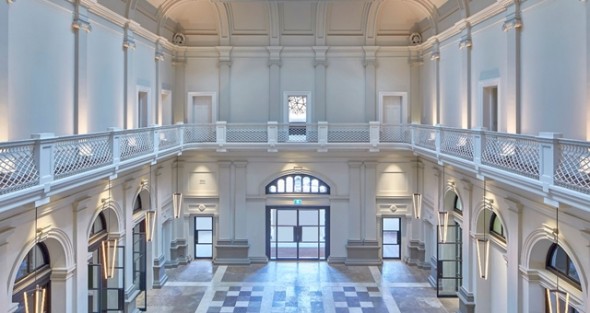 Luxury Accommodations in Perth with New Como Property
Perth has a new luxury hotel: COMO The Treasury, in Perth, Western Australia is the centerpiece of a new city-center development that opened October 15th with 48 rooms and suites, averaging 753 square feet. The fashion forward interiors include custom made 'Grand Posture' king-size beds and handcrafted bespoke European furniture. Large windows ensure guest accommodations are flooded with natural light. En-suite bathrooms feature German Kaldewei Duo free-standing bathtubs, twin vanities, Travertine stone tiles and heated floors. Amenities include COMO's signature aromatherapy-based COMO Shambhala toiletries.
The hotel is on Cathedral Avenue in Perth's Central Business District, within a new artisanal precinct called the Cathedral Square Development. At the COMO, 95 percent of the original heritage building has been meticulously returned to its 19th-century origins, featuring re-installed dormer windows, roof-top copper trimmings, and a stripped back facade showing off the original surface.
Rates begin at approximately $430.
Contact:
[email protected]
www.comohotels.com/thetreasury/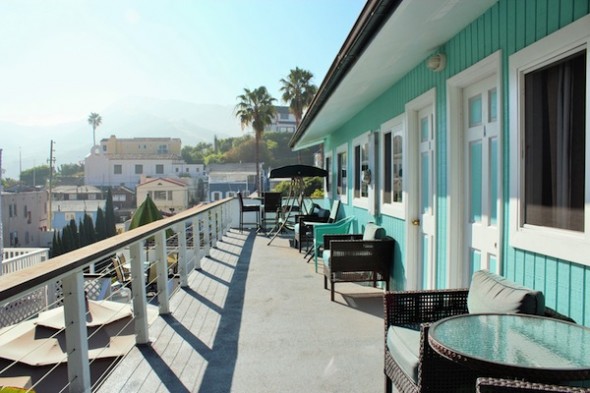 Vacations in the Island of Los Angeles: Catalina Calling
Visiting Catalina Island in winter, some 22 miles into the Pacific off the coast of Los Angeles, is very cool indeed. And during off-peak season this venture comes with plenty of perks. Among them: more room to roam, cooler weather to incredible savings.
Now through March 2016, Catalina Express and Paradise Hotel Partners offer combination boat and accommodations packages at more than a dozen hotels in Avalon as part of its "Best of Winter" offering.  And with events galore taking place through March, there's no reason to say no to a day or overnight in Avalon.
Here are a few of the deals to be considered while the getting is good:
Catalina Boat House
In 1912 Captain Joseph McAfee sailed his flat bottom houseboat from Venice Beach to Santa Catalina Island with the intention of making Avalon his home. Captain McAfee purchased a parcel of land with a wonderful view of the bay located on what is now called Marilla Avenue and created the Houseboat Hotel, eventually updated and remodeled into one of Catalina's most charming and delightful places to stay and renamed the Catalina Boat House.
The Best of Winter package offers free boat transportation to/from Avalon, two mid-week nights (Sun.-Wed. arrivals), two tickets to the Wrigley Memorial & Botanic Garden and two tickets for a Sea View Glass Bottom Boat ride.
Rates: From $349 double occupancy for two nights, savings of more than 30 percent.
Hotel Villa Portofino
Consistently rated one of Avalon's best hotels, the Hotel Villa Portofino carries on the traditions of a European seaside resort with high quality standards, personalized service and a relaxed Mediterranean charm. Located just steps from the beach, shops and sights, the Hotel Villa Portofino is where European Elegance and the Pacific Ocean meet. Includes round trip boat transportation, taxi transfers and continental breakfast.
Rates: from $107 per person, for one night, savings of 20 percent.
Hotel Metropole
Centrally located in the heart of Avalon, Catalina's quaint harbor town, and just steps from the beach, Hotel Metropole is the perfect spot for romantic interludes and family getaways alike. A Winter Special includes Continental breakfast, 1 bottle of Champagne.
Rates: from $269 double occupancy, per night, plus tax, more than 40 percent savings.
Unlimited Fun Package
The Unlimited Fun package operates at the Pavilion Hotel, Hotel Atwater or Inn on Mt. Ada, all part of the Santa Catalina Island Company, and includes:
Unlimited Santa Catalina Island Company activities, including one Zip Line Eco Tour per person
Round-trip boat transportation aboard the Catalina Express
Overnight accommodations
$50 per person/per night dining credit to use at Avalon Grille or Descanso Beach Club (must be billed to room and used prior to check out)
Rates: From $358 per person based on double occupancy or $408 for single occupancy.
Ship & Zip package: This includes round-trip transportation and one ticket for the zip line eco tour, where guests propel down 5 separate zip lines dropping from 600 feet above sea level, with one run that is 1,100 lineal feet long all on its own. Rates: From $109 per person — a nearly 50 percent savings.
Contact:
(800) 429-4601,
(562) 485-3200 ext. 1000
Catalinaexpress.com Hotel Packages
Catalinaexpress.com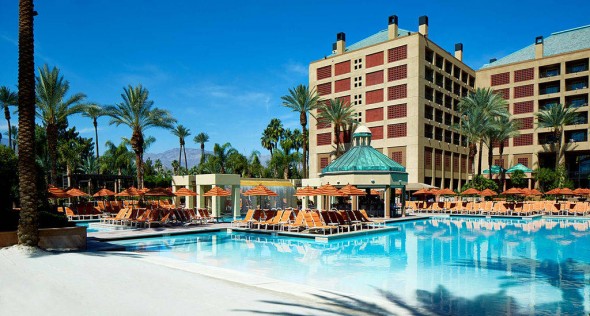 Palm Springs Holiday at the Renaissance: No Snow Here!
Travelers in search of an endless summer can start planning their winter escape now, as Renaissance Indian Wells Resort & Spa has introduced #NoSnowHere — a dream weather opportunity presented through April 30, 2016. The new overnight package puts greater Palm Springs' legendary "high season" within reach for those winter weary, vacation- and golf-starved would-be travelers who are chilled to the bone and missing the outdoor-lovers … as well as anyone anticipating the need for a pool chair and umbrella drink.
#NoSnowHere at Renaissance Indian Wells Resort & Spa is priced from $169 USD per night in December 2015 and $259 USD per night from January through April 2016. It provides the following:
Deluxe overnight accommodations
Two poolside cocktails
Two pairs of just-for-fun sunglasses
High season at Indian Wells allows guests to explore the winter Southern California desert where sun is plentiful, skies are blue and temperatures are mild. Renaissance Indian Wells offers not only swimming pools, cabanas, whirlpools, waterfalls and outdoor/waterside dining options, but also its own sandy beach.
Upcoming events and fests include the Palm Springs International Film Festival, Modernism Week, the BNP Paribas Open tennis competition at famed Indian Wells Tennis Garden, Fashion Week at El Paseo, the Humana Challenge golf tournament, the Tour de Palm Springs bike race, Spring Break at Renaissance Indian Wells, the Coachella Valley Music and Arts Festival (aka "Coachella") and the Stagecoach Country Music Festival.
Contact:
(800) 228-9290
www.thereisnosnowhere.com
Related Stories: