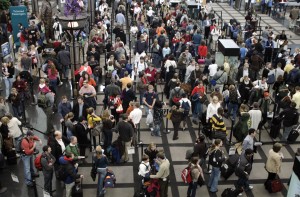 While navigating crowds at airports is a common pastime these days, especially for those accustomed to pulling wheelies all over the world, those airports are destined to get more difficult to move through as they handle the whopping 3.6 million flyers predicted to be using them by 2016.
Everyday will be like Christmas according to the International Air Transport Association (IATA), an airline trade group representing some 240 airlines and 84% of global air traffic. Air transport is expected to see five percent growth year after year and add on some 800 million new fliers over the next four years.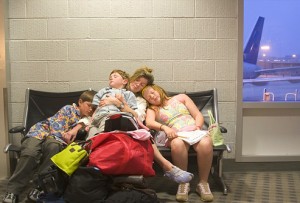 While the United states will continue to be the largest single market for domestic passengers (710.2 million). In the same year, passengers on international routes connected to the United States (a total of 223 million), will make it the largest single market for international travel as well. China, however, will see the most growth in fliers, accounting for nearly one in four of the new passengers to come.
"Despite the current economic uncertainty, expected demand for connectivity remains strong. That's good news for the global economy. Growing air transport links generate jobs and underpin economic growth in all economies. But exploiting these will require governments to recognize aviation's value with policies that do not stifle innovation, tax regimes that do not punish success and investments to enable infrastructure to keep up with growth," said Tony Tyler, IATA's Director General and CEO. Globally, aviation supports some 57 million jobs and $2.2 trillion in economic activity.
By 2016, the study predicts top five countries for international travel
(measured by number of passengers) will be the United States (at 223.1 million,
an increase of 42.1 million), the United Kingdom (at 200.8 million, 32.8 million
new passengers), Germany (at 172.9 million, +28.2 million), Spain (134.6 million,
+21.6 million), and France (123.1 million, +23.4 million).
Kazakhstan will experience the fastest growth rate at 22.5%, adding 3.9 million
passengers to the 2.2 million in 2011. India will have the second highest growth
ate at 13.1% CAGR, adding 49.3 million new passengers. China's 10.1% rate will
result in 158.9 million new domestic passengers. No other country is expected to
experience double-digit growth rates over the forecast period. Brazil, which has
the industry's third largest domestic market after the United States and China,
will experience 8% growth rate, adding 38 million new passengers.
By 2016 the five largest markets for domestic passengers will be the United
States (710.2 million), China (415 million), Brazil (118.9 million), India (107.2 million), and Japan (93.2 million).