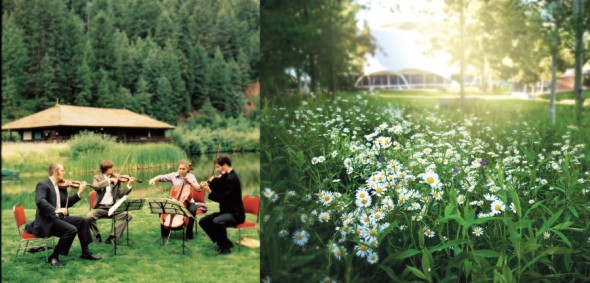 Aspen is in bloom again. The Maroon Bells blanket the meadows along the Continental Divide and with sunny weather in the 70s and low 80s, Aspen's summer season is now underway.  The town is particularly charming for all its boutique shopping opps and heady bistro culture. Numerous hiking, cycling and mountain biking events keep the visitors in action, as does rafting, kayaking and other activities.
But festivals in Aspen are a particularly luring in the summer season, and the mountains are alive with the sounds of music and culture.
Following are a few highlights of Aspen's summer 2014 calendar: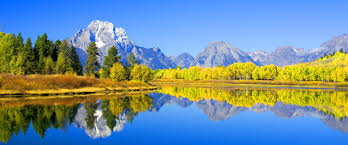 Aspen's Secret Season:
Through June 16
Buy Two/Get the Third Night Free or Buy Three/Get the Fourth Night Free — and get a $50 credit towards a recreational activity, including rafting, ballooning, kayaking, stand-up paddling or bike rental. Book Secret Season packages: (877) 812-6540.
Aspen Art Museum Grand Opening:
Aug. 8
The Aspen Art Museum's new 30,000-square-foot Shigeru Ban-designed building is scheduled for completion this summer with a grand opening slated for August 8. The AAM is a non-collecting museum for contemporary art.
Aspen Writers' Foundation Summer Words:
June 13-18
The Aspen Writers' Foundation offers author readings, workshops, writer retreats, and more. Its programs are corner-stoned by the 38th annual Aspen Summer Words, a celebration of words and ideas featuring writing workshops and discussions with award-winning faculty, including Billy Collins, Meg Wolitzer, and Julia Glass.
Theatre Aspen Summer Season:
June 24-Aug. 16
Featuring award-winning musicals, comedies and plays, Theatre Aspen will open its 31st season with the musical comedy "The Full Monty," the musical "Little Women," and "The Cottage," a new comedy by Sandy Rustin.
Aspen Music Festival and School
June 26-Aug. 17
AMFS presents its 65th season with more than 350 musical events including symphony, chamber, opera, choral and family concerts. This season's theme will be The New Romantics.
Jazz Aspen Snowmass Experience
June 19-28 and Aug. 29-31
The JAS June Experience includes music at the Benedict Music Tent, JAS Café at The Little Nell and music festival grounds. An exciting line-up of music includes Diana Krall, Steve Winwood, and Tony Bennett, while JAS Labor Day includes performances by Ziggy Marley, FUN and OneRepublic.
FOOD & WINE Classic in Aspen
June 20-22
The nation's premier culinary event returns to Aspen with world-renowned celebrity chefs and wine experts. Th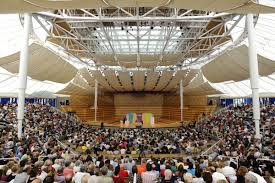 e three-day weekend includes tasting events, cooking classes, cooking demos, wine and interactive seminars, and the daily grand tastings.
Aspen Institute Aspen Ideas Festival 2014 June 24-July 3
Now in its 10th year, the Aspen Ideas Festival will focus on "Imagining 2024." The festival will continue to gather s
ome of the mostinteresting thinkers and leaders from around the world to present their ideas and inspire audiences.
Aspen Alpine Guides
Whole Journeys, a new travel company created by Whole Food Market, is offering an Aspen Hiking and Tasting Tour this summer. The three-day tour for the active foodie includes daily hiking options from active to challenging guided by Aspen Alpine Guides, trail lunches with local and Whole Foods Market's products, tasting tours at local producers, such as Woody Creek Distillers and Avalanche Cheese Creamery, as well as a backcountry barbeque dinner at T-Lazy 7, featuring responsibly-raised meats. The tours will be offered June 17-19, June 24-26 and September 12-14, 2014. Three-day tours run $995 per person plus lodging.
Also consider a new adventure from Aspen Alpine Guides called "Leave the Boys Behind." This is an all-female excursion to the pristine backcountry. The outing includes locally sourced meals and group dinners, as well as options for single-day hikes, hut-to-hut hiking and challenging summits on Colorado's 14,000-foot peaks. The two night tours run around $660 per person.
Related Stories: