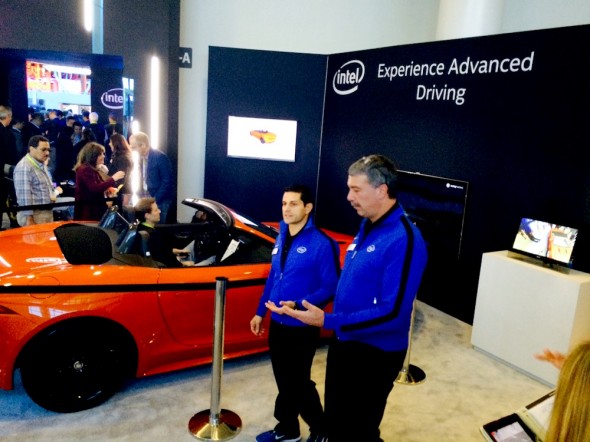 Wading through the Consumer Electronics Show in Las Vegas is like trying to catch fish in a barrel – only you are in the barrel with all the fish. Some 160,000 techies, lookie-loos, inventers, retailers and sales gurus descend on Las Vegas, each person looking for something or presenting something in a sea of sound, lights, and general chaos that eventually produces the things we use to make our lives work.
Held at the Las Vegas Convention Center every year at this time (since 1978), the event is THE showcase for every Kickstarter hopeful, every global electronics brand, every sound device, every Internet mobile device, now every car brand that wants to have a future, and every plastics-loving prototype builder from Shenzhen looking for an English-speaking partner.
And true to form, the dreamers find distributors and chances are what's seen on these showroom floors will end up on shelves at Best Buy or in menus at Amazon in only a few short months. Some gadgets look great – Lady Gaga was tabbed in 2011 to be the face behind Polaroid's new GL20 camera glasses. But along came Google and Lady Gaga was nowhere to be seen in 2012.
Other items, such as the craze in sensor bracelets that monitor athletic goals and body movements, started out as barely working frustration devices and now sell out as Fitbit and Fuel Band hits.
This year at CES, however, it looked like what's new is new again. News focused self-driving autos – seen for the first time at last year's show and adding to the taste of what's to come – several years from now. There was an emphasis on wireless networked products in sound – including speakers that floated on air and others that immersed in water. Chargers made a big presence – from credit card size devices to heavy conduction boards that turn your furniture into energy pods for your portables.
Television? Make that 4K definition and, though 65 inches, thinner than your iPhone. The Sony Bravia X900C is ultra-high def (four times the resolution of the 1080p HDTV we know well by now) and is only wanting for content that can match the output (although the entertainment company says it is coming out with some 1,400 titles to watch when the set debuts in stores this spring).
Finally, the Internet of Things made a splash this year with Wi-Fi enabled washing machines showcased by Samsung, LG and Whirlpool.
Top Five Travel Gadgets at CES 2015
Travel gadgets usually take a back seat to driverless cars and speakers that levitate but a few good electronic travel items made themselves known, especially in an environment that is becoming increasingly more mobile.
1) Wearable Life Recorder. The LifeCam by Vivitar is a camcorder you wear, comfortably, like a glove and thus, without fuss or muss, you are able to capture travel moments and life moments as they happen. The compact 1920 x 1080p HD camera provides an impressive 160-degree field of view fixed lens with a 3x digital zoom for greater flexibly in capturing the right shot. Perfect for recording adventures – especially those that require your hands and concentration be on the experience and not on the recording of the experience. Mounting accessories–desktop, clip, suction cup, head strap, bike handlebar, magnet and tripod mount – available for simple setup on the fly. LifeCam also connects through the built-in Android and iOS app to sync, view and share videos on any Smartphone or tablet.
2) Waterproof Wi-Fi and Blue tooth earbuds: The Bragi Dash looks like two bon bons but this in-ear waterproof headphone set has a 4 gigabyte music player and heart rate-monitoring fitness tracker that can work on its own or stream audio via Bluetooth from a Smartphone. It's expected to sell for $299 when it comes out in the spring.
Altec Lansing also has a cool submersible earbud system that is available now and retails at $100. The Immerse Headphones can be used in or out of water to receive streaming audio from compatible music streaming devices, whether Smartphone, iPod or MP3. They have an interesting capability: they allow two phones to be paired to the same pair of ear buds should the wearer have varying libraries. The buds are attached to a comfortable headgrip band and a text to speech function allows names and numbers to be read out so you always know who is calling. Device-to-buds range is 100 feet.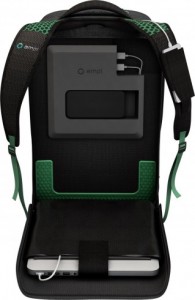 3) Smart Backpack: San Diego-based Ampl Labs looked at power travelers and gave them a solution for charging their devices any time anywhere inside their luggage. In this case it's the Smart Backpack and the mobile charging system that is integrated into this piece is also designed to protect devices from shocks, pounds and weather. The pack can charge phones and tablets and even laptops. All SmartBackpack batteries feature adaptive, fast-charging technology that charges twice as fast as conventional Li-ion battery chargers. Available in spring for $299 plus battery modules.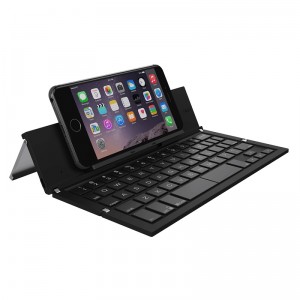 4) Folding Bluetooth Keyboard for the IPhone: Zagg is a leader in comfortable keyboard solutions for iPad and iPhones and this year has come out with a keyboard that folds into the size of a chopstick case and remains perfect for taking notes or writing into a notes app on your iPhone. The keyboard is springy and responsive and unfolds to dimensions only 15 percent smaller than a regular detached Mac keyboard. Called the Zagg Pocket, it retails for $69.99.
5) Connect Wherever You Are: GoTenna. Heading to the mountains? If you are climbing El Capitan in Yosemite you are in luck. The cell reception at mid-monolith is exceptional. But if you are heading for a ravine in the Sahara you may not have as much good fortune making that phone call. GoTenna is a featherweight, pocket- or purse-sized antenna stick that allows travelers to go off the grid and still communicate with the outside world, providing that the person on the other end of the line is also in possession of a GoTenna device. But that means anywhere on the planet regardless of cell service, Wi-Fi or smoke clouds. The device allows messages to be sent with geo-location information – a potential lifesaver. It can be networked between multiple users and does not require a subscription or fees. Expected to retail for $299.
Similar Stories: