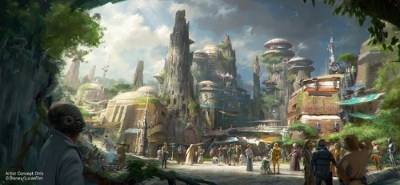 When Disney coughs, it's a breath heard 'round the world and recently Disney more than breathed. The entertainment, hospitality and theme park company gave the media and 7,000 lucky Mickeyphiles some behind-the-scenes looks at what's to come for 2016 and beyond.
Among the many announcements were new and enhanced Star Wars experiences coming later this year to the Florida and California theme parks, plans for a new Toy Story Land at Disney's Hollywood Studios, and more details on Pandora—The World of AVATAR, which is already under construction at Disney's Animal Kingdom.
Soarin' Around the World will make its U.S. film debut at Epcot and Disney California Adventure taking guests to new places around the world. Additionally, the first Marvel attraction planned for Disney parks, will be coming to Hong Kong Disneyland in 2016.
"From Disneyland's 60th anniversary celebration to the anticipation of Shanghai Disney Resort, we're in the midst of unprecedented growth and expansion around the globe," said Walt Disney Parks and Resorts Chairman Bob Chapek. "We continue the legacy in creating innovative attractions, worldwide entertainment, and magical lands that take our guests into the worlds of stories they love."
In addition to these announcements, Chapek talked about plans to bring Star Wars-themed lands to Disney's Hollywood Studios in Orlando and Disneyland park in Anaheim. Each 14-acre land will transport guests to a never-before-seen planet with two signature attractions, including a customized secret mission on the Millennium Falcon and an epic Star Wars adventure that puts guests in the middle of a climactic battle.
Disney Magic in the Details:
Star Wars Enhancements & New Experiences   

From a new Star Tours adventure to Star Wars Launch Bay, from a new Jedi Training Academy to "Season of the Force," soon guests will be part of both new and enhanced experiences at Walt Disney World Resort and Disneyland Resort.
Star Tours – The Adventures Continue – Later this year, Star Tours will include a new adventure featuring locations and characters from the upcoming film, Star Wars: The Force Awakens, giving guests a new adventure in the Star Wars galaxy.
Star Wars Launch Bay – This interactive experience will take guests into the upcoming film, Star Wars: The Force Awakens, with special exhibits and peeks behind-the-scenes, including opportunities to visit with new and favorite Star Wars characters, special merchandise and food offerings. Star Wars Launch Bay will be located in the Animation Courtyard at Disney's Hollywood Studios and in Tomorrowland at Disneyland park. Also at Disneyland park, Star Wars Launch Bay will share the space with the reimagined Super Hero HQ, featuring opportunities to meet and take photos with super heroes like Captain America and Thor, as well as experience the returning Iron Man Tech Presented by Stark Industries. Both experiences will be available for guests later this year.
Jedi Training Academy — This is reimagined with a new experience that includes new characters and a new villain to battle from the popular Disney XD series "Star Wars Rebels."
Season of the Force – Beginning early 2016, this new seasonal event brings new experiences to both coasts. In Tomorrowland at Disneyland park, guests will explore the Star Wars galaxy with special entertainment throughout the land, themed food locations and more. Guests also climb aboard Hyperspace Mountain, a reimagining of the classic Space Mountain attraction that joins an X-wing Starfighter battle. At Disney's Hollywood Studios, guests will close out weekend nights with a new fireworks spectacular set to the iconic score of the Star Wars movies.
Toy Story Land at Disney's Hollywood Studios in Florida 

The reimagining of Disney's Hollywood Studios will take guests to infinity and beyond, allowing them to step into the worlds of their favorite films, starting with Toy Story Land. This new 11-acre land will transport guests into the adventurous outdoors of Andy's backyard. Guests will think they've been shrunk to the size of Woody and Buzz as they are surrounded by oversized toys that Andy has assembled using his vivid imagination.
Family-friendly roller coaster – All on the back of Slinky Dog, this coaster will zip and zoom, plunge and coast as it takes guests on a fun, toy-filled adventure throughout the new land.
Alien saucers attraction – The famous little green aliens from the movie will take guests around for a spin in their very own flying saucers.  The music, lighting and sound effects add to the flurry of action, while "The Claw" looms over.
Toy Story Mania! – Guests glide into the Toy Story Midway Games Play Set  and take aim at 3D objects in a variety of fast-paced games, with an expansion that adds a third track to this popular attraction.
After Dark at Disney's Animal Kingdom and Pandora – The World of AVATAR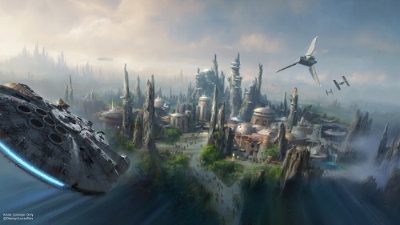 As part of the largest expansion in the park's history, Disney's Animal Kingdom will immerse guests into the world of Pandora, and the entire park will transform after dark with new nighttime entertainment experiences, offering guests longer days than ever before to experience this one-of-a-kind theme park.
"Rivers of Light" – Expected to open next spring, "Rivers of Light" will be an innovative experience unlike anything ever seen in a Disney park, combining live music, floating lanterns, water screens and swirling animal imagery. "Rivers of Light" will magically come to life on the natural stage of Discovery River, capping off a full day of adventures at Disney's Animal Kingdom.
Kilimanjaro Safaris – This popular attraction will be extended for a new nighttime adventure next spring, where guests will travel through the African savanna amid the magically extended orange glow of the setting sun and discover two species new to the attraction: African wild dogs and hyenas.
Pandora – The World of AVATAR – Disney's Animal Kingdom guests will journey into the magnificent world of Pandora at this new AVATAR-themed land – a world that includes floating mountains, a bioluminescent forest and the winged creatures known as Banshees.
AVATAR Flight of Passage – This E-ticket attraction, the centerpiece of Pandora, allows guests to soar on a Banshee over a vast alien world. The spectacular flying experience will give guests a birds-eye view of the beauty and grandeur of the world of Pandora on an aerial rite of passage.
…and more magic…
Soarin' Around the World in Florida and California  

Next year, guests at Epcot in Florida and Disney California Adventure in California will journey to far-flung lands and fly above some of the world's most unique natural landscapes and man-made wonders when the new Soarin' Around the World makes its U.S. debut.
Iron Man Unveiled for Hong Kong Disneyland 

Hong Kong Disneyland guests will have the opportunity to meet and take photos with the Super Hero himself in 2016. The Iron Man Experience will be the first Marvel attraction at any Disney park, taking guests on an epic adventure over the streets and in the sky above Hong Kong. The adventure will begin at the new Stark Expo where guests board the Iron Wing to take flight and battle Hydra alongside fan-favorite Avenger, Iron Man.
Related Stories: