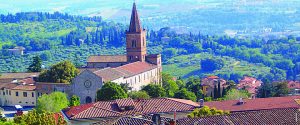 A summer spent wandering the gardens, markets and alleyways of Italy simply simmers with aroma. Fresh tomatoes, flavorful basils, magnificent sidewalk produce and the refreshing flows from baroque fountains combine for a magical experience in any season, but especially in summer.
But summers in Italy are also alive with art and sound. Outdoor opera performances light up the night in unlikely settings amid preserved antiquities. Village faires decked in Renaissance splendor dot the ancient mountain hamlets in summer season with traditions that celebrate saints and sinners of times long past.
Alive with Festivals in Italy
Here is just a sampling of what's in store this summer in Florence and Verona and within easy travel distance around Italy.
July brings the Festa della Madonna Bruna and L'Ardia di San Costantino in large towns and small, where regional food is showcased. Il Palio is especially spectacular. This is Sienna's famous horse race around the Piazza del Campo takes place through August 16. A lively and spectacular procession with people in medieval costume precedes the race and if you get there early you're bound to find a viewing spot (seats sell out early).
If jousting is the thing the Giostra della Quintana in Foligno happens the first Saturday in July and the second Sunday in September all in complete traditional 17th century costume.
In villages and towns around Florence visitors find such summer treasures as the antiques markets of Fiesole and Arezzo; medieval festivals in Catiglione Garfagnana; the medieval fair at Monteriggioni, and the Blues Fest at Pistoia.
For those with room to roam through Rome, there's the Festa de'Nontari street fair in the Trastevere District during the last two weeks of July. Also, the international fashion show at the Spanish Steps, Donne Sotte Le Stelle, is in full swing during that time.
The Festival dei Due Mondi or Festival of Two Worlds is an all out art and music extravaganza in July featuring theater, opera, music, painting and sculpture by top artists within the medieval hill town of Spoleto in central Italy.
Also in Umbria is the Trasimeno Music Festival with its series of classical music performances on the shores of Lake Trasimeno, Perugia in July.
But for opera there is nothing like the Verona Opera series performed under the stars in the stunning Roman amphitheater of Verona. This summer's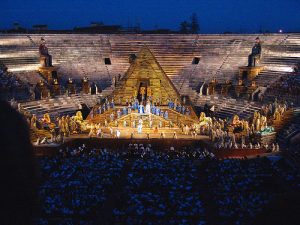 line-up includes alternating performances of Don Giovanni, Aida, Carmen, and Romeo and Juliette – all happening near the new Palazzo Victoria.
And so it is within this popping panoply that two incredible properties offer compelling reasons to come and visit Italy this summer, if only for the first time. In Italy, summer is not a season. It is a happening.
Savoring the Sensations at Il Salviatino
Il Salviatino, in the hills just outside of Florence, and the new Palazzo Victoria that opened in Verona in March — both  a members of the exclusive Kurtz-Ahlers collection, provide the hubs, the backdrops, the inviting reasons to savor a stay in Italy this summer while wandering through this destination's sizzling buffet of art and music and colorful celebration.
Il Salviatino in the pine and eucalyptus-shadowed hills of Fiesole above Florence provides home enough for any art-filled summer vacation in Italy. The 14th-century stately manor turned into uncommon quarters for a Florentine holiday in 2010 when the hot Italian design firm MPg converted this preserved Renaissance estate into a 45-room full service hotel.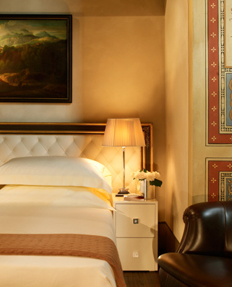 Today guests linger in 11 acres of sculpted gardens, sleep in elegant converted Victorian glass greenhouses or under firmaments of recovered medieval frescos. Each room is an original, a work of art in its own right using the finely crafted wall moldings, carved wood, even sepulchers that have defined these spaces through the centuries — some with windows over the hills of Tuscany and others with views onto the Duomo of Florence. Take a class with Il Salviatino's resident Michelin-starred Chef, Carmine Caló using the freshest local ingredients. Or have a treatment in Il Salviatino's seductive spa under the special design of one of Florence's most renowned "noses," – the perfume house of Dr. Paolos Vranjes.
A new stay and spa package at Il Salviatino makes it easy:
The "Relax with a view of Florence" package runs through December 28 and starts at EUR 1260 ($1,001) for two nights for two persons who receive:
• Available upgrade on arrival
• "A la carte" breakfast
• Two hours of treatments per person at the SPA Il Salviatino on Day 1
• One-hour treatment per person Day 2 (flexible)
• Three-course dinner at Il Salviatino restaurant
Click here for more Summer in Italy specials at Il Salviatino.
Via del Salviatino 21
Firenze 50137 Italy
Tel: +011 39 055 9041111
Email: [email protected]
Website: Salviatino.com
Music in the Air at Palazzo Victoria
Palazzo Victoria in Verona allows you to stay within earshot of some of the world's greatest opera performances, just steps away from an intricately preserved Roman amphitheater in the center of old Verona and in the heart the shopping, dining, sampling and exploring to be found at Via Mazzini and the "Corso di Porta Borsari."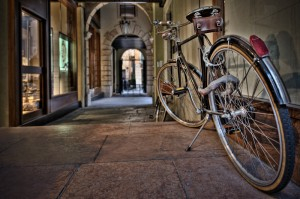 While Palazzo Victoria is one of Italy's latest hospitality masterworks (it opened in March 2012), the exquisite surroundings are anything but new. Guests stay in a stunning 14th century palace not far from Shakespeare's setting for Romeo and Juliette. All 71 rooms are echoes of the palace's history wrapped in contemporary design but function almost as well as a living museum. Dining, too, is trendy and chic, but true to traditions under the guiding skills of Michelin-starred Chef, Carmine Caló.
Learn more about Palazzo Victoria.
Via Adua 8
37121 Verona (VR), Italy
Tel: +011 39 045 590566
Email: [email protected]
Website: Palazzovictoria.com