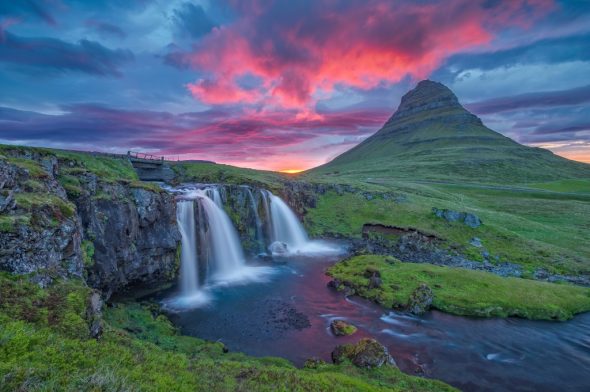 Tourism to Iceland has been growing by double digit figures over the pas five years, new playground of rock stars and fashion leaders and a still undiscovered land even for those well traveled. Wondering what's "beyond the wall" on HBO's Game of Thrones? You'll find out in Iceland. Whether you are chasing glaciers, searching for the great Nothern Lights, or just finding your peace by soaking under the midnight skies, Iceland is a land worth the visit. Five hours from the U.S. east coast and eons away in oddities, it is the land of fire and ice, and where you can find some of the best hot dogs on the planet.
Travel-Intel sat down with Visit Reykjavik director, Áshildur Bragadóttir, to find out more.
How would you describe Reykjavik?
Reykjavik is a green city with colourful scattering of toy-like painted small houses. The city is known for being exceptionally lively, both in the summer time during the long nights when the sun doesn't set, and also in the wintertime when we have a remarkable number of annual festivals and events attracting countless festivals-goers.
Reykjavik is a vibrant cultural city and compact enough to wander by foot and. It's both a peaceful and friendly city with locals that are open hearted and embrace you with warmth.
What would you say are the five key do-not-miss attractions in the city?
Pools and spas are a vital part of the Reykjavik lifestyle thanks to one of
Iceland's greatest natural resources; geothermal water. The water is used to heat houses and produce electricity, and we Icelanders love to bathe in it. The country has over 170 pools, and throughout the capital area we have 18 swimming pools. So if you would like to treat yourself, take a dive in to one of the local pools in Reykjavik.
For a relatively small city, Reykjavik is a shopper's paradise. There is literally something for everyone, charming little street boutiques, beautiful local and international design stores or large shopping malls with a great variety of stores. In the shopping area around Laugavegur and Skólavörðustígur in the city center you find one of a kind, specialty stores, non-chain stores and unique design and art stores. In shopping malls like Kringlan and Smáralind you will find a selection of name-brand franchises and a variety of fashion and lifestyle shops.
The old harbor area is definitely a place worth visiting. Filled with excellent restaurants, coffee houses, shops, galleries and activities the area is one of the hottest spots in the city at the moment.
One of the most visited and photographed building in Reykjavik is Hallgrimskirkja. The church tower is among the tallest structures in the city. The observation deck in the tower offers great views and from there you can see almost anywhere within the city. 
Harpa concert and conference hall is another beautiful building located at the edge of Reykjavik Harbour and open to everyone. Next to the building is the sculpture Sun Voyager, that symbolises the Viking past of the Icelanders and an ode to the sun. It serves as a reminder of our history and heritage when the first Viking settlers came sailing to Iceland.
We have seen international visitor numbers that reflect great leaps in recent years. How is that affecting Reykjavik? What percentage of those visitors just stay in Reykjavik and do now see other regions of Iceland?
In my mind it's making Reykjavik more vivid and lively. We have more variety of restaurants, cafes and stores in the city center, longer opening houres and it has affected the economy of the city and the country as a whole in a very positive way for the last five years or so.
Between 90-95% of all visitors that come to Iceland stay in Reykjavik for shorter or longer period of time. There is a slight difference between the summer season in tourism and the winter season in Reykjavik. On average visitors stay for 12 nights in Iceland, but during the summer time visitors stay on average 3 – 3,5 nights in Reykjavik or 30-40% of their nights in Iceland. In the wintertime visitors stay on average 4-5 nights in Reykjavik, or up to 95% of their nights in Reykjavik.
We have seen reports that hotels are filling up way in advance, especially for the summer months. What is the bed count in Reykjavik? Is this count in the process of much expansion?
There are somewhere between 4-4.500 hotelrooms in Reykjavik and in the next two-three years we expect to have more than 2.000 new hotel rooms available in Reykjavik for our visitors.
What are some of the international hotel brands we might see in the city?
The Hilton hotel chain has one big hotel in Sudurlandsbraut, close to downtown Reykjavik, and they are opening a new hotel close to the main shopping street Laugavegur under a new brand, Canope. This is the first hotel they open under this new brand and we are of course very proude that they choose Reykjavik as a platform for this new, highly anticipated hotel.
Marriot is opening a new hotel in downtown Reykjavik in two or three years time. The hotel will be situated next to Harpa Concert and Conference Hall and the hotel will have 250 rooms.
Many other international hotel brands are looking into opening hotels in Reykjavik and hopefully we will see more of them open within the next five to seven years.
Please describe the usual type of commercial hospitality one might find in Reykjavik? What might be five hotels that would be a match for business travelers?
I would say that Reykjavik is a friendly city and a city that emraces all types of travellers, families, solo travellers, lovers and friends. Icelanders have a deep sense of culture, intellect, sophistication and friendliness and the hospitilaty is very good.
What are the key industries in Reykjavik?
Tourism, Service, Fisheries, Technology
What are the popular day trips to take from the capital? What types of lodging choices should visitors expect outside of Reykjavik as they visit the rest of Iceland?
The Golden Circle tour is propably the most popular daytrip from Reykjavik. It allows you to visit some of Iceland's most stunning sights, starting with the Geysir geothermal area where the Strokkur geyser shoots a column of water up to 30 metres (98 ft.) into the air every 4-8 minutes in a thrilling display of nature's forces. The visit continues with Gullfoss (Golden Falls) waterfall, created by the river Hvítá, which tumbles and plunges into a crevice some 32 m (105 ft.) deep.The Golden Circle tour also includes the historical and geological wonder that is Thingvellir National Park, where the American and Eurasian tectonic plates are pulling apart at a rate of a few centimetres per year.
The Blue Lagoon geothermal spa is one of the most visited attractions in Iceland. The spa is located in a lava field in Grindavík on the Reykjanes Peninsula, only 30 minutes away from the city, close to the International airport.
Into the Glacier is one of the new attractions and is becoming more, and more popular. It's a man made ice cave in west part of Iceland, only two hours drive from Reykjavik, and the the tunnel and the caves are located in the second largest glacier of Europe, Langjökull.
Activities like glacier tours, mountain climbing, snorkling and diving, river rafting and snow mobiling are also becoming more and more popular and there are variety of day tours activities available.
Please describe the seasons and how time of year affects visits to Reykjavik.
The chilliest thing about Iceland is its name! Despite its northerly location, Iceland is really more solar than polar, thanks to the warming effects of the Gulf Stream which provides a temperate climate year round. Icelandic weather is unusually volatile however.
The Gulf Stream brings mild Atlantic air in contact with colder Arctic air, resulting in frequent and abrupt weather shifts where you may experience four seasons in one day. The Icelanders often say, "If you don't like the weather, just wait 15 minutes and you'll get something different."
Iceland does not have a rainy season, but precipitation peaks in October to February, with the southern and western parts receiving the most rainfall. The North, East and Interior experience colder winter temperatures but warmer summers, and noticeably less snow and rain.
Iceland's most influencing weather element is the wind. The Icelandic language describes at least eight different degrees of wind, from logn (calm breeze) to rok (strong gale). Although Iceland is located just south of the Arctic Circle, it does have four distinct seasons which offer boundless adventure opportunities and dramatic displays of vibrant life.
Winters are remarkably mild with the average January temperature in Reykjavik (-0.5°C /31°F) similar to New York City or Hamburg. It is not unusual to see snow in October or April, but it rarely stays on the ground for more than a few days.
Outdoor life goes on as usual throughout winter when horseback riding, outdoor swimming and snow adventure activities take on an added element of excitement under the shimmering Northern Lights.
Spring arrives in April when temperatures begin to warm up and nature awakens from its winter rest with sprouting green grass and flowers. April and May represent spring shoulder season for savvy travelers trying to score a travel deal before the summer tourists arrive.
Fishing, whale watching and golf season begin and migratory birds return to gradually greener pastures. On the mountain slopes the last of the snow melts and the fresh scent of spring fills the air.
In June summer takes over from spring, when meadows turn neon green and Viking horses and sheep are released to roam the countryside. Summers in Iceland can be delightfully warm plus the added bonus of the magnificent Midnight Sun which gives 24 hours of daylight and the excitement of midnight golf.  It is the height of tourist season with most hotels and guest houses operating at peak capacity.
September and October bring cooler temperatures and the beginning of Northern Lights Season while daylight hours are still normal. The cultural calendar heats up with film, art and music festivals including Reykjavik's favorite Iceland Airwaves.
Adventure activities are in full swing and it is a great time to take advantage of fall travel deals.  The season brings marvelous beauty to the moss growing on ancient lava formations giving nature sites an added splash of autumn color.
Please offer your "best kept secrets" for what to do, where to stay, what and where to dine and when to go to Reykjavik.
Everyone that visits Reykjavik has to dive into one of our thermal pools. It gives you the chance to meet the locals in an environment where everyone is relaxed and willing to share stories.
Hot dogs are beloved in Iceland and sold at every gas station and most convenience stores, at hot dog stands inside malls and at ferry landings, and even at the airport, but the most popular place to get one is in Reykjavik at Bæjarins Beztu Pylsur (which translates to "best hot dogs in town"). Seventy percent of the country's 300,000 residents have eaten at the harborside hot dog stand, which has been open since 1937 and has fed famous visitors like Justin Bieber, Kim Kardashian and Bill Clinton.
There is no season better than other to visit, as mentioned in answere with question nr. 11. Every season has it's own feel, but for those visiting for the first time, I would recommend for them to visit either in the summer time to experience the long nights and our nature in it's most beauty, or in the wintertime, to see the northern lights and enjoy the culture and nightlife in Reykjavik.
More information: www.visiticeland.com