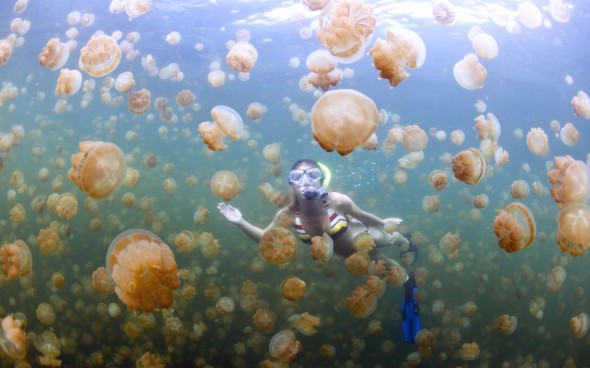 A&K Exotics: Inspiring Expeditions by Geoffrey Kent
Winter escapes can use a bit of imagination and vigor. Of all the untold journeys Abercrombie & Kent founder Geoffrey Kent has planned in the past fifty years, these may be the most remarkable. Inspiring Expeditions by Geoffrey Kent head to far-flung destinations to offer unmatched luxury and exclusivity. The inaugural journey, Treasures of Palau (November 13-21, 2016), explores the world's preeminent destination for ocean exploration, in the utmost style — aboard the exclusively chartered superyacht, MS 'Saluzi.'
On this exclusive nine-day journey, Geoffrey Kent will accompany guests to experience some of the best scuba diving and snorkeling in the world. From the Blue Corner – made famous by Cousteau to the Big Drop Off and Ulong Sandbar, from the German Channel and Shark City, to 'Iro' a Japanese ship sunk during World War II.
The once-in-a-lifetime trip brings an opportunity to swim among millions of non-stinging Mastigias jellyfish in Jellyfish Lake. Guests tour historic World War II battle sites and enter by special permission the Seventy Islands, a World Heritage Site off-limits to outsiders for nearly 60 years.
A LAVISH ONBOARD EXPERIENCE
Spend seven nights cruising aboard the exclusively chartered superyacht, Saluzi, featuring elegant suites and full entertainment systems. At 226 feet long, Saluzi is spacious, swift – cruising up to 16 knots – and stable, thanks to a state-of-the-art stabilization system. Onboard amenities include a gym, spa with massage therapist, nightclub and an open-air cinema and a crew of 32.
Treasures of Palau is the first in a series of Ocean Explorations and Expeditions in Style, in partnership with the Oceanographic Institute Foundation Albert I, Prince of Monaco, whose mission is to introduce people to ocean science in order to promote a respectful and sustainable approach to our oceans.
Rates: nine days, from $145,000 per person, double occupancy.
Contact:
(800) 554-7094
www.abercrombiekent.com

Warm up to Golf and Mickey in Orlando
Those who want to warm up with a little golf and maybe a little Disney this winter will enjoy the "Weekend Winter-vention" escape package at the Orlando World Center Marriott. The property brings the Falls Pool Oasis with the tallest and fastest resort slides in Florida, rejuvenating treatments at the full-service spa, wine-and-dining at an array of taste tempting restaurants, and an 18-hole championship golf course.
Rates: $135 per night available to be booked through the end of the year
Dates: For stays through March 2016
Contact:
(800) 380-7931
www.worldcentermarriott.com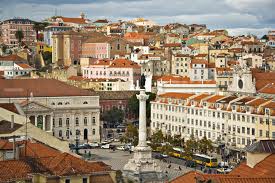 Crystal Cruises with Fabulous "Book Now" Fares to Europe
Crystal's Silver Celebration Event is offering guaranteed fares on all voyages now through 2018 aboard Crystal Cruises with limited-time savings of up to $6,000 per stateroom on select sailings booked by December 30, 2015.
The following itineraries on the savings list:
Enchanting Europe
European splendors await. Book by December 30th for the best Book Now fares from $1,895 per person.
Venice to Athens on Crystal Symphony
The Doges Palace and St. Mark's Basilica, the Acropolis and Parthenon, and the magnificent Konavle Valley…all on a single voyage.
Dates: Apr. 17-24, 2016 (7 Days)
Cruise-Only Fares from: $2,265
Istanbul to Rome on Crystal Symphony
Visit the Isle of Delos, mythological birthplace to siblings Apollo and Artemis; and journey to the isle of Capri, famed for its Blue Grotto
Dates: May 1-13, 2016 (12 Days)
Cruise-Only Fares from: $3,245
Rome to Lisbon on Crystal Symphony
Overnight stays mean the luxury of time to shop Monte Carlo's Golden Circle, visit Barcelona's famed museums, and explore the seven hills of Lisbon.
Dates: May 13-22, 2016 (9 Days)
Cruise-Only Fares from: $3,335
Lisbon to London on Crystal Symphony
Immerse in the treasures of France, from its Basque cuisine and Bordeaux wines to the mystifying Mont St-Michele and magnificent Eiffel Tower.
Dates: May 22 – Jun. 5, 2016 (14 Days)
Cruise-Only Fares from: $4,995
London to Copenhagen on Crystal Symphony
Discover Antwerp, Belgium's 'capital of cool' with its stylish design houses and art galleries; explore Amsterdam's 165 canals by boat or bike; visit Copenhagen's Kronborg Castle, renowned as Hamlet's fortress.
Dates: Jun. 5-12, 2016 (7 Days)
Cruise-Only Fares from: $2,395
The All Inclusive Crystal Experience® is renowned for its ultra-luxe amenities and services:
Complimentary select fine wines, champagne and premium spirits.
Complimentary gratuities for all dining, bar, housekeeping and Penthouse butler staff.
Complimentary evening of specialty restaurant dining at least once in Silk Road or the Sushi Bar celebrating the cuisine of Nobu Matsuhisa, and at least once in Prego. Additional reservations or walk-in visits available for a modest fee.
Complimentary enrichment via the innovative Creative Learning Institute® and Computer [email protected]® with classes in diverse topics such as world affairs, wellness, art, wine appreciation, digital photography and iPad filmmaking
Complimentary Wi-Fi and Internet access.**
Complimentary fitness and Wellness at Sea® programs with classes in yoga, mat Pilates, and Spinning®
Contact:
(800) 446-6620
www.crystalcruises.com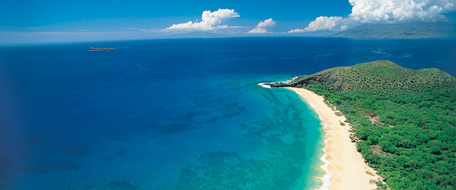 No on Snow! Package in Hawaii
Honua Kai Resort & Spa, the all-suite resort on Maui's Ka'anapali North Beach, invites guests to warm up in Hawaii this winter with the "Say No To Snow" package, which includes five nights in a choice of a one- or two-bedroom suite, compact rental car, Maui Sunset Cocktail Cruise with Teralani, and a keepsake welcome amenity. Savings run up to $350 per package.
Package Includes:
Five-night stay in a one- or two-bedroom suite
Free compact rental car for five days
Teralani Sunset Cocktail Cruise: up to (2) people for one-bedroom and (4) people for two-bedroom booking
Keepsake welcome amenity (Maui Coffee and Honua Kai coffee mug)
Booking Dates:  through January 15, 2016 for travel through April 1, 2016 (blackouts run December 21, 2015 – January 5, 2016)
Contact:
(888) 626-0427
www.honuakai.com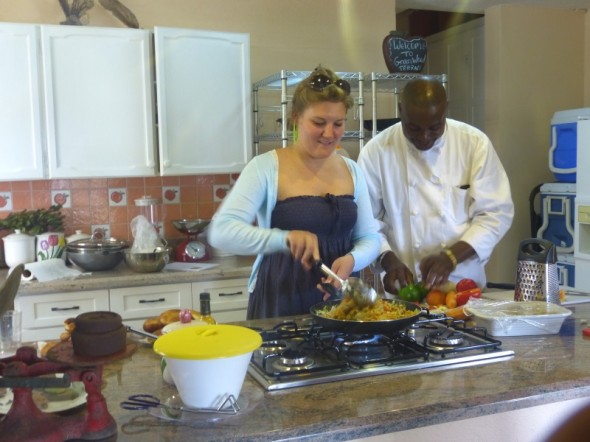 'Flavors of St. Lucia' Culinary Excursion by Barefoot Holidays
Barefoot Holidays, a leading destination management company in St. Lucia, is offering a unique culinary experience, "Flavors of St. Lucia", where visitors have the opportunity to learn popular St. Lucian cuisine and cooking techniques from highly regarded island chefs. The three-hour demonstration is held at the "Greenwood Terrace Heritage Experience" — a new cultural attraction, culinary facility and a mini-museum. Open to groups of six to fourteen people, guests learn to prepare local dishes and how to accentuate the flavor of each recipe by combining and blending fresh native grown fruits, vegetables and herbs to give each dish a Caribbean flare.
The excursion costs $110 per person, with prices varying for private excursions. Free transportation is included from hotels and the main seaport in the north as well as from the Rodney Bay Marina.
Among the sample menus is one featuring local pumpkin and spinach soup to start, followed by cocoa mahi mahi (fresh mahi mahi, marinated in local herbs and cocoa, grilled then served on a slice of watermelon with a fruit salsa), and light island mango mousse for dessert. An array of historic artifacts and utensils are on display and open to discussion with the chef. Guests are free to explore the tropical gardens and the mini-museum.
Contact:
315-207-3501
www.barefootholidaystlucia.com
Related Stories: