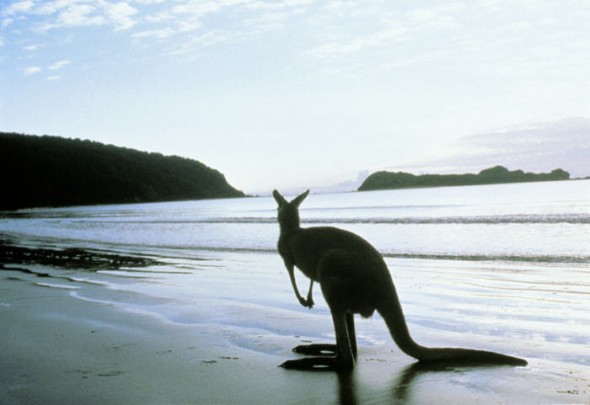 If you haven't been to South Australia lately, better bring a pair of comfortable shoes and an appetite. The state that is the fourth largest on the continent is also full of amazing arid land formations, precipitous ocean cliffs, wonderful walkable cities and villages, and some of the best wine and food experiences in the world.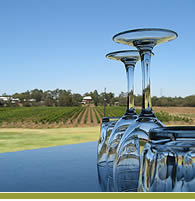 It's possible to take the Murray River Princess paddle wheeler and ply the historic Murray River from here to Melbourne and beyond on its 1,476-mile course. You can also head to nearby Kangaroo Island for a stay at the sublime Southern Ocean Lodge and its surrounds of surf, windswept rocks, shipwrecks and armies of marsupials. Adelaide anchors it all with a square mile of style marked by renovated turn-of-the-century buildings surrounded by parks and outdoor markets. And not 20 minutes away in the rolling foothills is Barossa Valley, gourmet breadbasket of Oz with its sun-kissed miles of prized shiraz vineyards and its noted culinary traditions derived from modern recognition and more than a 100 years of food-focused settlements – many, oddly, of Prussian origin.
Into this mishmash of must-sees mix some of Australia's newest and, possibly, most compelling tourism products and create that many more reasons to head to Australia and get off the bus.
Adelaide is easily accessed by plane or train from Sydney (25 hours, $151 to $1180ow, The Indian Pacific on the Great Southern Railway) and Melbourne (9 hours, $100 ow, The Overland on the Great Southern Railway). Yet, only one in eight international visitors to Australia finds the way to South Oz. Those who do can consider these new activities and adventures to add to their bragging roster of Australian vacation experiences.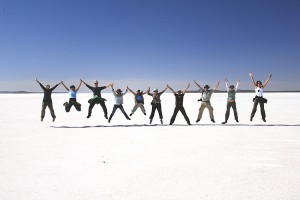 Adventures in the Outback
Camping in the outback becomes part swag, part wagon with Gawler Ranges Wilderness Safaris. For those who want to see stars, spend time in the vast Australian bush, dine among throngs of kangaroos and swim freely amid schools of dolphins and tribes of seals, an outback safari does the job.
Gawler Ranges presents the wild outback within the stayed camp environment of Kangaluna Camp with tented luxury accommodations and even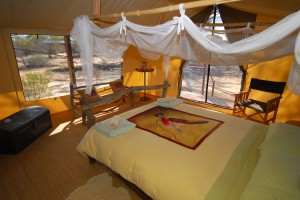 a Swagon — 100-year old Aussie-style wagon, dubbed the "Galaxy Suite," to stay in.
The Swagon has its own private shower and toilet and Aussie-style "swag"—a queen-sized double mattress. The bed is canopied by canvas that can be pulled back to reveal the vast Southern nighttime sky.
Meals at Kangaluna Camp are served outdoors with complimentary drinks, and after dinner guests can observe the night sky through the campsite's computer- controlled telescope.
Kangaluna Camp can be located near the town of Wudinna, about 370 miles Northwest of Adelaide .
Four-wheel drive vehicles offer outbackoutback tours to Eyre Peninsula and inland salt lakes. Full-day journeys can include spotting wild koalas in the surrounding bush, swimming face-to-face with bottlenose dolphins and seals in Baird Bay, or visiting a colony of rare Australian sea lions along coast. Inclusive three-day safaris start at $1728. Contact: www.gawlerrangessafaris.com.
Kingsford Homestead: Historic Sleeps
Kingsford Homestead is also a new product for show in South Australia. The circa 1856 Scottish sandstone cottage property located on the western edge of the Barossa has been owned by generations of local farm and sheep barons, used as a television series set, a now (as of July) hosts visitors in several suites surrounded by 225 acres of provincial countryside.
The property has been completely converted to include five suites on an upper story, a single suite on the ground floor, and a Stonemason's Cottage at the rear of the property, which features a cozy lounge room with fireplace, generous double shower and spa bath, and a private walled garden.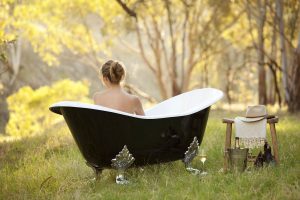 Food and wine play an integral part of the Kingsford Homestead experience, with local produce that transforms into three- and five-course tasting menus each day. After enjoying wine and canapés at sunset, guests can take advantage of the underground wine cellar stocked with fine Barossa and other exclusive South Australia wines to complement the local menu.
A signature feature here is the al fresco "bush bath"—an oversized freestanding tub perched in a secluded corner of the property that overlooks the river. The antique claw tub is often occupied by two and complemented with a bottle of choice. For other bathers, the Homestead just opened a pool last month.
Wine tours are a must in these parts and winemakers are an easy 10-minute drive from the property. It's 30 minutes to the wineries of Clare Valley producing some of Australia's finest Riesling. Additionally, visitors can head upwards at sunrise in a hot-air balloon, play golf at Jacob's Creek estate, or walk about the property's rolling hills and river gorges with an eye out for kookaburras, parrots, wedge-tailed eagles, and kangaroos.
Average rates run $768-$875 per night, minimum two-night stay, inclusive. Private car transfers from Adelaide can be arranged for $175 (maximum four passengers, one way).
Contact:
www.kingsfordhomestead.com.au;
[email protected].
 Life is a Cabernet
Life is a Cabernet has been well known by Aussie Specialists for their immersive food and wine tours into the Barossa, McLaren and Clare valleys. What is new is the option for travelers traveling through or with limited time to be handled in totally customized fashion via an hourly rate option. For $110/hour, per person, including vehicle, driver and up to six guests, it is possible to get door to door pick up, a tailor made tour based on suggestions to clients' interests (and tastes), onboard refreshments and free transfers to the airport, all in a Chrysler 300C sedan or Grand Voyager van.
Owner Ralf Hadzic, a former media whiz who lived in the U.S., has hosted such sound celebs as Kenny Rogers, Jimmy Buffet and Lady Antebellum on his private wine tours. His classic tours run 9 am to 5 pm and include a day full of tasting, sampling, dining and experiencing along the scenic routes and towns of Barossa, McLaren Vale and Clare. Tours run $315-$335 per person and pay a 25 percent commission.
Contact:
www.lifeisacabernet.com.au;
[email protected].
Further detail about South Australia can be found at www.southaustralia.com, or contact the South Australian Tourism Commission at (323) 503-4210.
Become a South Australian Specialist
Tourism Australia runs the Aussie Specialist Program, a very effective online training tool for retail agents who want to actively sell and promote Australia. The Aussie Specialist Program was developed to provide a network of retail agents to whom we could direct consumers interested in traveling to Australia, along with providing a vehicle for Australian Experiences to access the retail network. Once you join the program, you are able to complete the South Australian module. On successful completion of the program you will become eligible to receive newsletters, participate in online training sessions and participate in cooperative marketing opportunities. Visit www.aussiespecialist.com for more information.