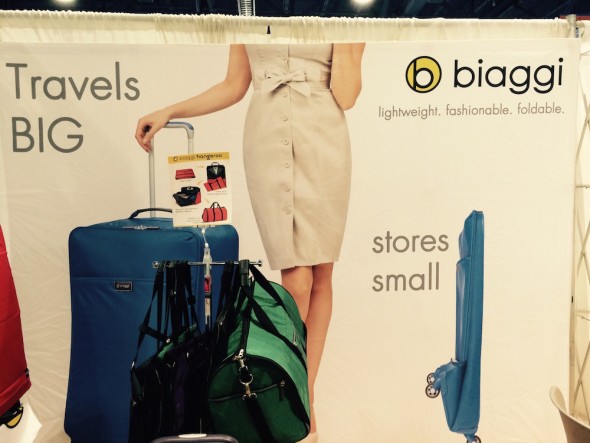 Travel is as much about what you carry as where you are carrying it. If you have to go, you have to have gear – the lighter, the more comfortable, the more technical or durable in its eco-ingredients, the better. There are suitcases that turn into desks, disposable panties for those long plane rides, patches that can locate lost carry-ons in a heartbeat. And they could all be found at this year's International Travel Goods Show in Las Vegas.
The show is an annual affair that brings out the latest comfort gear to help take the edge off the onerous task of traveling. But it is where you find the latest airline neck pillow (why are these always the same as all the other neck pillows?) or cool looking rolley. And it is also where you find every travel notion you never needed but now that it is there in front of you, it's may actually be answer to your travel woes.
Travel-Intel was on the spot, seeking out fresh new accessories that will help ease the task of travel and scoping the latest in luggage and technology that could make the going smoother or even save a trip from turning into a disaster. Here are our ten top picks.
1) The Arm-Share. The middle seat is not a maybe these days. In a time when every plane flies full and reserving an aisle seat has become a profit center for the airline, the middle seat needs a friend. The assistance comes with a simple concept designed to end arm wrestling with seatmates. It's a double decker device that attaches to the arm wrest and allows both parties to rest their arms comfortably in a context where every extra inch you can find counts. $30. www.arm-share.com
2) The Genius Pack. This compact, smart rolling suitcase doubles as a laundry hamper. It employs a handy, patent-pending laundry compressor in an outer pocket that keeps dirty shirts and loose socks together and tight – and away from clean clothes. The zip out laundry bag is allows for easy collection. But wait, yes, there's more. This piece packs tunes and juice. A mobile charger in an outside pocket just below the handles charges cell phones on the go and a built in speaker system let's the iTunes out when you are unpacking. The item also comes with a micro-umbrella in a pop-out pocket. An optional pop-out interior organizer doubles as a flight-seat organizer and brief case that attaches to the tray table for easy access to laptop, reading material and travel docs. Costs and models vary. www.geniuspack.com.
3) The GoDesk. This piece of handy engineering transforms nearly any roller luggage case into a mobile corner office. A sturdy fold-out desk attaches to the pull polls on a roller and can be adjusted to any height between the luggage and handle to accommodate a meal or a computer with plenty of extra space or a wine glass or a book. It folds flat into a brief case and weighs about 8 ounces. Expects to be in stores this summer. www.yourgodesk.com.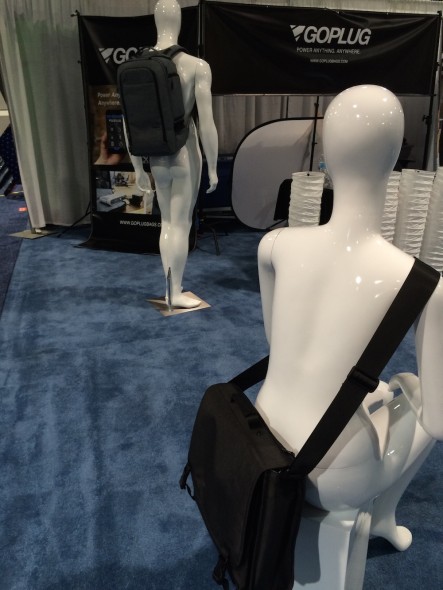 4) GoPlug. One problem with scoping at the annual Travel Goods Show is that not everything seen becomes everything made. Prototypes that look promising can end up in the cutting room to transform into something else a year later. One such item is the GoPlug, which is getting action from crowdsource funding and could be the next big thing for anyone who travels long distances with electronics. Smaller than a hand, the GoPlug is a two-pound battery that travels where you do and outs out a strong and lasting 110 or 220-volt charge. It will give a Smartphone 14 full charges, tablets: two to four and will charge a laptop one to two times before needing its own recharge. And those recharges can come from a wall, a car or even the sun. It fits glove style into a suitcase and offers several extras: location tracking, timer controlled powering, notification alerts, theft alerts and complies with current TSA regulations for batteries and electronic devices. Expects to cost $450 when launched in September. www.GoPlugBags.com.
5) The HomingPIN. We found plenty of GPS luggage locators this year but the HomingPin caught our eye for its cost-efficiency and ease. A luggage tag with a homing pin number hooks around the suitcase, and the same number can be affixed to cell phones, laptops, iPads, anything valuable that has a high chance of getting lost. The owner registers with the HomingPIN website and if an item is lost and then retrieved by a stranger or airport personnel, they can go to the website and note the item and number so the owner can be contacted and connected. Owners are charged a small admin fee only after the second year of use. www.HomingPIN.com.
6) The Space Case Utility by Planet Traveler. This luggage technology company packs a variety of luggage models with a bio lock, a global tracker, RFID shielding, a removable dual battery power bank for on the fly charging and a third embedded inside for charging iPads or less-needed items, a proximity anti-theft device that connect with an app, and Bluetooth speakers for music or hands-free conversations. The luggage is pricy. The latest models retail for $1,300. Distributed by Hontus. www.planettravelerusa.com.
7) The Orgo. This is a pharma and toilet case that becomes its own counter. Items organize as a foldout working space for make-up, pills and hygiene to save space on surfaces and keep items in place rather than falling down the sink or onto the floor. $39.99. www.Everythingorgo.com.
8) The Airpocket. This carry-on is a simple concept that does a lot with very little. The handsome case provides neoprene protection in a design and dimension that allows it to slip into the airline seat pocket. While it might not be big enough to contain a laptop, it is fine for tablets, travel documents, reading material and notebooks and it has an outer wedge that allows the item to slip over luggage handle poles as you roll through the airport. $75. www.AirPocket.com.au

9) Trakdot. To protect luggage and other equipment on the road and provide just a little extra security, we liked the flexible use of Trakdot, a removable brick that travels where your items go. The orange and black palm-sized device can fit in with your checked luggage or stay in your briefcase. It's good for musical instrument cases and recording equipment. It uses GSM cellular technology to track an item's location to the nearest cell tower and is compatible with any cellular device and multiple cell phones at once, not just smartphones. You can view your lost item's location via PC or OS X on the Trakdot website. As it does not use GPS (difficult to get GPS readings in airports) and uses GSM, the tracker is not functional in Japan or South Korea. Activation and annual service fees apply. $80. www.TrackDot.com.
10) Grand Trunk Neck Pillow. We were underwhelmed by the supportive neckwear this year. None possessed true comfort that would last tired muscles through a middle seat long haul. However, some showed promise if only for their thoughtful additions. The Hooded Neck Pillow from Grand Trunk was one. While the neck pillow was a standard roll-around-the-neck configuration with moldable memory foam lined with fleece, the addition of a hood for warmth and privacy was a nice touch. $40. Sold at Brookstone. Cabeau took this in the opposite direction and created a neckpillow that cools and looks cool. The dual-density memory foam design keeps the pillow somewhat flat against the neck so to be wearable, scarf-like, while walking and moving around. Circulation vents keep the neck cool. Comes with memory foam earplugs. $60. www.Cabeau.com.