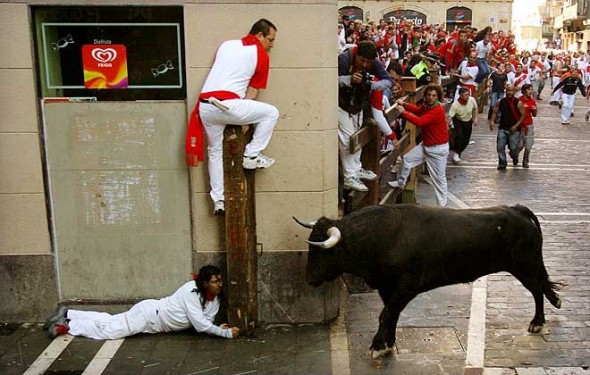 Running with the bulls is big this year. But If you missed out on the adrenaline-pumping opportunities in Pamplona, Spain, worry not. Running with the bulls is now a great American sport – with money attached – and open to anyone willing to brave the beasts this fall in Cave Creek, AZ.
For the third year in a row, adrenaline junkies will unite in the Grand Canyon state and vie for over $10,000 in prize money by pitting themselves against twelve of the biggest, baddest bulls on a quarter mile course. The dare or die smack down takes place October 25-27 in Cave Creek, just outside of Phoenix, Arizona.
Runners can win at least $500 for each of the twelve races that will be held over the weekend and contend for a $5,000 grand prize awarded for the most points scored by a runner over two days.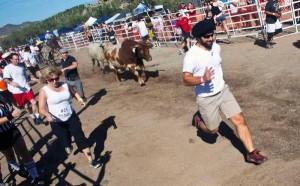 "The Running With the Bulls Festival in Cave Creek has been wildly successful over the years," said organizer Phil Immordino, "and this year it's going to be about big bulls, big bucks, and big fun."
The six races on Saturday and six races on Sunday feature not only the action of running with the bulls, but it also itwo days of the "Great Bull Battle of the Bands," with lots of great food, drinks, exhibitors, entertainment, and rides.
Tickets for the Running With the Bulls Festival cost $10 for spectators and $30 per run for participants (comes with a T-shirt). A similar event is the works for Las Vegas, April 11-13, 2014. Advance purchase discounts, and group rates are available.
Contact:
(855) 562-8557
 www.runningwiththebullsusa.com
Best American Festivals this Summer for those in search of quirk
For those in search of other odd, quirky, or otherwise brag-worthy American festivals to explore this summer, TripAdvisor came up with a list of its five August favorites.
Cheeseburger in Caseville – August 9 to 18, Caseville, Michigan
Inspired by Jimmy Buffet's hit song "Cheeseburger in Paradise," this summer celebration offers a complete set list of well-done fun including the anticipated "Parade of Fools" and multiple stages featuring Buffet-tribute bands. Travelers can chow down on both classic and creative cheese-topped patties and later "waste away" the day with ice-cold margaritas. The family-friendly festival includes fun for parents and their "keets" including a hat-making workshop, sandcastle sculpting contest, and a flamingo race. General admission is free of charge; some events require a button pass that can be purchased for $10.
Weird Contest Week – August 12 to 16, Ocean City, New Jersey
Travelers to the Jersey Shore can join in the festivities at any of these kooky contests geared toward bringing family fun to Ocean City. Competitions are held daily in the Music Pier pavilion, boardwalk, and Moorlyn Terrace and are assorted by age group to help level the peculiar playing field. Aspiring Michelangelos can partake in a variety of sculpting contests where a multitude of materials are used including French fries, paper clips and saltwater taffy. Children in the crowd can try their hand in the "Miss and Mr. Miscellaneous" talent show where the most eccentric earns the crown. General admission is free of charge.
National Lentil Festival – August 16 to 17, Pullman, Washington
Known for its robust lentil production, the Palouse region celebrates its protein-packed produce with this annual celebration now in its 25th year. Legume lovers visiting the two-day soiree can enjoy a scoop of the world's largest bowl of lentil chili served from a 350-gallon stainless-steel vat, while those more interested in cooking their own agricultural appetizer can enter the legendary cook-off. On nearby Lentil Lane, travelers are invited to taste ice cream made from the legume and may even catch a glimpse of the party's beloved mascot, Tase T. Lentil. General admission is free of charge.
Walker Art Center's Internet Cat Video Festival – August 28, Saint Paul, Minnesota
Now in its second year, the cat's out of the bag when it comes to this frisky festival that highlights the Internet's best cat videos. Crowds will be treated to a collaboration of films and live music as winners will be announced in several cat-egories, all leading up to the crowning of the coveted people's choice for the "Golden Kitty" award, which will be followed by a dazzling display of fireworks. Reserved seating tickets are $10 (attendees must also purchase entrance to the Minnesota State Fair).
BugFest – September 21, Raleigh, North Carolina
Entomology enthusiasts will bug out at the variety of entertainment offered at this pest-ful party hosted by the Museum of Natural Sciences. Travelers can learn about the creepy-crawly creatures through displays around the museum, stump the experts by bringing in an unusual bug to identify, or have their face painted to resemble a stag beetle during the "insectival." The bravest of the bunch can bring their appetites to Cafe Insecta, where those with a craving for a crunchy or slimy treat can sample delights prepared by local restaurants such as Chocolate Chirp Ice Cream or Superworm Enchiladas. General admission is free of charge.
 American Festivals: Running with the Bulls