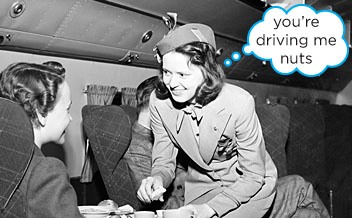 Let's face it. We all have to put our pants on one leg at a time. And we all have to fly. The difference is that although our pants may squeeze us, they do not charge us for it.
So tired of the squeeze, in fact, it seems consumers are so dissatisfied with the lack of airline competition they are willing to pay $4 more per ticket provided funds are dedicated to system improvements.
New survey results released recently by the U.S. Travel Association show that although travelers remain frustrated by ticket add-ons from which they derive little benefit, such as bag and change fees, six out of 10 travelers would welcome user fees dedicated to improving efficiency and choice.
More than seven in ten travelers, meanwhile, feel that current air travel options are inadequate.
Key findings of the air passenger survey conducted by the research show:
62 percent said they are "somewhat frustrated" or "very frustrated" with air travel generally.
58 percent are willing to pay up to $4 more per ticket to fund airport improvements projects that would enable airports to accommodate more airlines, modernize facilities or reduce delays in and around the airport.
When informed that taxes and airline fees currently account for 13.7 percent of their ticket price, the number of those respondents still willing to pay the extra $4 stays at 80 percent.
72.5 percent of respondents think that having fewer airlines to choose from does not reasonably serve the needs of people and businesses that depend on flying.
The most frustrating costs associated with flying, according to respondents:
$200 airline fee for flight changes or cancellations
$50 airline fee for seat assignments
$25 airline fee for checked bags
$50 airline fee for priority boarding
The most frustrating overall aspects of flying, according to respondents:
Delays and cancellations
Inability to accurately compare airfares because of some hidden fees (e.g., bags, seat assignments)
Security screening processes
Limited airline selection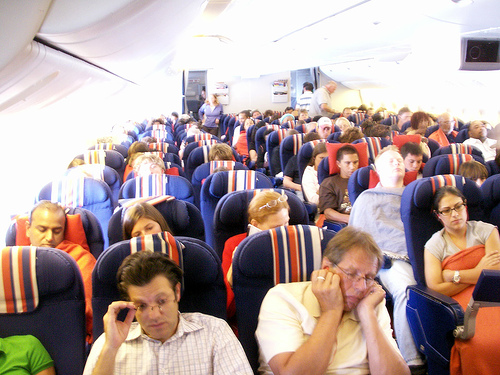 "Because travel consumers are very astute, we're not at all surprised to learn that they are willing to pay for something that provides them with a tangible benefit," said U.S. Travel Association President and CEO Roger Dow. "Air passengers aren't thrilled about ancillary fees, which disappear into the airlines' pockets, or federal taxes, which disappear into Washington's pockets. But if you show them a local user fee that is tightly structured to invest in our outdated and overburdened infrastructure, they understand the difference and strongly support it.
"Fortuitously, there is an existing funding mechanism for fixing our beleaguered airports that speaks perfectly to flyers' preferences—the Passenger Facility Charge [PFC], a local user fee paid only by users of specific airports," Dow continued. "The trouble is, it hasn't been indexed for inflation in a decade and a half, while our air travel infrastructure falls further behind the rest of the world. It's time for airlines, cities, Washington politicians and the traveling public to recognize that the PFC is the answer to a host of air travel problems, and summon the will to update it for the 21st century."
Dow said that the traveler survey results add up to an overarching theme: concern over a lack of competition among airlines.
He pointed to survey results showing huge majorities of travelers feeling underserved by the number of carriers in their market, and opposing the rollback of "Open Skies" aviation agreements that allow foreign carriers to compete in the U.S. market and vice versa.
Dow noted that just four U.S. airlines now carry 85 percent of U.S. passenger traffic—the result of the industry's radical consolidation of the last several years.
A ready solution, Dow said, would be expanding terminal space or allowing airports to purchase back unused slots and gates—exactly the type of enterprise the PFC is designed to fund.
"Looking at the Big Three airlines' push to break Open Skies agreements, coupled with their vehement opposition to infrastructure investments through the PFC, it is difficult to reach any conclusion other than they are deathly allergic to competition," Dow said. "Our survey results clearly illustrate that travelers recognize this as a major problem, and want policymakers to do something about it."
The survey revealed that 69.4 percent of travelers think the U.S. government should not block foreign airlines from offering more flights and that instead the U.S. government should take steps to help major U.S. airlines improve their own customer service, lower airfares and become more competitive.
Survey parameters: 1,015 interviews were completed during the period March 17-18, 2015. The sample consisted of travelers that have taken at least one air trip in the past 12 months and are 18 years old or older. The survey has a margin of error of +/- three percent with 95 percent confidence level for statistical testing. Data is weighted to Census 2010 by gender, age and income.
Sidebar
Eye before you Fly: FAA Advice
To avoid any issues while traveling, be informed about airfare, ticketing, flights and luggage.
Airfares and fees
Airlines are required to disclose all fees on their websites, such as the price of the ticket, and fees for meals, baggage, and reservation cancellations and changes.
Many airlines offer non-refundable tickets. Passengers who cancel their trip may not get their money back. However, passengers may reschedule their trip for a fee.
Overbooking
Airlines can sell more tickets than they have seats available. This ensures there won't be empty seats on a flight in case a passenger cancels a trip at the last minute. Airlines may negotiate with passengers affected by overbooking by offering money, miles or discounts in other flights in exchange for their seats. Passengers "bumped" from their flights involuntarily are entitled to compensation, in most cases.
Flight delays and cancellations
Airlines do not guarantee their schedules. When flights are delayed passengers can ask for a ticket transfer if they find a similar flight on another carrier. The airline can also try to find another flight without charging an additional fee.
In case of tarmac delays, domestic flights cannot remain on the tarmac for more than three hours, except for reasons of security, safety, or air traffic control. After two hours, passengers must have access to food and water.
Damaged and lost luggage
When luggage has been mishandled, passengers can ask the airline to pay for any damages. If the luggage can't be repaired, an airline representative will negotiate an appropriate payment. However, if a suitcase has fragile items, is poorly packed or has no outside evidence of damage, the airlines can refuse to compensate.
Filing a complaint
For any flight-related problems, passengers can file a complaint directly with the airline. If there is no response within 60 days, the complaint can be submitted online to the Department of Transportation (DOT).
More information: USA.gov and GobiernoUSA.gov, the U.S. Government's official web portals in English and Spanish.
Related Stories: