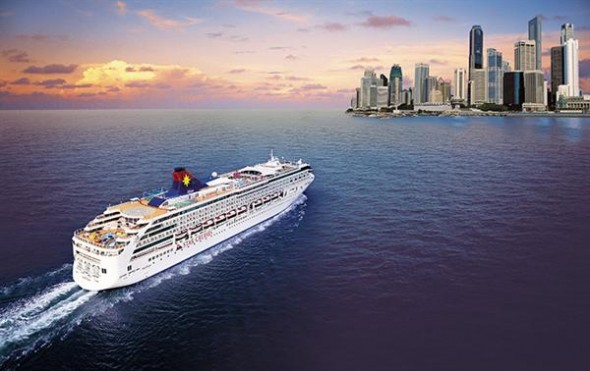 Cruising, as a vacation choice, is going nowhere but up, according to travel agents polled in a CLIA survey released last week.
The Cruise Line Industry Association found the 2016 could be one of the strongest years in recent history for cruising – 83 percent of the agents predicted increases in cruise sales volumes this year and nearly half expected those numbers to be up by 10 percent or more. Only four percent of agents asked said they expected their cruise sales to go down.
Similarly, travel agents are anticipating that consumers will increase their spending on cruises this year. Seventy-seven percent said they believe cruise consumers will spend more in 2016 and about a quarter predicted spending increases of more than ten percent.
The report was conducted at the end of 2015, around the time that CLIA released its 2016 State of the Cruise Industry, which projected another strong year with 24 million passengers expected to take a cruise in 2016, up from 23 million in 2015. Of note, agents shared that more multigenerational families are embarking on cruises — a trend that benefits the cruise industry long term as the cruise habit will become ingrained in younger consumers. Today's average cruiser is only 49 years old, employed full-time, married and has an income of $114,000
"The travel agent community is on the frontline with consumers and as the cruise industry continues to grow, the travel agent community is invaluable in helping us understand the strength of the business and perceptions in the marketplace," said Cindy D'Aoust, Acting CEO, CLIA.
Travel agents' expectations of industry growth are consistent with the industry's own expectations. Between now and 2020, cruise lines are investing more than $25 billion to build 55 more ships. In 2016 alone, the industry will see 27 new builds. If, as travel agents seem to believe, the outlook for cruising is good, that demand should be met by a new generation of ships that will be introduced in the next four years.
Consistent with travel agents' expectations that sales volume and spending on cruises will increase in 2016 is their perception that, among all vacation segments, cruises are experiencing the greatest increase in booking and that house rentals and resorts without packages are showing the greatest decreases.
When looking at the full landscape of vacation options, travel agents report that the two segments with the greatest increase in booking are ocean cruises (36%) and river cruises (28%). Only all-inclusive resorts (23%) rival cruises in their increased booking.
Similarly, there is uneven growth among the types of cruises that travel agents are booking. They report that river cruises and cruises on large ships are generating the biggest growth (with 71 percent and 66 percent respectively reporting growth in those segments). While few declines are anticipated in any segment, according to travel agents, growth is lowest among expedition vehicles and boutique or yacht cruises.
In the meantime, agents are reporting that the cost and hassle of international flying is becoming a barrier to many long-distance cruise destinations. Consequently, domestic and local cruises are experiencing the most significant growth so far this year. Even though Alaskan cruises are one of the smallest segments of the industry, accounting for only 4 percent of total deployment, more travel agents (73%) are seeing increases in Alaskan cruises than any other region. The largest region for cruising, with a third of all cruises – the Caribbean – seems poised for even more growth in 2016, with 52 percent of travel agents seeing growth there. Another local region with strong growth in 2016 is Canada and New England, with 42 percent of travel agents expecting growth.
Another trend that travel agents are reporting is that customers are booking their cruises further in advance. Forty-seven percent say that customers are increasingly booking nine to twelve months ahead and 42 percent say more cruises are being booked six to nine months in advance. Not surprisingly, last-minute deciders seem to be on the wane. A third of travel agents report a decreasing number of cruises being booked in less than three months.
Finally, Like any modern industry the travel agency business continues to change. When asked an open-ended question about what trends are having the most impact on their businesses, the most frequently volunteered trend was the increase in groups and families (including multigenerational families) who are cruising together. This is having a positive impact on cruising as more and younger families discover cruise travel.
Related: