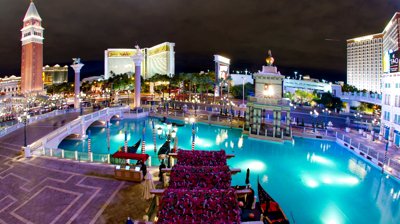 Not everything big in Las Vegas comes in large sizes. The Cromwell, the first boutique hotel on the Strip, opens the full effect of its 188 rooms at the end of May. In a town where 5,000-room properties are not hard to find, the petite hotel and casino on Flamingo Road and Las Vegas Boulevard competes with its David-esque appeal and its bar-none nightlife, happening nearly round the clock most days by the Victor Drai-designed rooftop pool and club.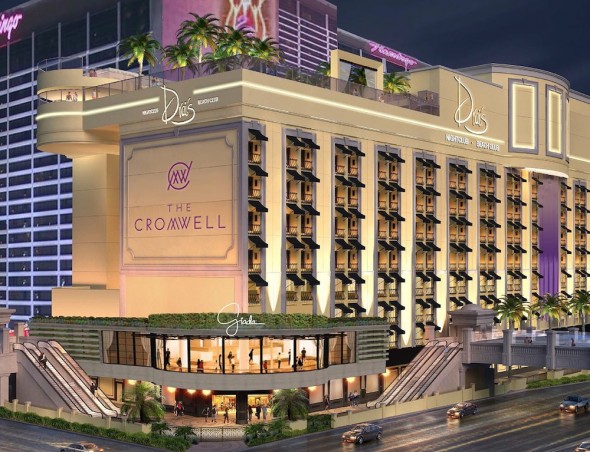 The casino, a welcome mini version of what neighbors like Bally's and Caesars Palace put forth, opened April 22 along with a few rooms reserved by Caesars Entertainment Total Rewards members and VIPs while the final touches take the new build to a certain sheen. No leftover smoke from the location's former iterations as Bill's Gamblin' Hall and the Barbary Coast. The concepts are as new as the drying concrete here, with some refreshing "firsts" for Las Vegas.
The Cromwell is the first boutique property in Las Vegas on the Strip and with a casino. The resort features the first-ever restaurant by Food Network darling Giada De Laurentiis. Her second-floor eatery will feature, among other things, the Strip's first antipasto bar. It will also likely offer the city's first menu option of homemade tegliatelle with short ribs and shaved chocolate. Homemade pasta is a Giada signature as is a love of lemon. The grand daughter of the famous film producer puts these ingredients together in a range of creative formats, including lemon pasta.
Giada's will be the restaurant of The Cromwell, open for breakfast, lunch and dinner and 24-hour room service. Retractable windows will offer indoor/outdoor views of the exploding Bellagio fountains across the Strip. But guests who wake up and just want a cuppajo will wander no further than the complimentary breakfast beverage bar by the elevators on each floor.
Rooms at The Cromwell deliver some other firsts for Las Vegas. Among them: a backgammon game for a coffee table; special vanity tables with showgirl-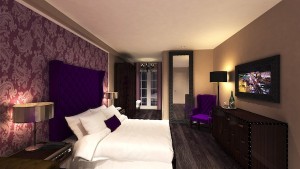 style makeup lights; MUK amenities from Australia; and French poetry painted into the tiles of the glass shower. Décor is similar to whimsical styles found throughout such trendy European hotel chains as Muse or even SLS. For now, rates run around $259 per night and Cromwell GM Karie Hall says packaging will go into the mix – whether that means passes to the nightclub above and after hours club below, or value tickets with an airline partner. As a boutique hotel, it is easy to deliver on service. As for romance, the cleverly designed interiors and dashing neon exteriors work their own magic.
If location is everything, anchoring the confluence of Caesars Palace, Bellagio and Bally's puts The Cromwell just about at the epicenter of Las Vegas action for visitors – perfect for the city's next "it" spot in scene makers. Drai's, not an unfamiliar name in Las Vegas in nightlife circles, expects to become The Cromwell's crown jewel. Two rooftop pools spread out on graduated levels along a 35,000-square-foot sprawl of anything-goes-in-Vegas space. There are two tiers of cabanas here – 24 cabanas in all, including two mega-cabanas harboring what Mr. Drai describes as "four very big showers." Cabanas have their own patios, of course, as well as their own cooling pool – a circular party soaker at the edge of the rooftop expanse eleven stories above the Las Vegas Strip.
It's a sun scene all day, and rocking under the stars all night. DJs will run the attached nightclub four nights a week until 4 am. A bank of dedicated elevators from the casino will take clubbers up to the rooftop where admission comes in standard Las Vegas denominations: $20 for women and $30-$100 for men. When the roof party ends, After Hours at Drai's cranks up the juice below from 4-10 am.
For now, expect the action to kick in Memorial Day weekend at opening day rates of $399.
Contact:
The Cromwell
3595 Las Vegas Blvd South
Las Vegas, NV 89109
(844) I-AM-CROM
702-777-3777
www.thecromwell.com/
Sidebar:
Summer in Vegas: Paradise of Pools
Las Vegas is all about soaking it all in – and sometimes that means getting drenched. But an immersive stay in Sin City in the summer necessarily means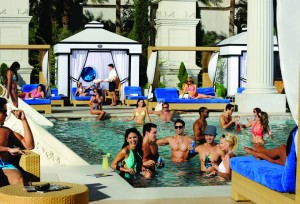 checking out the pool scenes, which come in all shapes and sizes with cocktails to match. Here are a few of the offerings from Caesars Entertainment Las Vegas:
Caesars Palace – Garden of the Gods Pool Oasis
Viewed as one of Las Vegas' most impressive and iconic pool oases, the water-filled playground enters its second year after the expansion of the pools and gardens with swim-up Blackjack.  Today, Garden of the Gods at Caesars Palace features eight distinctive swimming pools with lavish amenities and the city's most attentive cabana servers. The Strip's premier adult-only pool, Venus Pool Club returns as the elite summertime retreat.
Hours: May 10 – Sept 23 8am-7pm; Sept 24 – Close 9am-5pm
Hotel guests:  Two guests complimentary per hotel key
Non-hotel guests: Open to guests 21 or older; subject to a $20 admission fee daily. Entrance is based on available seating but guests are invited to rent daybeds/cabanas for guaranteed seating. (Call 702-731-7266 to book a cabana or daybed).
Amenities:  Eight swimming pools | three levels | 18-foot tall waterfall | swim-up blackjack | classical landscaping | Roman statues | beautiful fountains | daybeds | loveseat-inspired scoop chairs | 40 luxury cabanas | poolside spa services by Qua Baths & Spa | Snackus Maximus featuring light American fare | European bottle service by Goddess
Events: DJ entertainment Friday and Saturday.  Special Events TBA.
Must-Try Drink: Neptune's Tea with Belvedere Lemon Tea vodka, Lemonade, Republic of Tea Sweet Black Tea, Funkin Mango Puree
Planet Hollywood – Pleasure Pool
This is a party is fit for celebrities. Pleasure is the pool hot spot for social jet-setters looking for a place to soak up the sun, meet-n-mingle and maybe win a bikini contest.
Hours: 9am to 7pm, daily
Hotel guests: Free of charge
Non-hotel guests:  Open to other Caesars Entertainment resort guests at no cost by showing their room key.  
Open to non-Caesars Entertainment guests Monday – Thursday, $10 cover charge; Friday – Sunday, $20 cover charge. Cover charges are waived with purchase of a cabana.
Amenities:  Celebrity crowd | upbeat atmosphere | two pool decks | 20 cabanas | poolside bottle service | daybeds | misting chair rentals | two pool bars | pool cafe
Events: Daily live DJ; drink specials; Miss Pleasure Pool Bikini Contest with cash prizes and giveaways takes place every Saturday at 4 pm (for a $500 cash prize).  Events run Memorial Day weekend to Labor Day weekend.
Must-Try Drink: V.I.P with Skyy Passion Fruit, Creme de Banana and Pineapple Juice
Flamingo Las Vegas 
Beach Club Pool
This option offers a relaxing day at the pool in a family-friendly environment, surrounded by the Flamingo Las Vegas gardens. Complete with personalized host service, The Beach Club features 10 cabanas and daybeds, excellent for groups seeking seclusion. It is conveniently located next to the Beach Club Café, which serves snacks and cooling drinks, with easy access to the waterslides.
Hours: 9am – 6pm daily;
Hotel guests: Free of charge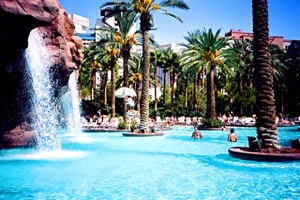 Amenities: Pool volleyball | pool basketball | lush landscaping | waterslide
Must-Try Drink: Mule Kick with Grey Goose vodka, Mike's Hard Lemonade, ginger beer and mint
GO Pool at the Flamingo
For a party pool with an ambiance to rival Vegas' other hot day clubs, the Flamingo GO Pool offers guests (21 years and older) a high-energy, non-stop pool party in a beautiful 15-acre tropical retreat. The pool system interconnects through lagoons around a magnificent cascading waterfall and features ongoing special events, celebrity appearances, contests, go-go dancers, VIP cabanas and rotating resident DJs.
Hours:  9am – 6pm daily
Hotel guests: Free of charge
Non-hotel guests: Open to other Caesars Entertainment resort guests for $15 per person by showing room key. Non-Caesars Entertainment guests, $25
Amenities: Private pool oasis | cabana and daybed rentals | waterfall
Events: Daily resident DJ
Must-Try Drink: Vegas Vice with Malibu Tropical Banana and Malibu Coconut rums with pina colada and strawberry daiquiri mixes
Rio All-Suite Hotel & Casino 
VooDoo Beach
Yes, Virginia, there is a beach in Las Vegas — VooDoo Beach. The sexy, sun-drenched VooDoo Beach at Rio is a Las Vegas pool party hot-spot inside a hidden paradise with a sandy pool entry and tropical waterfalls.
Hours: 9am – 6pm, daily
Hotel/Non-hotel guests: Free of charge
Amenities: Sandy pool entry | four pools | waterfalls | three Jacuzzi-style spas | specialty cocktails | VooDoo Beach Bar
Must-Try Drink: Rio 'Rita on the Rocks with Hornitos Reposado tequila, triple sec, lemon and lime juices
The Voo Ultra Pool at The Rio
Guests 21 and older looking for a party pool with a DJ on weekends are invited to The Voo.  This pool is attractive both to those wanting a more adult bathing experience and to sunbathers who want to avoid tan lines. The adult pool offers a secluded game area with beer pong, ring toss and much more.
Hours: 11 a.m. – 7 p.m.
Guests: No cover charge
Amenities: Seven cabanas available for rent in addition to daybeds | poolside spa treatments | flair bartenders | specialty cocktails | Cruzan Island Bar | game area includes: beer pong, ring toss, latter golf and corn hole
Events: resident DJ Niko plays all the fan-favorite music Friday through Sunday
Must-Try Drink: The Voo with Cruzan Coconut and 151 Aged rums, Midori Melon liqueur, orange and pineapple juices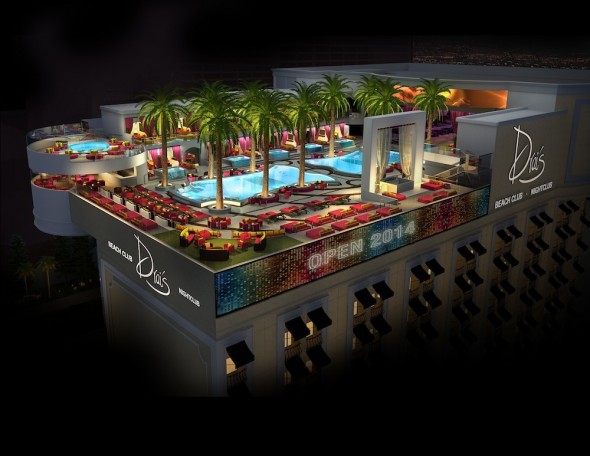 Drai's Beach Club at The Cromwell
At more than 65,000 square feet, Drai's Beach Club will welcome guests all day and all night, featuring the Las Vegas Strip's only rooftop pool and deck with an indoor/outdoor club, panoramic views of the entire Strip and top new DJs picks from around the globe. Opens Memorial Day weekend 2014. The lower level features two large, elevated main pools, each offering central wet decks and perimeter seating. Adding to that list, Drai's will be the only day club in town with unobstructed sun (and fun) from open until sunset.
Hours:  10 am – 7 pm daily
Hotel guests: Hotel guests are provided with two complimentary admission Tickets per room through the priority line. Additional hotel guests in room will be given same priority line privileges but will have to pay necessary admission
Amenities: VIP bungalows | luxury cabanas | private pool with five private VIP bungalows overlooking Strip with own shower and restroom | daybeds
Similar Stories: