Hawaiian Airlines' Announces New and Never Before Summer Service Additions
By Bill Becken
Already known as a scrupulously on-time U.S. airline, Hawaiian Airlines, a majestic 85-year-old carrier running almost exclusively to and from Hawaii, is also a highly adaptable one, as evidenced by changes it has recently announced to its Western routes and capacities. Company shares have soared over the past year and executives are bullish on the airline's growth – starting with beefing up West Coast routes.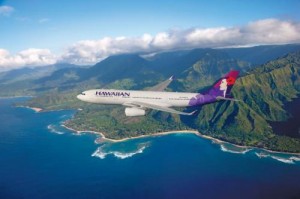 The airline's stock-in-trade is, of course, ferrying passengers from hubs and gateways mainly on the West Coast—e.g., L.A., San Francisco, Oakland, Portland, and Seattle–to Honolulu International Airport (it does offer a nonstop from New York's JFK Airport and, from Honolulu, its service continues on to Asia and the South Pacific).
Hawaiian is not just Hawaii's biggest and longest-serving airline. In a scad of mainland markets, it's the largest provider of Hawaiian air passage, offering nonstop service to the 50th state from more U.S. gateway cities (11) than any other airline.
It provides 160 jet flights daily among the Hawaiian Islands mostly on Boeing 717 regional, short-distance jets, operated by Hawaiian's new Ohana by Hawaiian  brand. The neighbor-island operation launched in March (and offers, among other flights from Honolulu, three dailies to Molokai and two dailies to Lanai).
Finally, Hawaiian's through service in Honolulu to international destinations includes regular flights to and from Japan, South Korea, Australia, New Zealand, American Samoa, Tahiti and Beijing, China (as of April, 2014).
Late last year, Hawaiian launched a first-ever nonstop service between Los Angeles and the Hawaiian islands of Kauai (Lihue) and Hawaii (Kailua-Kona), in response to the growth in summertime demand (summer is the peak period for travel to Hawaii by North Americans). The service between Los Angeles and Kauai will commence June 26 and end Sept. 19, running four times per week. The service between Los Angeles and the Big Island (Kailua-Kona) will run for an identical period, but three times per week. The new lift will add more than 22,000 seats to both island travel markets over the 12-week summer service period, said Peter Ingram, Hawaiian's executive vice president and chief commercial officer.
The tandem new flights from L.A. will mirror the new annual summer service from the Bay Area that Hawaiian  likewise announced recently, to begin June 14 and end Aug. 15. From Oakland to Lihu'e, the new flights will be thrice weekly; to Kailua-Kona, four times per week.
Over the ten weeks of that service, the flights will add an additional 18,200 seats to both island travel markets (for total West Coast additions, considering the new L.A. summer service, of 40,200 seats).
"Clearly," says Ingram, "we're offering more options than ever before for West Coast and Southwestern U.S. travelers to book their vacation and experience both Hawaii's surprising Big Island and Garden Isle of Kauai. The new summer service will support both Kauai's and the Big Island's visitor industries — not to forget offering residents of those islands direct access to Oakland and Los Angeles."
Hawaiian will loft its wide-body, twin-aisle Boeing 767-300ER aircraft to undertake the two new summer service programs. Once the new service commences in the summer, both Maui's Lihu'e and the Big Island's Kailua-Kona airport cities will have an Hawaiian Airlines wide-body aircraft arriving every weekday from the mainland.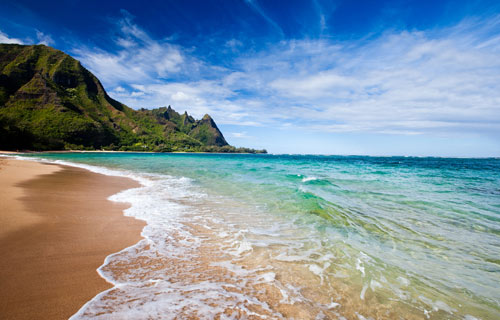 Eye on Hawaii: What's New in The Islands
Hawaii Hotel Upgrades
Hilton Grand Vacations (HGV) recently debuted its newest resort, Hokulani Waikiki by Hilton Grand Vacations Club. Centrally located in the energetic hub of Waikiki, Oahu, the resort marks the final component of the Waikiki Beach Walk development, which is known for premier shopping, dining, and entertainment. The Hokulani Waikiki includes 143 one-bedroom suites in distinctive Hawaii style, but with an urban, contemporary aesthetic. Cosmopolitan travelers can also enjoy the resort's open-air, rooftop pool bar. US.HokulaniWaikiki.com
Aston at The Whaler on Kaanapali Beach (Maui) has unveiled its upgraded studio, one- and two-bedroom premium suites providing guests ultimate comfort and extravagance. The spacious beachfront suites offer contemporary furnishings, ocean views, large private lanais, and comfortable entertainment areas. Guests receive such amenities as Maui-grown coffee, fresh-cut Maui pineapple, fresh orchids, and chocolates. AstonHotels.com
Four Seasons Resorts Lanai debuted its first full-service luxury airport lounge at Honolulu International Airport. The 1,000-square-foot lounge, located in the Island Air commuter terminal, will now welcome Four Seasons guests enroute to Lanai. Guests find food, beverages, iPads, Wi-Fi access, charging stations, luggage holding areas, magazines, newspapers, and hi-def televisions. FourSeasons.com/Lanai
Moana Surfrider, A Westin Resort & Spa (Oahu) recently completed $21 million in renovations to its guest rooms and snack shop, and the construction of a new beach club. Inspired by contemporary Hawaiian design with modern touches, the new enhancements include a complete décor room refresh of 552 guest rooms and 36 suites of both the resort's Tower and Diamond wings. The Tower has a new penthouse at the Moana floor, 21 floors above Waikiki Beach. MoanaSurfrider.com
Nobu Lanai, located at Four Seasons Resort Lanai at Manele Bay opened a half-acre garden of herbs and vegetables. Fresh from the farm and grown organically, the ingredients make up 65 percent of what is used on the menu at Nobu. The produce is harvested daily to ensure freshness and the garden is cared for by Four Seasons staff led by executive chef Sean Mell. FourSeasons.com/ManeleBay  
The Westin Maui Resort & Spa completed a transformation of 553 guest rooms and suites in the Ocean Tower of the 759-room beachfront resort. The multi-million dollar refresh project includes redesigned furnishings, modern decor and island inspired artwork, state-of-the-art electronics, and fresh flooring. WestinMaui.com
New Hawaii Attractions and Activities
The Groove, Hawaii's newest Formula 1 go-kart racing track and amusement hotspot located just outside of Waikiki, has numerous activities including go-kart races, driving clinics, outdoor climbing wall, Segway tours, indoor arcade and billiards lounge, private party rooms, and a full service restaurant. The Groove opens daily from 9 a.m. to 10 p.m. and patrons can utilize The Groove's free shuttle bus available hourly from various locations in and around Waikiki. GrooveHawaii.com
Undergoing $57,000 of restoration services, the Battleship Missouri Memorial provides a new luster to enhance guests' experiences of how officers of the retired USS Missouri lived while serving at sea. The 13 staterooms, known as "Officers County" have been restored to immaculate "inspection-ready" condition and appear as they did for the USS Missouri's final mission on December 7, 1991. USSMissouri.org
Courtyard King Kamehameha's Kona Beach Hotel (Hawaii Island) and Body Glove Cruises have partnered to offer two cruise packages: The sunset dinner cruise brings an engaging historical narrative, live entertainment and an elaborate buffet dinner. For a morning activity, guests of the Kona Beach Hotel can also enjoy the Kona snorkel adventure, which includes a continental breakfast buffet, snorkel gear, and exclusive underwater snorkel time. KonaBeachHotel.com
Four Seasons Resort Maui at Wailea has launched a SUP (Stand Up Paddleboarding) Yoga class as part of its extensive list of fitness and wellness offerings. Following the island's hottest fitness trend, SUP yoga combines the meditative art of yoga with the physical discipline of SUP to offer guests a truly innovative and unique experience, while absorbing the beauty of Maui at the same time. FourSeasons.com/Maui
Kohala Zipline (Hawaii Island) launched a convenient roundtrip shuttle service between its North Kohala course and all major Kona and Kohala resorts and hotels. Guests can choose either an early departure at 8:30 a.m., or late departure at 1 p.m. on Mondays, Wednesdays, and Fridays. Included in the shuttle service is a deli-style lunch with choice of sandwich, cookie, chips, and a soft drink. KohalaZipline.com
Koloa Zipline, the newest addition to Kauai Zipline Tours introduced its most challenging zipline adventure tour, the sunset zip. Highlights of the tour include flying through the jungle, soaring above the forest, and gliding across the water on over a mile and a half of exciting zip lines and beautiful scenery of South Kauai at sunset and into the twilight. The Koloa sunset zipline is a 3.5 to 4 hour tour and is offered daily at 5 p.m. KoloaZipline.com
Tasting Kauai created "A Taste of Kilohana" as an exclusive, guided food tour featuring a ride in an open-air train through the 105-acre orchard of the Kilohana Plantation in Kauai. The tour includes a Mai Tai workshop and an off-the-menu, three-course meal presented by Gaylord's executive chef Todd Barrett in the private dining room of Wilcox Mansion. Guests can also disembark through the orchard feeding wild boar, goat, and chicken, while picking fruit from 50 varieties of exotic fruit trees. TastingKauai.com
 Turtle Bay Resort on Oahu's North Shore introduced its new engagement package. Couples can enjoy a horseback ride along Kawela Bay, followed by a romantic private dinner, and ending with a memorable proposal celebration. Turtle Bay Resort will ensure every step of the proposal is seamless with an onsite photographer, ukulele musician, and hula dancer. New engagement packages are available for $1,018 per night for two with a three-night minimum in one of the resort's luxurious beach cottages. TurtleBayResort.com
Hawaiian Islands: Festivals and Events
One of the oldest festivals of its kind in the nation, the Kapalua Wine & Food Festival happens June 12-15 on Maui at Kapalua Resort. The celebration of epicurean excellence brings together local, national, and international vendors to showcase products in food and wine and all things Hawaiian. The four-day culinary extravaganza also features top master sommeliers, celebrated chefs, and evening gala events. KapaluaWineAndFoodFestival.com
The fourth annual Hawaii Food & Wine Festival announced the addition of an event on the Big Island on August 29 in partnership with Waikoloa Beach Marriott Resort and Hilton Waikoloa Village. The event supports the Festival's goal to showcase the world-class food festival as a statewide initiative, highlighting the state's culinary and agricultural community along with the hospitality and tourism industry. Co-founded by Hawaii's James Beard Award-winning chefs, Roy Yamaguchi and Alan Wong, the festival features wine tastings, cooking demonstrations, and exclusive dining opportunities featuring the state's bounty of local produce, seafood, beef, and poultry. HawaiiFoodAndWineFestival.com
The Sea House Restaurant at Napili Kai Beach Resort on Maui is celebrating its 50th anniversary throughout 2014 with a variety of special offers and pricing, creative anniversary menu items and specialty drinks, and weekly giveaways. The popular beachfront restaurant, which opened in 1963, will be giving away weekly $50 Sea House dining gift certificates, and each winner will be entered into a year-end drawing for a romantic Na Hoku Dinner for two. SeaHouseMaui.com
Related Stories: