It's considered one of the top ten train experiences in this world. And for those who love their time travel as much as they love the rails, the Eastern & Orient Express offers a train in Thailand experience that connects Singapore with Bangkok and serves up slivers of a colonial bygone era on a silver platter.
The trip between Singapore and Bangkok takes an easy two days and can be complemented at both ends with destination experiences, shopping, dining and staying at some of the most legendary properties in the world. For those who crave a holiday that has historically harnessed the muse of many a master writer, or for others who dream of a whirlwind tour through southeast Asia with all the been-there-done-thats, the Eastern & Orient Express can make magic happen.
Conceived by James Sherwood following the success of the re-launched Venice Simplon-Orient-Express, the Eastern & Oriental Express made history as the first train to transport passengers directly from Singapore and Kuala Lumpur to Bangkok when it launched in 1993. This luxury train in Thailand, first built in Japan in 1972, operated as the Silver Star train in New Zealand before its remodel according to specs of both the British Pullman and the Venice Simplon-Orient-Express.
Today, this train in Thailand provides those same carriage walls decorated with veneers of carved wood, while the bar and restaurant cars are polished in Chinese and Thai lacquer. But the onboard ambience harks back to a 'Colonial' age of rattan chairs on the verandah, linen suits, long pearl strands and tea dances.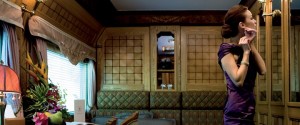 Singapore to Thailand and Beyond
There are several options available for the intrepid luxury traveler of 2012. These are variations on the Bangkok to Chiang Mai train in Thailand and Singapore to Bangkok route that can be accomplished in two- and three-night packages or six-night slow sojourns through time. The Bangkok to Singapore trip includes stops in Penang, Malaysia and a visit to the River Kwai, made famous by the 1957 epic film by David Lean. The shorter sojourns start at $2,440 per person, sharing.
The longer journeys include Epic Thailand, a slow train in Thailand from Bangkok to Chiang Mai that detours west to Isan near the Cambodian border for a look at village life amid Khmer splendor. The train also stops in Khao Yai National Park for wildlife experiences and a chance to hike through old growth rain forests. Chiang Mai is a spot to experience elephants and shop at the best night market in Asia. Rates start at $9,200 per person, sharing, all inclusive.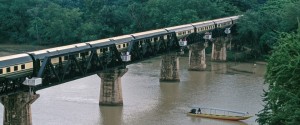 The six-night Fables of the Hills train package starts in Singapore with stops in Kuala Lumpur, Cameron Highlands spa and tea plantation, Penang for shopping and dining, a monkey training college at Surat Thani in southwestern Thailand, and the River Kwai. Rates start at $9,200 sharing.
The Tales of Laos package is a three-night journey that runs from Bangkok across the Mekong to Vientiane in Loas with a stop at Phimai, Khao Yai, a UNESCO World Heritage Site. Rates start at $4,000, sharing.
The journey aboard the Explorer brings 66 air-conditioned compartments: 36 Pullmans, 28 (larger) State compartments and two Presidential Suites all decked in carved wood motifs, upholstered seats and wide windows. Evening turndown means clean, starched linens and orchids by the bed, and deep slumber to the clickety-clack of the train momentum. Compartment bathrooms are small but designed in chrome and mosaics with Bulgari green tea amenities.
Passengers can dine the time away with a continuous offering of teas and snacks. There are two dining cars, a cocktail lounge (with a dance performance before dinner) and a bar. Dinner dress-up is encouraged in keeping with the OE tradition. The food is modern French and French fusion with tastes of Asia as options. An open-air observation car provides another spot to experience the Asian countryside as it passes.
The cities of Singapore and Bangkok are well worth extra nights spent at either or both ends. In Singapore, colorful neighborhoods such as Chinatown, Little India and Kampong Glam for Middle eastern ambience keep the town festive and the night markets aglow with savory food stands and bistros. Botanic gardens, unusual zoos, historic museums and shopping so irresistible officials have given it a festival of its own (June and July, citywide) make Singapore an easy and time-efficient adjunct to a southeast Asian sojourn.
A trip to Singapore invites a stay at the legendary Raffles Hotel. Opened in 1887 as an old bungalow known as the Beach House, it was converted into a colonial icon and named after Sir Stamford Raffles, the founder of modern Singapore. Known for its bentwood tables and rattan chairs, Somerset Maugham once called it an iconic symbol for "all the fables of the Exotic East." The spirit of a time lives on in luxury here. Rates (with "best available room" option) run approximately $550 per night. Call (800) 637-9477 or visit www.raffleshotel.com.
Through 2012, Eastern & Orient Express is offering a 15 percent discount to couples booking the Bangkok-Singapore routes on selected dates, depending on their direction of travel. Dates included are:
April 1, 21 24
May 2, 16
June 19, 25
July 17, 23
August 21, 27
Quote code EC15 at the time of booking to activate this special offer.
Contact:
Tourism Authority of Thailand at (323) 461-9814 or (212) 432-0433, www.tourismthailand.org.
Singapore Tourism Board office at (212) 302-4861 or (323) 677-0808, www.visitsingapore.com.
Eastern & Orient Express at (800) 524-2420, www.orient-express.com