What's in your luggage? If you're a frequent traveler, chances are there is battery power, Wi-Fi, a GPS locator, maybe a computer desk or a seat. Just as travel has evolved through the past decade with the advent of apps and real time information for just about every concern, the things we take with us have had to stay current with whatever technology, gear and comforts we may want for the road.
All of that could be found for better or worse at this year's Travel Goods Show in Las Vegas last month.
Items, such as travel pillows, jet lag remedies and brick-size luggage trackers have given way to better, stronger, lighter luggage that stays balanced, has roller brakes, weighs itself and comes with ever more useful compartments. Batteries are lighter and some do a lot more than charge your phone on the go. Travel garb is getting more attention these days offering items that breath well and pack well and adjust to the day's needs. And luggage, itself, is adjusting in whatever ways it can to accommodate evermore restrictive carry-on configurations.
And luggage, like travel, is not going away any time soon. The travel and business bags market in the US is expected to grow at a consistent clip over the next two years as the business travel segment expands. Technavio market research sees a CAGR of 13.58% and 8.31%, in terms of revenue and volume respectively for this market. And while the travel and business bags market in the US has five segments: backpacks, business bags, duffle bags, suitcases, and trolley bags – it is the duffle that has dominated in both volume and revenue since 2014.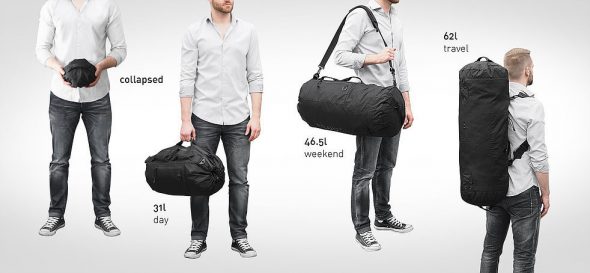 The Duffle Shuffle
For travelers that shop, shop, shops and then gasp at the mound taking over the hotel room, this is the solution.
The Adjustable Bag tabs itself as the only bag you'll ever need and for good reason – it grows with your trip. Lightweight (1.5 lbs) and made of army grade materials, the bag that has just emerged from a series of Indiegogo funding rounds is now a product that starts as a soccer ball-sized wad and grows by a tug here and a pull there into a small tote and then to a shoulder duffle and finally to a take-it-all-with-you giant three-foot tootsie roll of a backpack. It's available for pre-order online at www.t-a-bag.com; price is still undetermined.
Also of worth is the 22-inch folding duffle from X-Bag, distributed through BRIC'S luggage brand. Made of durable Polyamide and available in a kaleidoscope of colors and patterns, the nice thing about this piece is its flexibility. It weights 1.5 lbs and stores flat in a matching zipper sleeve that triples as a snap-on pocket inside the duffle, or a removable stylish shoulder strap pocketbook – especially for those times during travel when you're called to a dinner and your clunky dump-all purse will not suffice.
The duffle itself is big enough to pack in the pile of essentials that won't fit the carry-on roll bag you are bringing. Simply call the X-Bag your purse and walk on the plane with both bags without incident. The X-Bag is still small enough and flexible enough to stuff under the seat and the durable material can take the beating (although this author did find those limits). It comes with leather straps – a nice touch – and all folds flat for easy packing as an extra bag when you need it. It retails for $155 and can be found at top department store chains.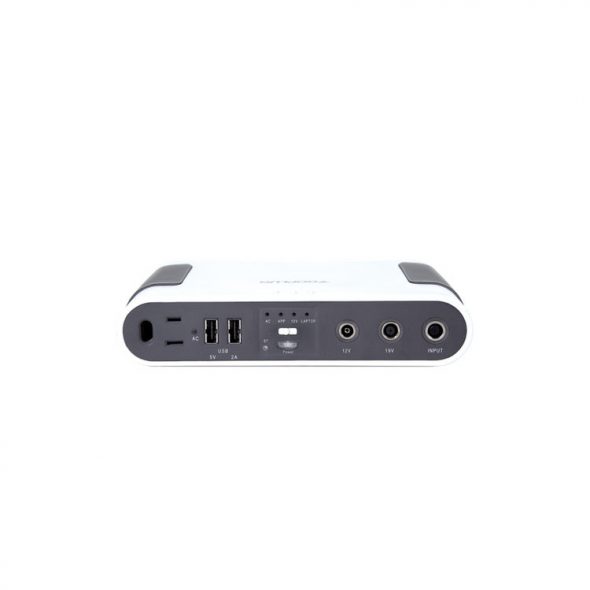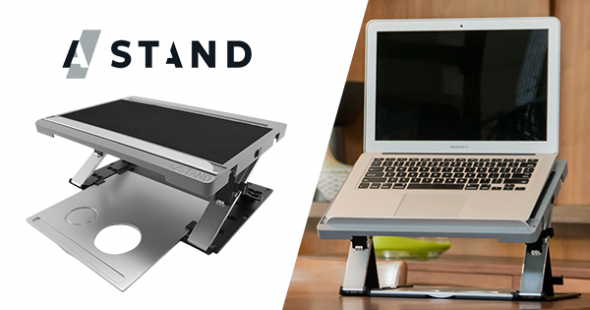 Office in the Air
For those looking for signs of battery life while traveling, the GoPlug, is finally ready for its close up. The item has been in circulation over the past year or two but refinement was the theme of this year's show and the GoPlug – an all-in-one power bank – is now performing at full tilt. The item weighs and sizes out similarly to the dimensions of a solid hardcover best seller, weighing just over 2 lbs. It comes in both 110V and 220V options with two USB outputs, 12V and 18V output jacks and a full AC output three-pronged input plug. It can keep a MacBook Pro in business for at least six hours and can power the reading lamp, too. It's a "smart" bank – which means it comes with an app that allows you to turn off and on the connected items remotely and also tells you how much power it left in the bank. It also has a location tracker, should it be misplaced. The GoPlug comes with complementary bags that have special compartments for storing the bank, including a camera backpack with lens and camera compartments. Powerbanks start at $299 and add a computer/messenger bag for an extra $29. www.goplugbags.com.
Another item that has evolved to become a true travel accessory innovation is the A-Stand, formerly the Aero, which is now a lightweight portable workstation you can take anywhere. The versatile platform starts out as a computer sized tray weighing about a pound. It can slide into any briefcase or carry-on. It then opens this way and that, almost like a Chinese box, to become a book rest with pull out drink tray; an ergonomic computer desk with bottom tier for holding a beverage, or mouse pad and external keyboard; a writing or drawing surface; and a way to fit everything you need for working on an airline tray table to maximize writing and viewing comfort and organize space while not spilling drinks on your seat mates. It retails for $69 online, www.a-stand.com.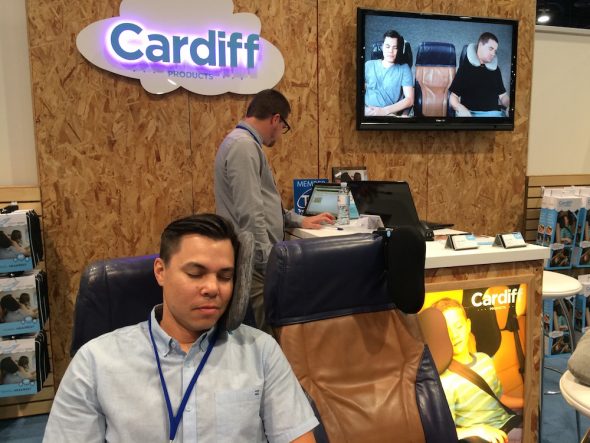 Battle of the Neck Pillows
Every year at the Travel Goods Show, the neck pillows come out and in all shapes, sizes, dimensions and odd configurations. This year proved to be no different, except to show there is no shortage of creativity when it comes to ways to conjure inflight comfort for travelers. The pillows came in their usual around the neck tufts, some with aromatherapy, others with cooling materials and still others catching the innovation wave with ways to keep pillows attached to the seat. New were items you sit upon to keep a pillow, attached to prongs, securely in front of you or oddly cushioning at the side. Another, the Sleep Cocoon from Be Relax, looks a bit like an oversized muffler with two holes to hold your hands as you muffle your face into the self-inflating air-cushioned top of it. The item also opens up to become a back pad, and includes a heating packet for the lumbar area. $40, from www.berelax.com.
Then there was the Lapnap, which starts out as an ordinary inflated neck pillow but adds a plastic extender contraption that, with some patience and a degree in engineering, offers ways for the passenger to relax in a forward position. $43, Thelapnap.com.
Worthy of a look, however, are two new neck pillows that proved to be both simple and comfortable. Cardiff Wings is an easy innovation that simply works. The pad is a play on an air seat headrest. It's a 4 x 6 cushion attached to an adjustable plastic bracket that fits over the seatback. You place it on either side, move the cushion position to your liking and get ready to snore. It's a great little barrier for middle seat privacy; travels flat and light and costs $44.99 at www.cardiffwings.com.
Also of note as a comfortable neck pillow solution is the Face Cradle. At first glance it looks like a very comfortable toilet seat. The folding two-pillow comfort item is a curiosity indeed until you fit it in odd ways around your face, neck and body in some 25 positions available to create comfort in unexpected ways. $53, www.facecradle.me.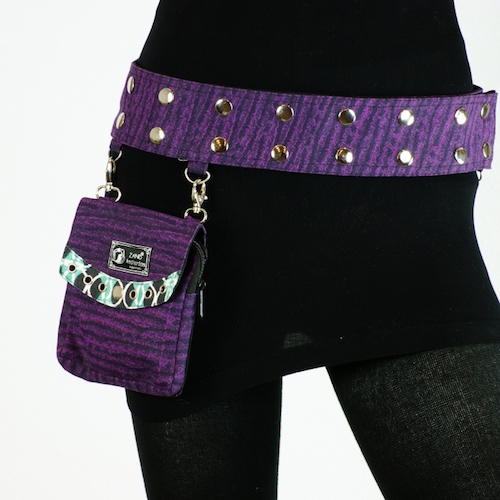 Traveling Togs
Taking it with you can often mean wearing it all – consider the Stuffa brand of travel garb that offers large oversized coats and vests with huge pockets that can be stuffed and puffed with clothing as a way, at minimum, to protest ever-encroaching cargo fees.
But traveling in comfort also means wearing the right clothes – clothes that breath, clothes that allow you to spread out and reposition your limbs, clothes that can expand and contract as needed for maximum ease.
Three items at the show caught this traveler's eye. The Zand Skirt, a handmade item of cotton or brushed, breathable rayon, comes in a variety of bright patterns and colors in a one-size-fits-all mode. The skirts – long, medium, and short in length, can be snapped into size around the waste and contour perfectly around the body for on-the-go, stylish comfort. A lightweight zipper purse snaps onto the waste for hands-free, bag-free movement. Sizes range from 0-12 and from 8 to 18 with a happy demo they describe as women aged 35-75, "especially freaky 50s." Items are manufactured through fair wage practices in India. Each skirt is one of a kind. $79, www.zandamsterdamusa.com.
Kameleonrose is the item you need for a one-item answer to airline travel, beachwear, chic shopping attire, and even evening attire. It's a one-piece wonder of breathable man-made textiles with a button-edge hem for quick conversion into pasha pants; or it can be worn as a fluid skirt, a dress with a tube top, a fancier dress as a flowing top and tube skirt, or even a cape. It dries fast and packs into a light roll, never needs ironing, comes in a variety of colors, weighs as much as a water bottle and comes with a great back story. The company is the brainchild if Leila Rose Faddout, who left her practice as a surgeon to return to Madagascar, where she spent time as a field doctor. Her factory in Antananarivo employs more than 50 people and is growing fast. Head offices are in the U.K. $65, possible distribution through Biaggi bags. www.kameleonrose.com.
Travel Life Savers
Sometimes the smallest, simplest of items can become the biggest of moment savers when you are on a trip. Three of these items at the travel show focused on must haves for living: air, water and peace.
The DetoxAir is an easy item to take with you wherever you go. It's an air filter system that can be work on a string around the neck and fits neatly into your mouth in the event of smoke, smokers, allergies or traveling through cities dense with smog and pollution. The filter can be washed and lasts for many weeks. $22.95, Detoxair.com.
The next gen water bottle can be found in the Hydrapak — a collapsing vessel made of abrasion- and bacteria-resistant thermoplastic polyurethane and, with some doing, it twists and crumbles back into its cap that is the size weight of a mayonnaise jar cap. It cleans easily with soap and a little scrubbing and can fit into a large wallet. BPA and PVC free it can be frozen, or filled with hot water without damage. These bottles pricey, however, starting at $18 retail, found online and at outfitter stores, such as REI. hydrapak.com.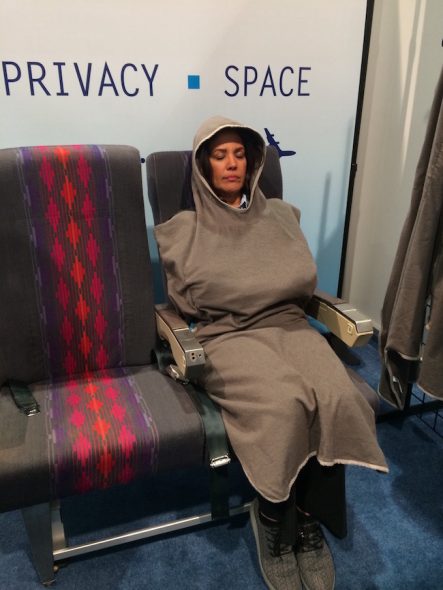 Finally, to keep from going mad in the middle seat or any other crowded transportation mode, the Tucker is the trick. Created by a psychiatrist, the item is akin to a lightweight and soft blanket, only this one works like a semi-poncho. It comes with a removable neck pillow, a hoodie that extends over the forehead for privacy, a pocket for iPod or phone, an inside pocket for tucking away arms and Velcro straps for connecting it all into one comfortable cocoon – but with plenty of limb freedom. $49.99, www.tuckertravelcover.com.