The hectic holiday travel season is practically within spitting distance. For travelers looking to avoid the long lines and packed planes, here is one top tip: don't travel the week before Thanksgiving.
Concur, a travel and expense management firm that represents some 57 percent of the world's business travel, analyzed historical data to find…
November 16th and 17th are the busiest business travel days, just ahead of the Thanksgiving and end-of-year rush.
Approximately 58% more people are traveling on these days than on average weekdays during the rest of the year
Wednesdays and Thursdays are the busiest days during the week for business trips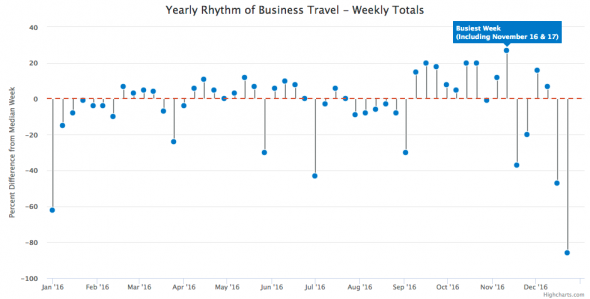 Steering clear of these days is half the battle. Concur also identified the busiest domestic and international flight routes to help travelers avoid the crowds.
Top 5 busiest routes on the busiest days:
Domestic
Chicago – New York
New York – Los Angeles
Dallas – Chicago
New York – San Francisco
Boston – New York
International
New York – London
San Francisco – London
Toronto – New York
Toronto – Chicago
Boston – London
Top 5 busiest routes on average days:
Domestic
Chicago – New York
Atlanta – Chicago
Sydney – Melbourne
Chicago – Dallas
Philadelphia – Chicago
International
New York – London
San Francisco – London
Chicago – London
Toronto – New York
Boston – London
For leisure travelers trying to get an edge on upcoming holiday pandemonium, it is hard to come up with solid axioms. Book too early and air travel can be quite pricey. Book too late, it will be pricier still and possibly not available.
But a few rules do apply. For those seeking to travel during the Thanksgiving holiday, the month October is the perfect time to book air seats. Prices begin to spike significantly during the two weeks leading up to the holiday. Similarly, for those traveling around the Christmas holiday season, the window for the lowest airfare usually closes the first week of October. Days following, however, prices and deals can still be attractive. A good number to keep in mind is 83. The absolute best time to book Christmas flights is around 83 days before departure, according to Hopper, a mobile app that analyzes fares and offers booking services that reflect best booking days.
When it comes to best days of the week to book, Tuesday always comes out on top. However, data from Priceline.com suggests Friday might now be a better option. Certainly having a modicum of flexibility in days will allow bypassing predictable busy days for the less predictable un-busy days.
Also, roundtrip algorithms produce optimal options, such as leaving on a Monday or the Thursday and returning on a Wednesday, especially as can be applied to the upcoming holiday dates. Returning on a Sunday will be costly.
According to Hopper, the cheapest days currently to depart on a Christmas holiday are Saturday, Dec. 16, or Tuesday, Dec. 19, cutting around $110 from the price of traveling on the busiest day, which is Friday, Dec. 22. Naturally, the busiest return day is New Year's Day. A plan to return on Thursday, Jan. 4, instead, could save around $100.
Where one is going also figures into the mix. The most popular travel route for both Thanksgiving and Christmas is New York City to Miami, Fort Lauderdale or Orlando, Florida. These destinations take on a "holiday premium," in pricing over to non-holiday travel, up to 60 percent to 82 percent more than other times.
Several price tracking apps are out there to alert travelers of special fares and drops in pricing. Hopper, Skyscanner, AirfareWatchdog, Google Flights and Yapta are among these. Best advice, start booking or consider post holiday sojourns.