Within easy reach of the nation's capital is another America steeped in history and bootstrap ethics, and welcoming to visitors who take the time to go slow. Radiating out from Roanoke, a mere three- to four-hour amble southwestward from Washington D.C., and well west of the I-95 corridor, are little towns with names like Floyd, Rocky Mount and Boones Mill that tell a story still in progress about towns surviving in place and time, and making the best of community pride, can-do drive and creative expression.
Southwest Virginia's Franklin and Botetourt (pronounced "Bot te Tot") counties, while within a stone's throw of Charlottesville and built on battlegrounds that tore at this country's soul just over 150 years ago, whistle more than Dixie now with wine trails, moonshine tastings, crafts fairs, art museums, artisan stops, antique depots, music celebrations and even gourmet dining moments.
A recent trip through these hills brought this writer back to her hiking days along the Blue Ridge Parkway and Appalachian Trail and into towns where the Civil War is still being fought, albeit, on civil terms in impressive reenactments.
Upshot – you can get it all by planning a simple trip to Roanoke and allowing at least two days for some refreshing time travel.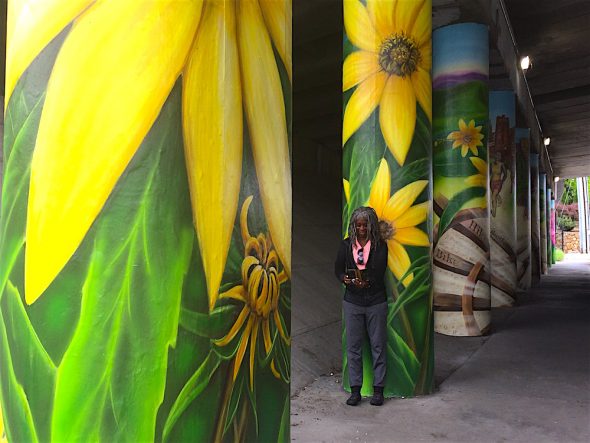 Roaming Roanoke
Roanoke, Virginia is getting ready for its next close up, expected to happen when the Amtrak platform is complete and trains run on time once again from Union Station in Washington D.C. at the end of this year, or beginning of 2018.
For now, visitors have to make due with driving through some of the eastern seaboard's most seductive scenery to be found along Skyline Drive and the Blue Ridge Parkway that straddle Virginia's mountainous western borders. Leaf peepers: prepare to be wowed by crisp Autumn perfection.
Roanoke is a city of nearly 100,000 souls and the town is betting the farm on its hospital and Virginia Tech-boosted medical science community to take it forward. Still, it's a cool, clear night in spring, and the Salem Red Sox are battling the Lynchburg Hillcats on the Lewisgale Field and the town comes out to the small stadium for hotdogs and beer and a good cheering. Neighborhoods with small square houses and white picket fences open to streets with small boys whipping the wind on their bikes and kids engaged in some street ball of their own.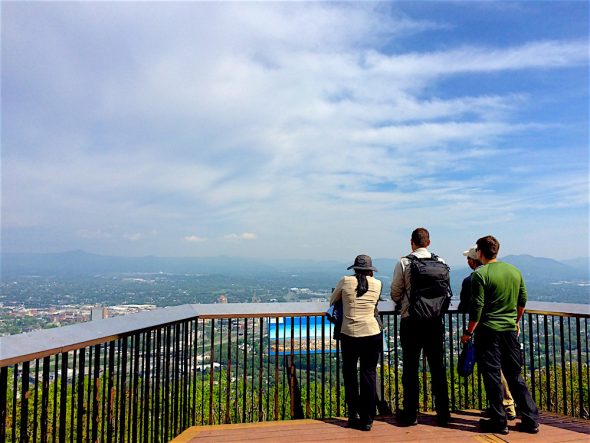 For visitors, though, a few attractions call to them before they set out for the towns beyond. The Roanoke Star is one. This is one of those quintessential Americana magnets that add to the Curiosity Map. The neon red, white and blue apparition stands atop Mill Mountain outside the town and bills itself as the world's largest freestanding illuminated man-made star. The circa-1949 construction at the 1,045-foot summit is visible for 60 miles and makes a worthy walking goal for those who want to take a 1.6 mile stroll up Mill Mountain and enjoy the woods.
Afternoons in Roanoke can be spent checking out the Virginia Museum of Transportation (who can resist a locomotive collection?), starting with the O. Winston Link Museum – a museum of passion to be sure and another thumbtack for the Curiosity Map.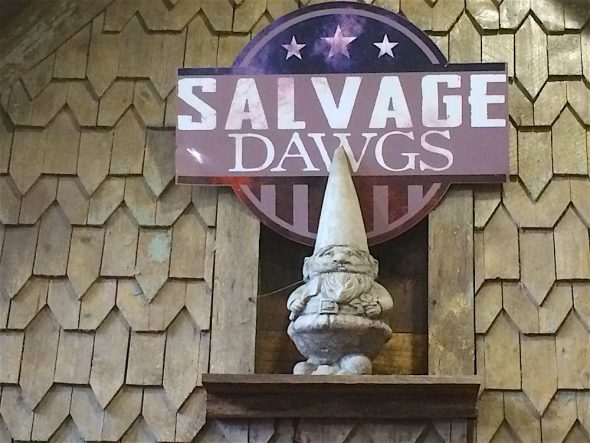 Another quizzical take-in is Black Dog Salvage, truly a hoarder's heaven and a wonderland of Appalachian imagination in the form of items salvaged from Southwest Virginia's architectural past. The owners, Mike Whiteside and Robert Kulp, regularly take to the airwaves with their finds in a reality TV series on the DIY Network or other channels that show the Salvage Dawgs saving industrial fixtures and door mounts from historic homes heading for the hill pile, and often reimagining them in other settings. The site encompasses a football field of odd fixtures, from artsy hand-carved fireplace frames to chandeliers to wrought iron fencing.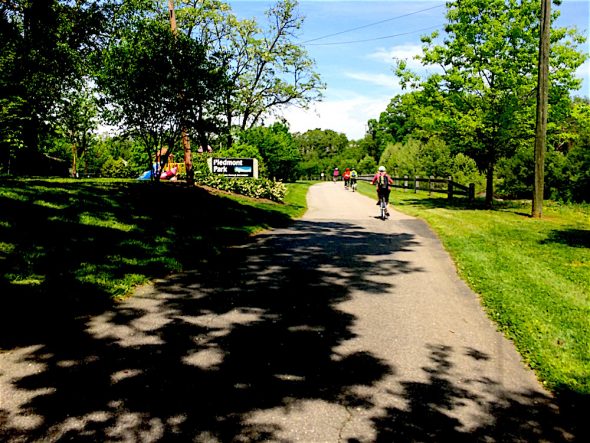 Active travelers can consider renting bikes at Underdog Bikes in town and setting off along the Roanoke River on well-maintained dirt paths. The shop can offer trail options, from some 10 miles of trails up Mill Mountain to easy ambles along Roanoke's greenways to great forays into the Blue Ridge Mountains.
Roanoke has an emerging art scene and while much can be enjoyed through public murals and park installations around the town, the Taubman Museum of Art anchors it all with a permanent collection of American impressionists (Eakins, Homer, Sargent, Rockwell, Hart-Benton …) showcased in a space designed by a Frank Gehry protégé.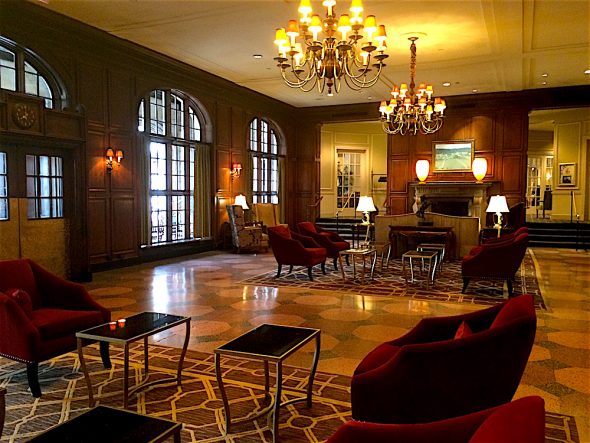 Roanoke Stays
Visitors will be comfortable in a variety of brand-name chains along the connecting highways outside the city, but the city offers the Hotel Roanoke, if historic stays are a priority. The hotel is steps away from the Taubman, the soon to open railway center, and the boutiques, restaurants and theaters in town but it is also a destination in its own right. Now a Hilton under its Curio Collection brand, the hotel dates back to 1882 when it was a grand property welcoming guests coming in through the Norfolk and Western railway. Closed and opened, renovated and sold several times over the past century, it has welcomed six presidents and a variety of luminaries and is the place to go for ambient settings and a sense of place.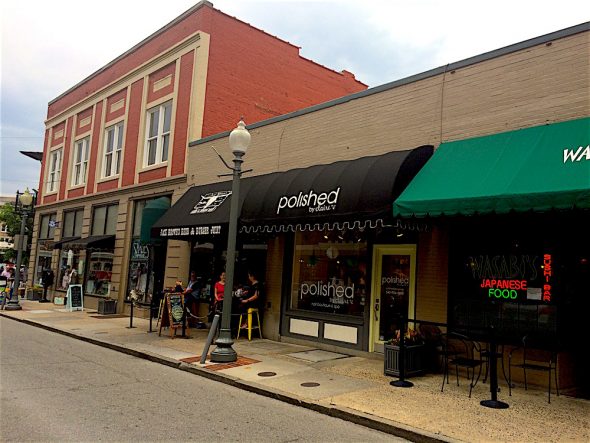 Roanoke Fare
Dining in Roanoke can be surprisingly diverse. Find eclectic Urdu and Hindi cuisine at Taaza, American fine dining at Alexander's and The Regency Room, re-imagined southern, such as Shrimp & Grips, at Blue 5, and delicious health-minded farm-to-table cuisine at Local Roots. Craft beers are on tap at most of these venues. In fact, food traditions and formats are a major attraction for the area — so much so that visitors may want to consult this Food & Drink map for Roanoke and Virginia's Blue Ridge corridor.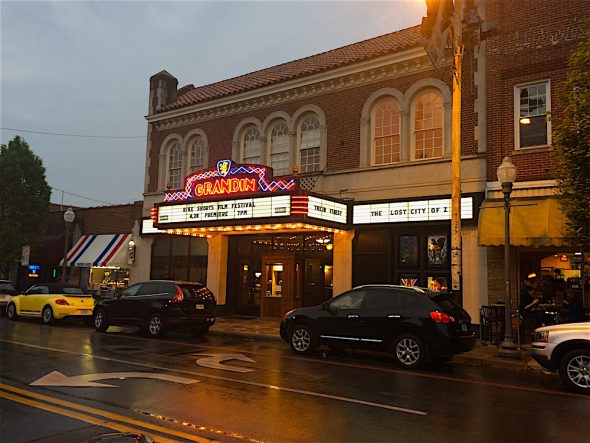 After Dinner in Roanoke
While a night on the town in Roanoke will bring on the cocktails and southern comforts at Metro!, Lucky and Stellina, another take-in is the Grandin Theater, which opened its doors in 1932. The Depression-era movie house was once the center of activity in the city, showing the new talkies of the day in three small theaters that retain much of their original character. Today it brings first run and art house films and makes itself available to events as so much of the theater remains as it was, keeping history alive on screen and off.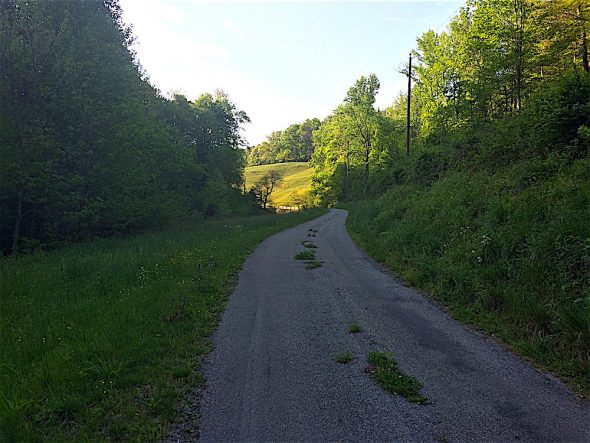 The Road from Roanoke
Heading out from Roanoke in a hub and spoke itinerary, the choices are many and full of surprises.
The area offers what it calls the While Lightning Artisan Trail: meandering through such dots on the map as Dublin, Radford, Pulaski, Rocky Mount and Draper.
These magnets include such stops as CM Handwovens for a studio tour and talk, and option to purchase an array of gorgeous woven scarves, towels, and table runners. Other take-ins include Old's Cool Vintage Finds and Hot Taffy Glass in Rocky Mount, and Toft Cottage Weavery, along the Crooked Road of Franklin County, another byway of handy-craft studios, antiques, paintings, jewelry making, music and sundry boot-straps enterprises.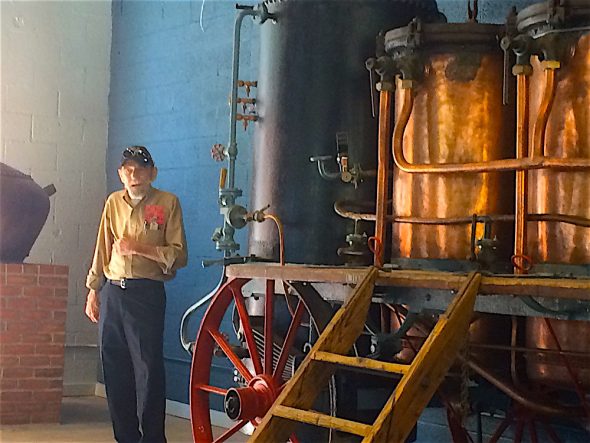 Also find distilleries here, especially around Boones Mill, considered the Moonshine Capital of the World. Tasting spots will inevitably include Franklin County Distilleries, the oldest in the area that was once the rendezvous point for distribution to syndicates during the rough and tumble Prohibition years. Today, it fires up the stills to produce star quality corn whiskey served in a sun-dappled tasting room and offered in re-imagined cocktails with names like Cosmoshine and Ginger Apple Smash.
Beer lovers will head down the road to Hammer & Forge Brewing Company for lively tastings of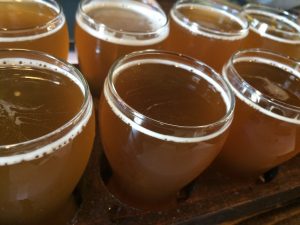 stouts and crafts served with endless buckets of salted in-shell peanuts. A ten-choice beer menu brings tastings of four brews for $5 and eight for $10.
Local fare in these parts is served in big portions, cooked with lots of butter and lard and not holding back on the breads. A favorite stop is The Wooden Spoon, named after the owner's grandmother who was always standing over kettles with a big wooden spoon. Must try's include the Pork BBQ Sandwich and the Country BLT with fried green tomatoes. In a new twist on grandma's faves, the owner offers dishes with organic ingredients, gluten-free breads and pastries and some low-sugar options.
Afterwards, head to the Harvester Performance Center for some authentic country bluegrass and folk music concerts by worthy regional artists.
On another day, pass farmers markets and churches in Virginia's Amish country and aim for Buchanan (pronounced BUCK CANNON), a tiny town of fewer than 2,000 people with a rock solid Main Street that, if you squint, you can still see horses and buggies and women in full-length frocks holding parasols.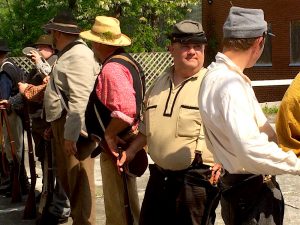 Actually, you may not have to squint so hard. The town holds regular Civil War re-enactment weekends played out on actual battlefields and along the town's main thoroughfares. Most of the actors and residents of Buchanan are still holding a flag for the Confederate side. A few wear Union blues "because somebody has to."
Still, wandering the town can be as immersive as watching the scenes play out in the field. It usually starts with a visit (and breakfast if you get the timing right) to the Buchanan Community House, an 1839 brick structure full of furnishings of the time. Then walk along the few blocks of Main Street and enter a 1950s era drugstore and fountain that still serves Cokes and French Fries and keeps Patti Page hits on tap in the Jukebox for a few cents.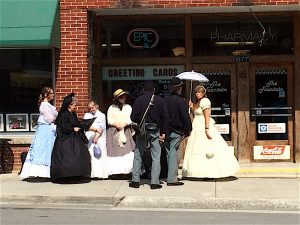 Main Street is dotted with whatnot shops and art galleries that present some surprisingly impressive talent coming from these hills. River rats can rent a kayak or canoe or try a raft float on the James River through Twin River Outfitters.
A glass of wine is in order at Fincastle Vineyard, which produces barrel aged dry reds, and a range of dry and semi-sweet whites. In a secluded glen at the foot of the Shenandoah Valley, it's worth it just for the setting alone.
Cap it off in the Pomegranate Restaurant and gathering place, which serves upscale American cuisine in a rural hamlet on a covered patio or indoors. Rib-eye and fresh cut fries are a thing here. Don't miss the caramel pumpkin cake for dessert, handmade by the owner, when it's available.
More information on sojourns to Southwest Virginia: www.VisitVBR.com