The MGM National Harbor looks across the Potomac from its perch on prime land in Prince George's County, MD and knows it is just the beginning of a long and fruitful relationship with the nation's capital. It may not have been MGM Resorts International's first foray into surprising destinations outside of Las Vegas, but it is certainly its splashiest.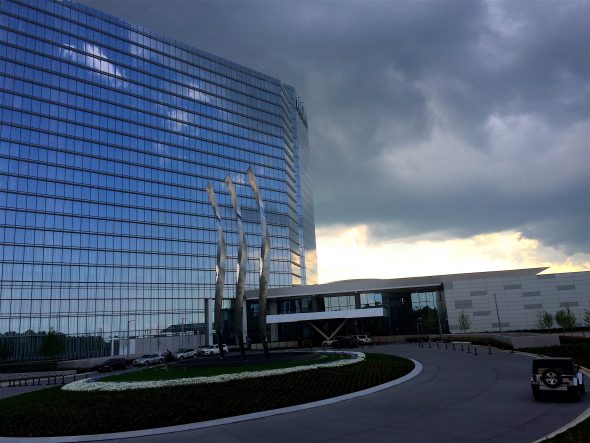 The building rises 23 stories in the air along this river, a monument in its own right in gleaming steel and glass and from it you can make out the symbols of history around the Washington D.C. skyline, while peering through floor to ceiling window of a guest room and feeling some grandeur of your own.
The 308-room gaming hotel on 23 acres near Interstate 495, was the latest opening for MGM on December 8, 2016. It was not Maryland's first casino property but it was the state's sixth and final such project, and undeniably its most glamorous.
Consider this: The property has 74 Executive Corner Suites panning over the near 360-degree views the floor-to-ceiling windows that line these V-shaped accommodations offer. These suites along the north facing edge run nearly 1000 square feet and house palatial king bedrooms, spacious living rooms, and marble bathrooms that demand to be shared. Accommodations range from 403 to 3,210 square feet.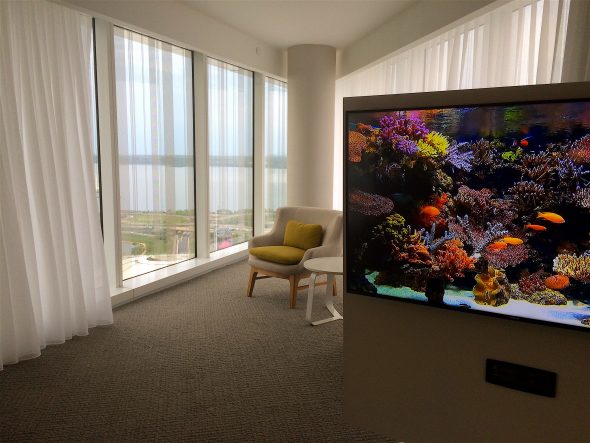 VIPs will vie for the Presidential Suite (2,500 square feet with two king bedrooms, a dining room and lots of lounging space), or the Chairman's Suite (3,210 square feet that sleeps four and has plenty of lounging and work areas – good for special business meetings) when they are not being used by Chris Rock or Tori Amos or other pop phenoms playing at the property. In between is the Capital Suite, with 1,536 square feet containing an oversized sectional, a 75" HD LCD TV, dining for six, and oversized spa tub in the bathroom. Standard rooms run 403 square feet and come with work area, Wi-Fi, 48-inch HD LCD TVs, robes and slippers and dual bathroom sinks.
Most suites do with Nespresso® coffee makers and special spa amenities. On site, however, one can find just about anything in this contained world: Starbuck's coffee, shoes, a world-class spa, and solutions for every possible hunger craving.
Dine in at MGM National Harbor
MGM National Harbor comes to life around food. The property offers three star-chef restaurants making it possible for guests to experience a variety of brag-worthy meals in one place. Must tries: the Voltaggio Brothers Steak House, Marcus by Marcus Samuelsson and Fish by José Andrés. The Voltaggio brothers are a famous regional duo specializing in high end comfort food. Sameulsson hails from Philadelphia, New York, Stockholm and Addis Ababa, bringing international ethnic tastes and folksy fusion to his menus. José Andrés owns and runs many restaurants in Los Angeles, Las Vegas and other U.S. cities, and specializes in fresh fish and local shellfish delicacies at this location.
For casual diners who want to eat and run, the National Market is the solution with a food court serving local and international favorites in a casual setting. Top draws: the pastrami sandwich at District Deli and the Maryland crab cakes at Pappas. But there is sushi, home-made ice cream, burgers, health foods and little reason to move on once there. Comfortable outside tables along the side of the hotel offer air, sun, views, quiet and some sweet perfection for those seeking sit-downs for their sandwich and drink. Also find nice sitting spots and river panoramas at Potomac Plaza at the helm of the hotel.
Getting Away from it at The Harbor
The MGM National Harbor has a pool and spa, and their value cannot be underestimated, especially for business travelers. Day pods are available for a price, starting at $150 for two people, but there are only seven of them so they should be reserved ahead of time. The pool offers a wading-in solution for people with physical disabilities.
The Spa and Salon area is stunning and spacious on two floors ( and offers a comely man cave for guys who want a shave). The treatments range from special skin care solutions using Clarins® products to aesthetic body treatments to pleasure massages. There are special rooms for bridal parties and group events.
MGM National Harbor is a natural getaway for locals looking for a Vegas-style vacation in their own back yard. Business travelers may welcome the upscale change from their usual corporate hotel stays. Be warned, however, this is not a great place to take children.
Insider Tip: The property is not easily reached from the city. Non-driving guests will have to take an Uber to get there (check to see if the hotel is offering a free Uber one-way ride, as it often does). Otherwise, ride sharing fares run $15-$20 from most places in metro D.C. Currently parking is free.
Clients can join M Life Rewards and accrue points for perks on the spot or for other MGM Resort properties. In a rare move for a casino venue, the casino at National Harbor is smoke-free in compliance with state laws.
Insider Shopping Tip: Just across the street, a five-minute walk away, is the Tanger Outlet National Harbor with several dozen discount high-end designer retail stores and a plethora of eateries.
Rates: From $250 per night through online booking engines.
Contact: (844) 646-6847; www.mgmnationalharbor.com