Looking for where to spend the biggest buck for the bang on zzzz's in the USA? These uber-luxurious resorts scattered around the country are out to break the bank. Of course, resorts do not live by room alone. Most of these properties pack in the sense of place and pile on the inclusives and amenities, making them worth the price whether for business or leisure.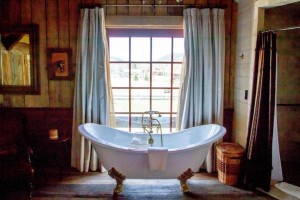 The list illuminates the results of bookings on Lxury-Hotels.com as managed from May 26 to September 1m 2014, based on summer rates of all luxury hotels located in the United States.
Topping the list is a true west ranch experience in Montana: the Ranch at Rock Creek, located close to the historic mining town of Philipsburg, Montana, clocks in at an average rate of $2385 per person per night. That includes staying in luxury tents or ranch houses and enjoying a large list of ranch activities — whether group or one on one: horseback riding, hiking, shooting, fishing, agility ropes courses, private rodeos, swimming and hot tubs under the stars.
Coming in second most expensive is the Point Resort. Found within the boundaries of the Adirondack Park close to Lake Placid, this luxury hotel has an average overnight rate this summer of $2138. Rounding out the Top 3 and also located in Montana is the Resort at Paws Up. To stay there this summer visitors will have to spend an average of $1847.
The most expensive luxury hotel in New York City is the Ritz Carlton Central Park. With an average price tag of $874 per night for the least expensive double room, it ranks 17th most expensive in the United States overall.
Following are the 10 most expensive luxury hotels in the USA.
The Ranch at Rock Creek (Philipsburg, Montana) $2385
The Point (Lake Placid, New York) $2138
The Resort at Paws Up (Greenough, Montana) $1847
The Lodge & Spa at Brush Creek Ranch (Saratoga, Wyoming) $1769
Amangiri (Canyon Point, Utah) $1620
Twin Farms (Barnard, Vermont) $1581
Auberge du Soleil (Rutherford, California) $1454
Amangani (Jackson Hole, Wyoming) $1276
Post Ranch Inn (Big Sur, California) $1273
Mii amo Spa (Sedona, Arizona) $1247
| | | | |
| --- | --- | --- | --- |
| 1. |   The Ranch at Rock Creek |   Philipsburg, Montana | $2385 |
| 2. |   The Point |   Lake Placid, New York | $2138 |
| 3. |   The Resort at Paws Up |   Greenough, Montana | $1847 |
| 4. |   Lodge & Spa at Brush Creek |   Saratoga, Wyoming | $1769 |
| 5. |    Amangiri & Spa |   Canyon Point, Utah | $1620 |
| 6. |   Twin Farms |   Barnard, Vermont | $1581 |
| 7. |   Auberge du Soleil |   Rutherford, California | $1454 |
| 8. |   Amangani |   Jackon Hole, Wyoming | $1276 |
| 9. |   Post Ranch Inn |   Big Sur, California | $1273 |
| 10. |   Mii Amo |   Sedona, Arizona | $1247 |
| 11. |   Dunton Hot Springs |   Dolores, Colorado | $1215 |
| 12. |   Calistoga Ranch |   Calistoga, California | $1114 |
| 13. |   Little Palm Island Resort |   Little Torch Key, Florida | $1074 |
| 14. |   Casa Palmero |    Pebble Beach, California | $1033 |
| 15. |   Triple Creek Ranch |   Darby, Montana | $1027 |
| 16. |   Wheatleigh |   Lenox, Massachusetts, | $996 |
| 17. |   The Ritz-Carlton Central Park |   New York City | $874 |
| 18. |   The Lodge at Pebble Beach |   Pebble Beach, California | $867 |
| 19. |   SKYLOFTS at MGM Grand |   Las Vegas, Nevada | $864 |
| 20. |   Blackberry Farm |   Maryville, Tennessee | $846 |
Related Stories: